Textbook
ABC of Sports and Exercise Medicine, 4th Edition
September 2015, ©2015, BMJ Books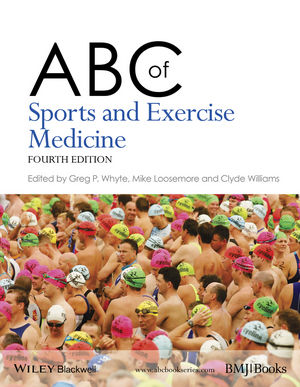 The ABC of Sports and Exercise Medicine provides general practitioners with a comprehensive overview of the field of sports medicine. This highly illustrated and thoroughly revised and updated new edition:

• Reflects new developments and current practice
• Includes new chapters on medical care at sporting events, environmental factors of sports and exercise, benefits of exercise in health and disease, nutrition and ergogenic supplements, and the use of drugs in sport
• Covers the benefits of exercise among special populations such as the disabled, obese, pregnant, children and the elderly

Covering the latest topics and including case studies of common sports and exercise medicine conditions, the ABC of Sports and Exercise Medicine is an essential practical guide for general practitioners, family physicians, junior doctors, medical students, physiotherapists, and all health professionals dealing with the treatment and prevention of sports-related injuries.
See More
List of Contributors vii
PART I INJURY
1 Epidemiology of Sports Injuries and Illnesses 1
Debbie Palmer-Green
2 Immediate Care in Sport 5
Andy Smith
3 Head Injuries in Sport 10
Daniel G. Healy
4 Injury of the Face and Jaw 21
Keith R. Postlethwaite
5 Eye Injuries in Sport 26
Caroline J. MacEwen
6 Management of Injuries in Children 31
Julian Redhead
7 Management of Musculoskeletal Injuries in the Mature Athlete 38
Khan Karim and Peter D. Brukner
8 Medical Care at Major Sporting Events 41
Mike Loosemore
PART II SYSTEM SPORT AND EXERCISE MEDICINE
9 Pulmonary Dysfunction in Athletes 44
John Dickinson and James Hull
10 Infections 50
Michael J. Martin
11 The Unexplained Underperformance Syndrome (Overtraining Syndrome) 54
Richard Budgett and Yorck Olaf Schumacher
12 The Female Athlete Triad 58
Noel Pollock
13 The Athlete's Heart 62
Aneil Malhotra Greg P. Whyte and Sanjay Sharma
PART III ENVIRONMENTAL SPORT AND EXERCISE MEDICINE
14 Extreme Temperature Sport and Exercise Medicine 67
Michael J. Tipton
15 Diving Medicine 76
Peter T.Wilmshurst
16 Altitude Medicine 81
Sundeep Dhillon
PART IV SPECIAL POPULATIONS
17 Physical Activity and Exercise as Medicine 86
John Buckley
18 Sport Exercise and Disability 89
Nick Webborn
19 Sport Exercise and Obesity 93
David Haslam
20 Sport and Children 97
Neil Armstrong
21 Physical Activity and Exercise in Later Life 102
Dawn A. Skelton and Finbarr C. Martin
PART V NUTRITION AND DOPING
22 Nutrition Energy Metabolism and Ergogenic Supplements 109
Clyde Williams
23 Drugs in Sport 116
Roger Palfreeman
24 Psychology of Injury 122
Andrew M. Lane
Index 127
See More
Greg P. Whyte isProfessor of Applied Sport & Exercise Science, Research Institute for Sport and Exercise Science, Liverpool John Moores University, Liverpool

Mike Loosemore is a Physician, The Institute of Sport, University College London, London

Clyde Williams is Professor of Sport Science, School of Sport, Exercise and Health Sciences, Loughborough University, Loughborough
See More
Purchase Options

Information about Wiley E-Texts:
Wiley E-Texts are powered by VitalSource and accessed via the VitalSource Bookshelf reader, available online and via a downloadable app.
Wiley E-Texts are accessible online and offline, and can be read on a variety of devices, including smartphones and tablets.
Wiley E-Texts are non-returnable and non-refundable.
Wiley E-Texts are protected by DRM. For specific DRM policies, please refer to our FAQ.
WileyPLUS registration codes are NOT included with any Wiley E-Text. For informationon WileyPLUS, click here .
To learn more about Wiley E-Texts, please refer to our FAQ.

Information about e-books:
E-books are offered as e-Pubs or PDFs. To download and read them, users must install Adobe Digital Editions (ADE) on their PC.
E-books have DRM protection on them, which means only the person who purchases and downloads the e-book can access it.
E-books are non-returnable and non-refundable.
To learn more about our e-books, please refer to our FAQ.
More in this series