Textbook
Lecture Notes: Dermatology, 11th Edition
August 2016, ©2017, Wiley-Blackwell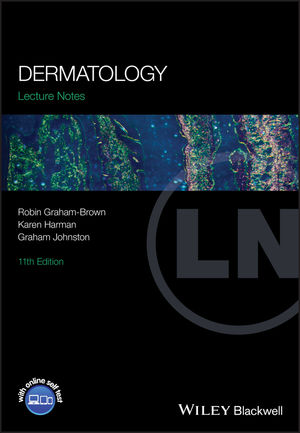 "A very well written introductory dermatology text with excellent clinical photographs and diagrams. We would highly recommend this for those wishing to grasp the basic concepts in dermatology." British Journal of Dermatology

Dermatology Lecture Notes presents an accessible overview of skin structure and function, along with the practical aspects of disease management. Now in its 11th edition, it has been thoroughly updated to focus on recent advances in the knowledge of skin diseases and their treatment. It combines readability with high quality illustrations, and is the ideal guide for new comers to the specialty as well as those more advanced in their studies.

Key features include:

• An overview of the basics of skin structure and function, as well as practical aspects of disease management
• Excellent clinical photographs, diagrams and histological images
• Newly expanded and updated sections on benign skin tumours, viruses, emergency dermatology (skin failure in particular) and vascular disorders
• Includes a companion website at www.lecturenoteseries.com/dermatology featuring self-assessment and case studies
With beautiful colour artwork throughout, Dermatology Lecture Notes includes a glossary of dermatological terms, and provides an excellent balance between theory and clinical relevance.
See More
Preface, vi
Acknowledgements, vii
About the companion website, viii
1 Structure and function of the skin, hair and nails, 1
2 Approach to the diagnosis of dermatological disease, 10
3 Emergency dermatology, 20
4 Bacterial and viral infections, 24
5 Fungal infections, 35
6 Ectoparasite infections, 44
7 Acne, acneiform eruptions and rosacea, 54
8 Eczema, 63
9 Psoriasis, 73
10 Benign and malignant skin tumours, 83
11 Naevi, 99
12 Inherited disorders, 106
13 Pigmentary disorders, 114
14 Disorders of the hair and nails, 119
15 Bullous disorders, 127
16 Miscellaneous erythematous and papulosquamous disorders, and light ]induced skin diseases, 137
17 Vascular disorders, 149
18 Connective tissue diseases, 156
19 Pruritus, 164
20 Systemic disease and the skin, 169
21 Skin and the psyche, 178
22 Cutaneous drug reactions, 183
23 Treatment of skin disease, 189
Glossary of dermatological terms, 197
Index, 202
See More
Purchase Options

Information about Wiley E-Texts:
Wiley E-Texts are powered by VitalSource and accessed via the VitalSource Bookshelf reader, available online and via a downloadable app.
Wiley E-Texts are accessible online and offline, and can be read on a variety of devices, including smartphones and tablets.
Wiley E-Texts are non-returnable and non-refundable.
Wiley E-Texts are protected by DRM. For specific DRM policies, please refer to our FAQ.
WileyPLUS registration codes are NOT included with any Wiley E-Text. For informationon WileyPLUS, click here .
To learn more about Wiley E-Texts, please refer to our FAQ.

Information about e-books:
E-books are offered as e-Pubs or PDFs. To download and read them, users must install Adobe Digital Editions (ADE) on their PC.
E-books have DRM protection on them, which means only the person who purchases and downloads the e-book can access it.
E-books are non-returnable and non-refundable.
To learn more about our e-books, please refer to our FAQ.
More in this series