Textbook
Paediatrics at a Glance, 4th Edition
May 2016, ©2016, Wiley-Blackwell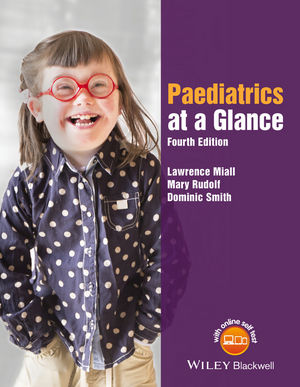 Paediatrics at a Glance provides an introduction to paediatrics and the problems encountered in child health as they present in primary, community and secondary care, from birth through to adolescence.

Thoroughly updated to reflect changes in understanding of childhood illness over the last 5 years, the 4th edition of this best-selling textbook diagrammatically summarises the main differential diagnoses for each presenting symptom, while accompanying text covers important disorders and conditions as well as management information.

Paediatrics at a Glance:
• Is an accessible, user-friendly guide to the entire paediatric curriculum
• Features expanded coverage of psychological issues and ethics in child health
• Includes more on advances in genetics, screening and therapy of childhood illness
• Contains new videos of procedures and concepts on the companion website
• Includes a brand new chapter on Palliative Care - an emerging area in the specialty
• Features full colour artwork throughout
• Includes a companion website at www.ataglanceseries.com/paediatrics featuring interactive self-assessment case studies, MCQs, videos of the procedures and concepts covered in the book, and links to online resources

Paediatrics at a Glance is the ideal companion for anyone about to start a paediatric attachment or module and will appeal to medical students, junior doctors and GP trainees as well as nursing students and other health professionals.
See More
Evaluation of the Child
1 Paediatrics and Child Health
2 The paediatric consultation
3 Systems examination
4 Development and developmental assessment
5 Growth and puberty
6 Understanding Investigations: Haematology
Moving through childhood
7 Screening and genetics
8 Genetics and Inherited disorders
9 The normal newborn baby
10 Congenital abnormalities
11 Common neonatal problems
12 The premature baby
13 Nutrition in childhood
14 Common behaviour problems
15 Child care and school
16 Child health promotion
17 Immunization and the diseases it protects against
Growth, endocrine and metabolic
18 Weight faltering and failure to thrive
19 Short stature and poor growth
20 Obesity
21 Diabetes
Cardiovascular disorders
22 Congenital heart diseases
23 Heart murmurs
Fever
24 Acute fever
25 Persistent fever and serious recurring infections
Respiratory disorders
26 Cough and wheeze
27 Stridor
28 Swellings in the neck
29 Asthma
30 Cystic fibrosis
Abodominal disorders
31 Acute abdominal pain
32 Vomiting
33 Acute diarrhoea and dehydration
34 Chronic diarrhoea
35 Recurrent abdominal pain
36 Constipation
Urogenital disorders
37 Urinary tract infections
38 Haematuria and proteinuria
39 Bedwetting and daytime wetting
40 Swellings in the groin and scrotum
Neurological disorders
41 Developmental delay
42 Headache
43 Fits, faints and funny turns
44 Epilepsy
45 Cerebral Palsy
Musculoskeletal disorders
46 Swollen joints
47 Juvenile idiopathic arthritis
48 Leg pain and limp
49 Common childhood skeletal problems
Blood disorders
50 Anaemia and pallor
51 Jaundice
52 Leukaemia and childhood cancer
Skin disorders
53 Rashes – types of skin lesions
54 Rashes – newborn, infancy and congenital skin disorders
55 Rashes – infections and infestations
56 Rshes – common inflammatory disorders
57 Allergy
Emergency paediatrics
58 Assessing the acutely ill child
59 The collapsed child
60 The unconscious child
61 The fitting child
62 Accidents and burns
63 Poisoning
Child health in the community
64 Living with a chronic illness
65 Living with a disability
66 Learning disability and autism
67 Visual and hearing impairment
68 Neglect and abuse
69 Adolescent issues
70 Sudden Infant Death
71 Ethics, Research and Consent
72 Palliative / end of life care
See More
Purchase Options

Information about Wiley E-Texts:
Wiley E-Texts are powered by VitalSource and accessed via the VitalSource Bookshelf reader, available online and via a downloadable app.
Wiley E-Texts are accessible online and offline, and can be read on a variety of devices, including smartphones and tablets.
Wiley E-Texts are non-returnable and non-refundable.
Wiley E-Texts are protected by DRM. For specific DRM policies, please refer to our FAQ.
WileyPLUS registration codes are NOT included with any Wiley E-Text. For informationon WileyPLUS, click here .
To learn more about Wiley E-Texts, please refer to our FAQ.

Information about e-books:
E-books are offered as e-Pubs or PDFs. To download and read them, users must install Adobe Digital Editions (ADE) on their PC.
E-books have DRM protection on them, which means only the person who purchases and downloads the e-book can access it.
E-books are non-returnable and non-refundable.
To learn more about our e-books, please refer to our FAQ.
More in this series