Textbook
General Practice Cases at a Glance
July 2016, ©2017, Wiley-Blackwell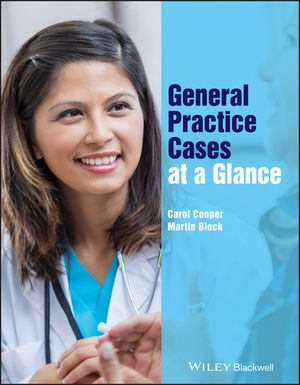 General Practice Cases at a Glance is a workbook of clinical scenarios, ideal for those working in general practice, on their GP rotations, or looking to improve their history-taking, diagnostic and management planning skills. Written by practising teaching GPs, it provides an accessible overview of the richness and complexity of general practice.
With 50 engaging consultations, covering all age ranges and a broad spread of clinical areas, each symptom-based chapter begins with the clinical presentation of a patient, before going on to uncover the full history and examination. As you work through each true-to-life case, there are red flag symptoms, useful charts and tables, and further resources to deepen your knowledge.
General Practice Cases at a Glance:
Is suitable for clinical students, Foundation doctors, and those preparing for the MRCGP's CSA
Includes 50 case scenarios from across the medical spectrum, from mental health and paediatrics to musculoskeletal and ENT medicine
Is comprehensively illustrated
Features current clinical guidelines, and charts and tables to accompany each case
Is the companion volume to General Practice at a Glance, ISBN 978-0-470-65551-1, (Awarded First Prize in the Primary health care category at the 2013 BMA Medical Book Awards) but is also a stand-alone resource
See More
Preface
Part 1: Introduction
1 The consultation
2 Clinical reasoning to reach a diagnosis
Part 2: Cases
1 My baby is burning up
2 I need something for hay fever
3 I can't seem to shift this cough
4 My knee is very bad
5 I have migraine
6 I've come for my flu jab
7 He's a little terror
8 I've got a problem with my shoulder
9 I can't believe how much weight I've put on
10 It's my back passage
11 I am pregnant again
12 My baby has an upset tummy
13 My ear really hurts
14 I'm worried about my drinking
15 She cries all the time
16 I need something to help me sleep
17 My eye hurts
18 I think I should get this prostate test, doctor
19 I can't live with this pain much longer
20 I've got a red eye
21 I'm fed up with my spots
22 I've come for the results of my blood tests
23 I'd like to talk to you about HRT
24 I've got a bit of a discharge
25 I'm feeling tired and woozy
26 I think I need to get my blood pressure checked
27 Well, I'm pregnant
28 I've been feeling short of breath
29 She's coughing non-stop
30 I'm worried about my memory
31 I've got this pain in my chest, Doctor
32 I've been having terrible stomach cramps
33 I'm concerned this mole has been growing
34 I seem to have lost weight
35 I'm worried about my erection
36 I think the cancer has got me
37 I'm all over the place these days
38 She's had tummy ache for two days
39 I don't want to have my period when I am on holiday
40 It's my leg
41 I'm having terrible diarrhoea
42 The nurse did my diabetes check last week. I'm here for the results
43 My skin is really itchy
44 Doctor, I'm just feeling really down
45 I've got a really bad burning in my stomach
46 I want to talk about my risk of Breast Cancer
47 I've got a terrible back ache
48 I'd like antibiotics please
49 I'm tired all the time
50 I'm worried about this lump, doctor
List of Abbreviations
Index of cases by specialty
Index
See More
Carol Cooper is Honorary Teaching Fellow, Department of Primary Care and Public Health, Imperial College London, General Practitioner, London, UK
Martin Block is Programme Director, Imperial GP Specialty Training Programme, and GP Principal and Trainer, Clapham Park Group Practice, London, UK
See More
Purchase Options

Information about Wiley E-Texts:
Wiley E-Texts are powered by VitalSource and accessed via the VitalSource Bookshelf reader, available online and via a downloadable app.
Wiley E-Texts are accessible online and offline, and can be read on a variety of devices, including smartphones and tablets.
Wiley E-Texts are non-returnable and non-refundable.
Wiley E-Texts are protected by DRM. For specific DRM policies, please refer to our FAQ.
WileyPLUS registration codes are NOT included with any Wiley E-Text. For informationon WileyPLUS, click here .
To learn more about Wiley E-Texts, please refer to our FAQ.

Information about e-books:
E-books are offered as e-Pubs or PDFs. To download and read them, users must install Adobe Digital Editions (ADE) on their PC.
E-books have DRM protection on them, which means only the person who purchases and downloads the e-book can access it.
E-books are non-returnable and non-refundable.
To learn more about our e-books, please refer to our FAQ.
More in this series