Textbook
Instant Anatomy, 5th Edition
May 2016, ©2016, Wiley-Blackwell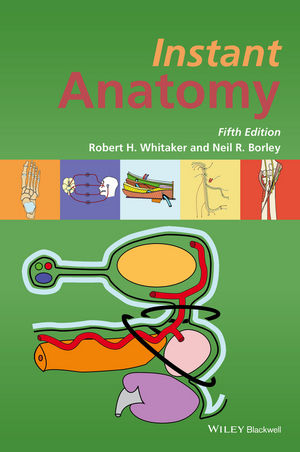 Instant Anatomy presents anatomy and anatomical relationships in a simple, unique, schematic manner to aid the speedy understanding and retrieval of anatomical facts. It shows structures such as nerves and blood vessels in their entirety, unlike the partial, regional presentations given in most textbooks.

Covering the major aspects of anatomy, each section presents the relevant structures in double page spreads, with clear, full-colour diagrams on the left and concise text for each structure on the right. This new fifth edition includes more surface anatomy such as new myotome maps, bones of the hands and feet, principles of movement at shoulder and hip and images to clarify the understanding of the inguinal region and the lesser sac of the stomach.

Ideal for use alongside a core anatomy textbook, Instant Anatomy is the perfect quick reference guide for medical students, surgeons, radiologists and those in many other specialties. The companion website at www.instantanatomy.net with its podcasts and wide ranging multiple choice questions provide invaluable exam preparation.
See More
Preface to fifth edition, vi
Preface to first edition, vii
Notes on the text, viii
1 Arteries, 1
2 Veins, 47
3 Lymphatics, 59
4 Autonomic nervous system, 72
5 Cranial nerves, 91
6 Peripheral nerves, 115
7 Dermatomes and cutaneous nerve distribution, 147
8 Muscles, 155
9 Joints, 181
10 Ossification times, 191
11 Foramina—skull and spine, 197
12 Position of structures according to vertebral levels, 205
13 Pharyngeal derivatives, 207
14 Surface anatomy and key areas, 211
Rules and exceptions, 267
See More
Robert H. Whitaker, MA, MD, MChir, FRCS, FMAA, Selwyn College, University of Cambridge

Neil R. Borley, MB, BS, FRCS, FRCS (ed), Cheltenham General Hospital, Cheltenham
See More
Purchase Options

Information about Wiley E-Texts:
Wiley E-Texts are powered by VitalSource and accessed via the VitalSource Bookshelf reader, available online and via a downloadable app.
Wiley E-Texts are accessible online and offline, and can be read on a variety of devices, including smartphones and tablets.
Wiley E-Texts are non-returnable and non-refundable.
Wiley E-Texts are protected by DRM. For specific DRM policies, please refer to our FAQ.
WileyPLUS registration codes are NOT included with any Wiley E-Text. For informationon WileyPLUS, click here .
To learn more about Wiley E-Texts, please refer to our FAQ.

Information about e-books:
E-books are offered as e-Pubs or PDFs. To download and read them, users must install Adobe Digital Editions (ADE) on their PC.
E-books have DRM protection on them, which means only the person who purchases and downloads the e-book can access it.
E-books are non-returnable and non-refundable.
To learn more about our e-books, please refer to our FAQ.
More in this series