Textbook
Dental Public Health at a Glance
March 2016, ©2016, Wiley-Blackwell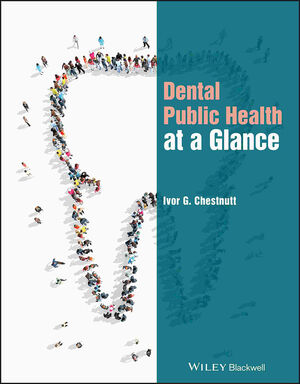 Dental Public Health at a Glance
presents a richly-illustrated introduction to dental and oral health issues in communities and populations.
Each topic is presented in an easy-to-comprehend two-page spread with essential facts clearly summarized and accompanied by tables, illustrations and diagrams
Comprehensive coverage of wide range of key concepts including: evidence-based dentistry, oral health promotion, the relationship of fluoride, diet, smoking, and alcohol to oral health, and considerations for a dental public health career
Written by an expert in dental public health and offering illuminating insights into oral health at the population level
A must-have introductory textbook and revision guide for dentistry and dental hygiene and therapy students
See More
Preface vii
Part 1 Introduction 1
1 What is dental public health? 2
2 Health, oral health and their determinants 4
Part 2 Epidemiology 7
3 Basic epidemiology 8
4 Principles of measuring and recording oral disease and oral health 10
5 Epidemiology of dental caries 12
6 Epidemiology of periodontal disease. 14
7 Epidemiology of oral cancer 16
8 Epidemiology of malocclusion, non-carious tooth surface loss and traumatic dental injuries 18
9 National trends in oral health 20
10 International oral health 22
Part 3 Evidence-based dentistry 25
11 Study design 26
12 Case reports and cross-sectional studies 28
13 Case-control studies 30
14 Cohort studies 32
15 Randomized controlled trials 34
16 Randomized controlled trials II: Split mouth and cross-over studies 36
17 Systematic reviews and meta-analysis 38
18 Evidence-based dentistry and clinical guidelines 40
Part 4 Oral health promotion 43
19 Inequalities in oral health 44
20 Oral health education, oral health promotion and oral health improvement 46
21 Considerations in promoting oral health 48
22 Behaviour change 50
23 Strategies for improving oral health in populations 52
Part 5 Fluoride and oral health 55
24 Strategies for the delivery of fluoride in the prevention of dental caries 56
25 Toothpaste 58
26 Water fluoridation 60
27 Community fluoride schemes and fissure-sealant programmes 62
Part 6 Diet and oral health 65
28 Diet and oral health 66
29 Public health aspects of dietary modification 68
Part 7 Smoking and oral health 71
30 Smoking and oral health 72
31 Alternative ways in which tobacco is used and tobacco control 74
32 Smoking cessation 76
Part 8 Alcohol and oral health 79
33 Alcohol and oral health 80
Part 9 Assessing health needs 83
34 Assessing oral health needs on a population basis 84
35 The oral health needs of specific population groups 86
36 Screening and diagnostic tests 88
Part 10 Providing dental services 91
37 Health economics 92
38 How dental care is organized in the United Kingdom 94
39 Paying for dental care 96
40 Barriers to accessing dental care 98
41 Migration, race and ethnicity 100
42 Skill mix in dentistry 102
43 A vision for the future delivery of dental care 104
Part 11 Qualty assurance of dental care 107
44 Quality dental care 108
45 Clinical audit 110
46 Regulatory bodies and patient complaints 112
Part 12 A career in dental public health 115
47 A career in dental public health 116
48 Useful references and further reading 117
Index 119
See More
Ivor G. Chestnutt is Professor and Honorary Consultant in Dental Public Health and Associate Dean for Postgraduate Studies at the School of Dentistry, Cardiff University, UK. Ivor is registered as a Specialist in Dental Public Health with the General Dental Council. He has been involved in dental public health research and teaching for nearly 25 years and is widely published on the subject.
See More
Purchase Options
Dental Public Health at a Glance
ISBN : 978-1-118-62939-0
136 pages
January 2016
Paperback
Dental Public Health at a Glance
ISBN : 978-1-118-62940-6
136 pages
March 2016
Dental Public Health at a Glance
ISBN : 978-1-119-21671-1
136 pages
February 2016

Information about Wiley E-Texts:
Wiley E-Texts are powered by VitalSource and accessed via the VitalSource Bookshelf reader, available online and via a downloadable app.
Wiley E-Texts are accessible online and offline, and can be read on a variety of devices, including smartphones and tablets.
Wiley E-Texts are non-returnable and non-refundable.
Wiley E-Texts are protected by DRM. For specific DRM policies, please refer to our FAQ.
WileyPLUS registration codes are NOT included with any Wiley E-Text. For informationon WileyPLUS, click here .
To learn more about Wiley E-Texts, please refer to our FAQ.

Information about e-books:
E-books are offered as e-Pubs or PDFs. To download and read them, users must install Adobe Digital Editions (ADE) on their PC.
E-books have DRM protection on them, which means only the person who purchases and downloads the e-book can access it.
E-books are non-returnable and non-refundable.
To learn more about our e-books, please refer to our FAQ.
More in this series