Textbook
Manual for Eye Examination and Diagnosis, 9th Edition
June 2016, ©2016, Wiley-Blackwell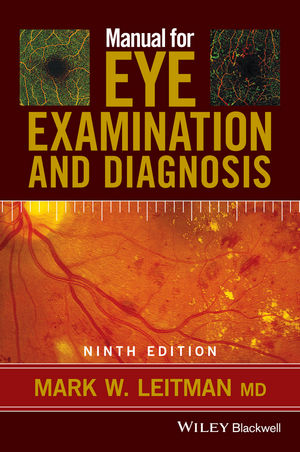 Manual for Eye Examination and Diagnosis, 9th edition is a classic guide that provides a thorough update to basic eye examination techniques and the use of instruments and major ophthalmic disorders. Its popular approach takes the reader through the eye exam, covering anatomy, differential diagnosis, and treatment.
Lavishly illustrated with over 550 color and black and white images, this accessible introductory text is designed for students who need a concise and thorough introduction to this complex and ever-changing specialty.
Students and trainees across the healthcare professions will welcome the practical approach which focuses on the most commonly encountered eye diseases, their examination and treatment.
See More
Preface vi
Introduction to the eye team and their instruments vii
1 Medical history 1
Medical illnesses 3
Medications 4
Family history of eye disease 7
2 Measurement of vision and refraction 8
Visual acuity 8
Optics 9
Refraction 11
Contact lenses 14
Common problems 18
Refractive surgery 18
3 Neuro-ophthalmology 23
Eye movements 23
Strabismus 26
Cranial nerves III–VIII 31

Nystagmus 35
The pupil 41
Visual field testing 44

Color vision 47
Circulatory disturbances affecting vision 47
4 External structures 51
Lymph nodes 51
Lacrimal system 51
Lids 59
Lashes 62
Phakomatoses 65
Anterior and posterior blepharitis 66
5 The orbit 70
Sinusitis 72
Exophthalmos 74
Enophthalmos 74
6 Slit lamp examination and glaucoma 76
Cornea 76
Corneal epithelial disease 77

Corneal endothelial disease 82

Corneal transplantation (keratoplasty) 84
Conjunctiva 89
Sclera 96
Glaucoma 97
Uvea 11
Cataracts 128
7 The retina and vitreous 136
Retinal anatomy 136
Fundus examination 138

Papilledema (choked disk) 140

Retinal blood vessels 142
Age-related macular degeneration 152

Central serous chorioretinopathy 156

Pseudoxanthoma elasticum 156
Albinism 158
Retinitis pigmentosa 158
Retinoblastoma 160 Retinopathy of prematurity 161

Vitreous 161
Retinal holes and detachments 164
Appendix 1: Hyperlipidemia 169
Appendix 2: Amsler grid 171
Index 172
See More
Mark Leitman, MD, Chairman, Department of Ophthalmology, University Surgicenter, East Brunswick, New Jersey, USA
See More
Purchase Options

Information about Wiley E-Texts:
Wiley E-Texts are powered by VitalSource and accessed via the VitalSource Bookshelf reader, available online and via a downloadable app.
Wiley E-Texts are accessible online and offline, and can be read on a variety of devices, including smartphones and tablets.
Wiley E-Texts are non-returnable and non-refundable.
Wiley E-Texts are protected by DRM. For specific DRM policies, please refer to our FAQ.
WileyPLUS registration codes are NOT included with any Wiley E-Text. For informationon WileyPLUS, click here .
To learn more about Wiley E-Texts, please refer to our FAQ.

Information about e-books:
E-books are offered as e-Pubs or PDFs. To download and read them, users must install Adobe Digital Editions (ADE) on their PC.
E-books have DRM protection on them, which means only the person who purchases and downloads the e-book can access it.
E-books are non-returnable and non-refundable.
To learn more about our e-books, please refer to our FAQ.