Textbook
ˇVívelo! Beginning Spanish, 2nd Edition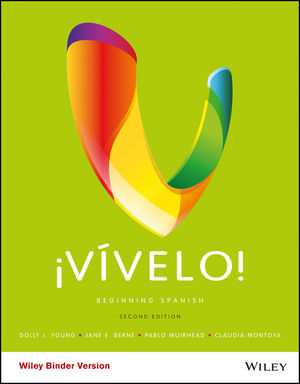 Learning Spanish can be a difficult process but Vivelo!: Beginning Spanish, Binder Ready Version, 2nd Edition makes it easier by offering a fresh approach. It emphasizes what readers know and can readily do with language. The book includes activities that are designed to encourage readers to make cultural comparisons and connections. These activities, such as signature searches, information gap and jigsaw, are incorporated throughout the chapters to encourage a better comprehension of meaning with a purpose. Vivelo! also offers metacognitive strategies to facilitate processing of advanced structures. The heavy emphasis on content and experiential learning empowers readers to gain a stronger understanding of Spanish. This text is an unbound, binder-ready version. Access to WileyPLUS sold separately.
See More
Investigación preliminary
Capítulo1: Hablar de mi y mi familia
Capítulo 2: La clase, las materias y los sistemas educativos
Capítulo3: El mundo hispano
Capítulo4: La cultura popular hispana en tu vida
Capítulo5: Lo que influye en la formación de una cultura y sociedad
Capítulo6: Costumbres sociales y culturales
Capítulo 7
: El arte y lo objetivo
Capítulo 8
: El intercambio de culturas
Capítulo 9
: Perspectivas distintas
Capítulo 10
: Lo personal y lo universal
Capítulo 11
: Los avances tecnológicos
Capítulo 12
: Perspectivas globales
See More
• WileyPLUS Learning Space provides a research-based online environment for effective teaching and learning. Students complete automatically graded homework, get feedback on their answers, and access learning materials like the e-text, videos, self-test and interactive tutorials, collaborative tools, and more.
• En vivo Live Language Coaching is new to Edition 2. In small groups, students get together online with a native-speaking language coach in Latin America or in Spain in series of sessions over the term of the course. With real-time video and audio connection, they practice their Spanish in casual, fun, and natural conversations and engage in real, first-person cultural exchange.
• Grammar sequencing changes include earlier introduction of the preterit, later coverage of the present perfect and formal commands, and relaxed pacing in the coverage of object pronouns. Vocabulary from Palabras claves is more consistently recycled in Estructuras claves sections, and grammar structures are recycled throughout the program.
• An increase in output activities helps students better move from comprehension to production; from listening and reading to speaking and writing
• New review chapters (Capítulos de repaso) appear after chapters 3, 6, and 9; these chapters provide additional practice opportunities with more challenging grammar topics.
• Activities in the Edition 2 core text are all meaningful or communicative, and users have substantial opportunities for additional interpretive, interpersonal, and form-focused practice inWileyPLUS Learning Space.
See More
• Functional approach asks first what we want our students to do with the language, then what vocabulary, grammar and cultural awareness do they need in order to do it.
• Connections with a variety of disciplines are explored through activities and problemsolving tasks in which students perform at a high cognitive level, but with realistic linguistic expectations.
• Cultural context in the presentation of new vocabulary and grammar engages students in the construction and deconstruction of cultural perspectives throughout the program.
See More
Instructors Resources
ENHANCE YOUR COURSE
Request a print evaluation copy
Contact us

Contact your Wiley Representative
Find Your Rep

See More
See Less
Purchase Options
Paperback
ˇVívelo!: Beginning Spanish Activities Manual, 2nd Edition
ISBN : 978-1-118-51481-8
288 pages
December 2015, ©2016
ˇVívelo!: Beginning Spanish, 2nd Edition
ISBN : 978-1-119-22803-5
576 pages
November 2015, ©2016
Loose-leaf
ˇVívelo!: Beginning Spanish, Binder Ready Version, 2nd Edition
ISBN : 978-1-119-04735-3
576 pages
November 2015, ©2016

Information about Wiley E-Texts:
Wiley E-Texts are powered by VitalSource and accessed via the VitalSource Bookshelf reader, available online and via a downloadable app.
Wiley E-Texts are accessible online and offline, and can be read on a variety of devices, including smartphones and tablets.
Wiley E-Texts are non-returnable and non-refundable.
Wiley E-Texts are protected by DRM. For specific DRM policies, please refer to our FAQ.
WileyPLUS registration codes are NOT included with any Wiley E-Text. For informationon WileyPLUS, click here .
To learn more about Wiley E-Texts, please refer to our FAQ.

Information about e-books:
E-books are offered as e-Pubs or PDFs. To download and read them, users must install Adobe Digital Editions (ADE) on their PC.
E-books have DRM protection on them, which means only the person who purchases and downloads the e-book can access it.
E-books are non-returnable and non-refundable.
To learn more about our e-books, please refer to our FAQ.
This title is also available on :