Textbook
Parliamo italiano!, Edition 5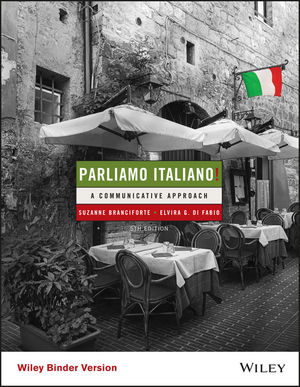 This text is an unbound, three hole punched version. Access to WileyPLUS sold separately.

Parliamo italiano!, Binder Ready Version, Edition 5 continues to offer a communicative, culture based approach for beginning students of Italian. Not only does Parliamo Italiano provide students learning Italian with a strong ground in the four ACTFL skills: reading, writing, speaking, and listening, but it also emphasizes cultural fluency. The text follows a more visual approach by integrating maps, photos, regalia, and cultural notes that offer a vibrant image of Italy. The chapters are organized around functions and activities. Cultural information has been updated to make the material more relevant. In addition, discussions on functional communications give readers early success in the language and encourage them to use it in practical situations.
See More
Unità Preliminare: Per cominciare
Unità 1. Visitare: Siamo a Rome!
Unità 2. Studiare: Impariamo l'italiano!
Unità 3. Abitare: Andiamo a casa mia!
Unità 4. Comprare: Facciamo delle commissioni!
Unità 5. Mangiare: Tutti a tavola!
Unità 6. Rilassarsi: Cosa facciamo di bello?
Unità 7. Vestirsi: Vestiamoci alla moda!
Unità 8. Lavorare: Lavoriamo insieme!
Unità 9. Viaggiare: Andiamo in vancanza!
Unità 10. Divertirsi: Usciamo stasera!
Unità 11. Leggere: Recitiamo una poesia
Unità 12. Sognare: Immaginiamo il futuro!
See More
WileyPLUS Learning Space provides a research-based online environment for effective teaching and learning. Students complete automatically graded homework, get feedback on their answers, and access learning materials like the e-text, videos, self-tests, collaborative tools, and more.
Incontro sections have been streamlined and enhanced with build-out activities that flex oral comprehension.
Updated cultural content throughout the text includes more experiential, investigative, cross-cultural tasks.
Una finestra sull'Italia prompts students to further investigate Italian culture on their own.
New and revised skill-building activities emphasize communication.
Ciak! Italia activities incorporated throughout each unit maximize use of the program's highly engaging video.
Immagini e parole, a magazine-style culmination of the unit, has been re-styled and includes updated readings and photos, with revised idiomatic expressions, all of which present a fresh, current image of Italy.
See More
Thoughtful sequencing of grammar points is driven by their logical relationship to language acquisition and the topic being explored. Explanations are concise and to the point; when possible, schematic visual material and charts help students deduce grammatical concepts and understand their use. Material is consistently recycled to reinforce students' ability to use language naturally.
Active learning as suggested by the verbs of the unit titles organizes the experience around doing things. Activities encourage student participation and interaction, and strive to make learning fun and enjoyable. The program's philosophy is "Learn while you're laughing", or Ridendo, s'impara!
Incontro sections emulate real-life situations and utilize the vocabulary, grammatical constructions, and idioms discussed in the unit while concentrating on the essence of language learning: communication.
See More
Instructors Resources
ENHANCE YOUR COURSE
Request a print evaluation copy
Contact us

Contact your Wiley Representative
Find Your Rep

See More
See Less
Students Resources
See More
See Less
Purchase Options
Paperback
Parliamo italiano!, Activities Manual, Edition 5
ISBN : 978-1-119-13994-2
224 pages
November 2015, ©2015
Parliamo italiano!, Edition 5
ISBN : 978-1-118-80016-4
552 pages
November 2015, ©2016
Parliamo Italiano: A Communicative Approach, Fifth Edition Wiley E-Text: Powered by VitalSource with WileyPLUS E-Commerce Set
ISBN : 978-1-119-32526-0
June 2016, ©2016
Loose-leaf
Parliamo italiano!, Binder Ready Version, Edition 5
ISBN : 978-1-119-14699-5
552 pages
November 2016, ©2016

Information about Wiley E-Texts:
Wiley E-Texts are powered by VitalSource and accessed via the VitalSource Bookshelf reader, available online and via a downloadable app.
Wiley E-Texts are accessible online and offline, and can be read on a variety of devices, including smartphones and tablets.
Wiley E-Texts are non-returnable and non-refundable.
Wiley E-Texts are protected by DRM. For specific DRM policies, please refer to our FAQ.
WileyPLUS registration codes are NOT included with any Wiley E-Text. For informationon WileyPLUS, click here .
To learn more about Wiley E-Texts, please refer to our FAQ.

Information about e-books:
E-books are offered as e-Pubs or PDFs. To download and read them, users must install Adobe Digital Editions (ADE) on their PC.
E-books have DRM protection on them, which means only the person who purchases and downloads the e-book can access it.
E-books are non-returnable and non-refundable.
To learn more about our e-books, please refer to our FAQ.
This title is also available on :