Textbook
Multicultural Education: Issues and Perspectives, 9th Edition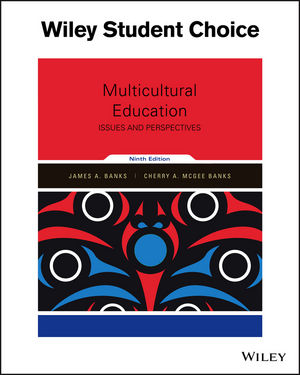 TRY (FREE for 14 days), OR RENT this title:
www.wileystudentchoice.com
There is a wide and growing ethnic, cultural, social-class, and linguistic gap between many of the nations teachers and their students.
Multicultural Education: Issues and Perspectives, 9th edition
, is designed to help current and future educators acquire the concepts, paradigms, and explanations needed to become effective practitioners in culturally, racially, linguistically, and social-class diverse classrooms and schools. An important goal of the 9th edition is to help educators attain a sophisticated understanding of the concept of culture and to view race, class, gender, social class, and exceptionality as interacting concepts rather than as separate and distinct.
See More
Preface xvii
Part 1 Issues and Concepts 1
1 Multicultural Education: Characteristics and Goals 2
by James A. Banks
2 Culture, Teaching, and Learning 24
by Christina Convertino, Bradley A. Levinson, and Norma González
Part 2 Social Class and Religion 41
3 Social Class and Education 42
by Lois Weis
4 Christian Nation or Pluralistic Culture: Religion in American Life 59
by Charles H. Lippy
Part 3 Gender 79
5 Gender Bias: From Colonial America to Today's Classroom 81
by David Sadker and Karen Zittleman
6 Classrooms for Diversity: Rethinking Curriculum and Pedagogy 98
by Mary Kay Thompson Tetreault
7 Understanding and Supporting Gender Equity in Schools 115
by Diane S. Pollard
8 Queer Lessons: Sexual and Gender Minorities in Multicultural Education 132
by Cris Mayo
Part 4 Race, Ethnicity, and Language 149
9 Approaches to Multicultural Curriculum Reform 151
by James A. Banks
10 Backstage Racism: Implications for Teaching 171
by Leslie H. Picca and Ruth Thompson-Miller
11 Language Diversity and Schooling 188
by Manka M. Varghese
Part 5 Exceptionality 211
12 Educational Equality for Students with Disabilities 213
by Sara C. Bicard and William L. Heward
13 Culturally Responsive Special Education in Inclusive Schools 235
by Luanna H. Meyer, Hyun-Sook Park, Jill M. Bevan-Brown, and Catherine Savage
Part 6 School Reform and Classroom Assessment 257
14 School Reform and Student Learning: A Multicultural Perspective 258
by Sonia Nieto and Patty Bode
15 Communities, Families, and Educators Working Together for School Improvement 275
by Cherry A. McGee Banks
16 Classroom Assessment and Diversity 295
by Catherine S. Taylor and Susan B. Nolen
Appendix: Multicultural Resources 309
Glossary 315
Contributors 321
Index 325
See More
Helps teachers attain the knowledge, attitudes, and skills needed to work effectively with students from diverse groups as well as help students from mainstream groups develop cross-cultural knowledge, values, and competencies
Reflects current and emerging research, theories, and practices related to the education of students from both genders and from different cultural, racial, ethnic, language, religious, and social class groups.
Intersectionality—or how race, class, gender, and exceptionality are fluid variables that interact in complex ways—is an overarching concept in this book
NEW Chapter 16 on "Classroom Assessment and Diversity" is new to this 9th edition and Learning Objectives have been added to the beginning of each chapter in this edition.
NEW All of the chapters from the previous edition have been revised to reflect new research, theories, census data, statistics, interpretations, and developments.
NEW The Multicultural Resources in the Appendix have been substantially revised and updated and the Glossary has been revised to incorporate 2014 statistical data from the United States Census American Community Survey as well as new developments in the field.
Two chapters from the 8th edition of this book do not appear in the paper edition of this book but can be found on the online website for this book at Wiley.com. They are "Race, Class, Gender, and Disability in the Classroom" by Carl A. Grant and Christine E. Sleeter; and "Recruiting and Retaining Gifted Students from Different Ethnic, Cultural, and Language Groups" by Donna Y. Ford.
See More
Instructors Resources
Digital evaluation copy available for this title
Request Copy

Contact your Wiley Representative
Find Your Rep

See More
See Less
Purchase Options

Information about Wiley E-Texts:
Wiley E-Texts are powered by VitalSource and accessed via the VitalSource Bookshelf reader, available online and via a downloadable app.
Wiley E-Texts are accessible online and offline, and can be read on a variety of devices, including smartphones and tablets.
Wiley E-Texts are non-returnable and non-refundable.
Wiley E-Texts are protected by DRM. For specific DRM policies, please refer to our FAQ.
WileyPLUS registration codes are NOT included with any Wiley E-Text. For informationon WileyPLUS, click here .
To learn more about Wiley E-Texts, please refer to our FAQ.

Information about e-books:
E-books are offered as e-Pubs or PDFs. To download and read them, users must install Adobe Digital Editions (ADE) on their PC.
E-books have DRM protection on them, which means only the person who purchases and downloads the e-book can access it.
E-books are non-returnable and non-refundable.
To learn more about our e-books, please refer to our FAQ.