Textbook
Ethics and Technology: Controversies, Questions, and Strategies for Ethical Computing 5th Edition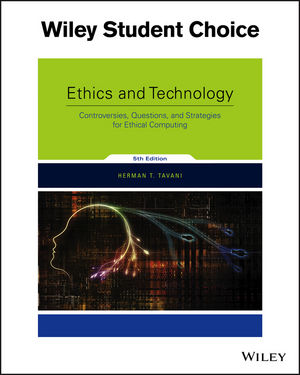 TRY (FREE for 14 days), OR RENT this title
: www.wileystudentchoice.com

Ethics and Technology, 5th Edition
, by Herman Tavani introduces students to issues and controversies that comprise the relatively new field of cyberethics. This text examines a wide range of cyberethics issues--from specific issues of moral responsibility that directly affect computer and information technology (IT) professionals to broader social and ethical concerns that affect each of us in our day-to-day lives. The 5th edition shows how modern day controversies created by emerging technologies can be analyzed from the perspective of standard ethical concepts and theories.
See More
PREFACE xvii
New to the Fifth Edition xviii
Audience and Scope xix
Organization and Structure of the Book xx
The Web Site for Ethics and Technology xxii
A Note to Students xxiii
Note to Instructors: A Roadmap for Using This Book xxiii
A Note to Computer Science Instructors xxiv
Acknowledgments xxv
FOREWORD xxvii
CHAPTER 1 Introduction to Cyberethics : Concepts, Perspectives, and Methodological Frameworks 1
1.1 Defining Key Terms: Cyberethics and Cybertechnology 2
1.1.1 What Is Cybertechnology? 3
1.1.2 Why the Term Cyberethics? 3
1.2 The Cyberethics Evolution: Four Developmental Phases in Cybertechnology 4
1.3 Are Cyberethics Issues Unique Ethical Issues? 7
1.4 Cyberethics as a Branch of Applied Ethics: Three Distinct Perspectives 12
1.5 A Comprehensive Cyberethics Methodology 19
1.6 A Comprehensive Strategy for Approaching Cyberethics Issues 21
1.7 Chapter Summary 22
CHAPTER 2 Ethical Concepts And Ethical Theories: Frameworks For Analyzing Moral Issues 27
2.1 Ethics and Morality 29
2.2 Discussion Stoppers as Roadblocks to Moral Discourse 35
2.3 Why Do We Need Ethical Theories? 43
2.4 Consequence ]Based Ethical Theories 44
2.5 Duty ]Based Ethical Theories 47
2.5.2 Act Deontology 49
2.6 Contract ]Based Ethical Theories 51
2.6.1 Some Criticisms of Contract ]Based Theories 52
2.6.2 Rights ]Based Contract Theories 53
2.7 Character ]Based Ethical Theories 54
2.8 Integrating Aspects of Classical Ethical Theories into a Single Comprehensive Theory 56
2.9 Chapter Summary 59
CHAPTER 3 Critical Reasoning Skills for Eval uating Disputes in Cyberethics 63
3.1 What Is Critical Reasoning? 64
3.2 Constructing an Argument 67
3.3 Valid Arguments 68
3.4 Sound Arguments 71
3.5 Invalid Arguments 73
3.6 Inductive Arguments 74
3.7 Fallacious Arguments 75
3.8 A Seven ]Step Strategy for Evaluating Arguments 77
3.9 Identifying Some Common Fallacies 79
3.10 Chapter Summary 84
CHAPTER 4 Professional Ethics, Codes of Conduct, and Moral Responsibility 87
4.1 What Is Professional Ethics? 88
4.2 Do Computer/IT Professionals Have Any Special Moral Responsibilities? 90
4.3 Professional Codes of Ethics and Codes of Conduct 91
4.4 Conflicts of Professional Responsibility: Employee Loyalty and Whistle ]Blowing 97
4.5 M oral Responsibility, Legal Liability, and Accountability 103
4.6 Do Some Computer Corporations Have Special Moral Obligations? 107
4.7 Chapter Summary 108
CHAPTER 5 Privacy and Cyberspace 113
5.1 Privacy in the Digital Age: Who Is Affected and Why Should We Worry? 114
5.2 What Is Personal Privacy? 117
5.3 Why Is Privacy Important? 121
5.4 Gathering Personal Data: Surveillance, Recording, and Tracking Techniques 123
5.5 Analyzing Personal Data: Big Data, Data Mining, and Web Mining 127
5.6 Protecting Personal Privacy in Public Space 132
5.7 Privacy Legislation and Industry Self ]Regulation 137
5.8 A Right to "Be Forgotten" (or to "Erasure") in the Digital Age 140
5.9 Chapter Summary 146
CHAPTER 6 Security in Cyberspace 151
6.1 Security in the Context of Cybertechnology 152
6.2 Three Categories of Cybersecurity 154
6.3 Cloud Computing and Security 158
6.4 Hacking and "The Hacker Ethic" 160
6.5 Cyberterrorism 164
6.6 Information Warfare (IW) 167
6.7 Chapter Summary 170
CHAPTER 7 Cybercrime and Cyber ]Related Crimes 175
7 . 1 Cybercrimes and Cybercriminals 177
7 . 2 Hacking, Cracking, and Counter Hacking 178
7 . 3 Defining Cybercrime 180
7 . 4 Three Categories of Cybercrime: Piracy, Trespass, and Vandalism in Cyberspace 183
7 . 5 Cyber ]Related Crimes 184
7 . 6 Technologies and Tools for Combating Cybercrime 187
7 . 7 Programs and Techniques Designed to Combat Cybercrime in the United States 189
7 . 8 National and International Laws to Combat Cybercrime 190
7 . 9 Cybercrime and the Free Press: The Wikileaks Controversy 193
7 .10 Chapter Summary 196
CHAPTER 8 Intellectual Property Disputes in Cyberspace 201
8.1 What Is Intellectual Property? 202
8.2 Copyright Law and Digital Media 206
8.3 Patents, Trademarks, and Trade Secrets 212
8.4 Jurisdictional Issues Involving Intellectual Property Laws 214
8.5 Philosophical Foundations for Intellectual Property Rights 215
8.6 The "Free Software" and "Open Source" Movements 219
8.7 The "Common Good" Approach: An Alternative Framework for Analyzing the Intellectual Property Debate 221
8.8 Pipa, Sopa, and Rwa Legislation: Current Battlegrounds in the Intellectual Property War 228
8.9 Chapter Summary 231
CHAPTER 9 Regulating Commerce and Speech in Cyberspace 236
9.1 Introduction and Background Issues: Some Key Questions and Critical Distinctions Affecting Internet Regulation 237
9.2 Digital Rights Management (Drm) 242
9.3 E ]Mail Spam 244
9.4 Free Speech vs. Censorship and Content Control in Cyberspace 246
9.5 Pornography in Cyberspace 248
9.6 Hate Speech and Speech that Can Cause Physical Harm to Others 254
9.7 "Network Neutrality" and the Future of Internet Regulation 256
9.8 Chapter Summary 258
CHAPTER 10 The Digital Divide, Democracy , and Work 263
10.1 The Digital Divide 265
10.2 Cybertechnology and the Disabled 270
10.3 Cybertechnology and Race 271
10.4 Cybertechnology and Gender 273
10.5 Cybertechnology, Democracy, and Demotratic Ideals 276
10.6 The Transformation and the Quality of Work 280
10.7 Chapter Summary 287
CHAPTER 11 Online Communities, Virtual Reality , and Artificial Intelligence 292
11.1 Online Communities and Social Networking Services 293
11.2 Virtual Environments and Virtual Reality 299
11.3 Artificial Intelligence (AI) 305
11.4 Extending Moral Consideration to AI Entities 310
11.5 Chapter Summary 312
CHAPTER 12 Ethical Aspects of Emerging and Converging Technologies 317
12.1 Converging Technologies and Technological Convergence 318
12.2 Ambient Intelligence (AmI) and Ubiquitous Computing 319
12.3 Nanotechnology and Nanocomputing 324
12.4 Autonomous Machines 329
12.5 M achine Ethics and Moral Machines 336
12.6 A "Dynamic" Ethical Framework for Guiding Research in New and Emerging Technologies 340
12.7 Chapter Summary 341
Review Questions 342
Discussion Questions 342
Scenarios for Analysis 343
Endnotes 343
References 344
Further Readings 346
GLOSSARY 347
INDEX 353
See More
• New Learning objectives highlighted at the beginning of each chapter.
• New Beginning-of-chapter scenarios are designed to capture one or more of the key themes/issues/controversies comprising that chapter.
• New or updated in-chapter scenarios illustrating both actual cases and hypothetical situations.
• New sample arguments in many chapters, which enable students to apply the tools for argument analysis covered in Chapter 3.
• New and revised end-of-chapter "Scenarios for Analysis," provide students and instructors with additional resources for analyzing important controversies. These can be used for either in-class analysis and group projects or outside-class assignments.
• New and revised review and discussion questions at the end of each chapter.
• New Issues examined and analyzed include:
o State-sponsored cyberattacks and their implications for (inter)national security.
o Whistle-blowing controversies generated by the leaking of highly sensitive (governmental) information in digital form.
o NSA-surveillance-related leaks and their implications for both personal privacy and national security.
o Privacy threats posed by Big Data.
o Challenges posed to the recording industry/artists by the online services that stream digital music.
See More
• Comprehensive and Up-to-Date. Covers all of the standard topics such as codes of conduct, privacy, security, crime, intellectual property, and free speech, and also discusses sometimes overlooked subjects such as democracy, employment, access, and the digital divide.
• Diverse Points of View. Approaches the subject matter of cyberethics from diverse points of view. The author examines issues from a social science perspective, from a philosophical perspective, and from a computing professional perspective, and then he suggests ways to integrate these diverse approaches.
• Critical Thinking Skills. Contains an entire chapter discussing critical thinking skills and is filled with review and discussion questions.
See More
Instructors Resources
Digital evaluation copy available for this title
Request Copy

Contact your Wiley Representative
Find Your Rep

See More
See Less
Purchase Options
Wiley E-Text

Ethics and Technology: Controversies, Questions, and Strategies for Ethical Computing, 5th Edition
ISBN : 978-1-119-18657-1
388 pages
December 2015, ©2016
Paperback
Ethics and Technology: Controversies, Questions, and Strategies for Ethical Computing, 5th Edition
ISBN : 978-1-119-23975-8
388 pages
January 2016, ©2016

Information about Wiley E-Texts:
Wiley E-Texts are powered by VitalSource and accessed via the VitalSource Bookshelf reader, available online and via a downloadable app.
Wiley E-Texts are accessible online and offline, and can be read on a variety of devices, including smartphones and tablets.
Wiley E-Texts are non-returnable and non-refundable.
Wiley E-Texts are protected by DRM. For specific DRM policies, please refer to our FAQ.
WileyPLUS registration codes are NOT included with any Wiley E-Text. For informationon WileyPLUS, click here .
To learn more about Wiley E-Texts, please refer to our FAQ.

Information about e-books:
E-books are offered as e-Pubs or PDFs. To download and read them, users must install Adobe Digital Editions (ADE) on their PC.
E-books have DRM protection on them, which means only the person who purchases and downloads the e-book can access it.
E-books are non-returnable and non-refundable.
To learn more about our e-books, please refer to our FAQ.