Textbook
Product and Process Design Principles: Synthesis, Analysis and Design, 4th Edition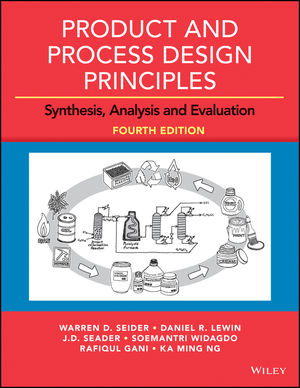 TRY (FREE for 14 days), OR RENT this title
: www.wileystudentchoice.com


The new 4
th
edition of Seider's
Product and Process Design Principles: Synthesis, Analysis and Design
covers content for process design courses in the chemical engineering curriculum, showing how process design and product design are inter-linked and why studying the two is important for modern applications. A principal objective of this new edition is to describe modern strategies for the design of chemical products and processes, with an emphasis on a systematic approach. This fourth edition presents two parallel tracks: (1) product design, and (2) process design, with an emphasis on process design. Process design instructors can show easily how product designs lead to new chemical processes. Alternatively, product design can be taught in a separate course subsequent to the process design course.
See More
PART ONE INTRODUCTION TO PRODUCT AND PROCESS DESIGN 1
Chapter 1 Introduction to Chemical Product Design 3
Chapter 2 Introduction to Process Design 19
Chapter 3 Design Literature, Stimulating Innovation, Energy, Environment, Sustainability, Safety, Engineering Ethics 47
PART TWO DESIGN SYNTHESIS—PRODUCT AND PROCESSES 77
Chapter 4 Molecular and Mixture Design 79
Chapter 5 Design of Chemical Devices, Functional Products, and Formulated Products 110
Chapter 6 Heuristics for Process Synthesis 132
Chapter 7 Simulation to Assist in Process Creation 162
Chapter 8 Synthesis of Networks Containing Reactors 209
Chapter 9 Synthesis of Separation Trains 234
Chapter 10 Second-Law Analysis 287
Chapter 11 Heat and Power Integration 316
Chapter 12 Heat Exchanger Design 358
Chapter 13 Separation Tower Design 386
Chapter 14 Pumps, Compressors, and Expanders 397
Chapter 15 Chemical Reactor Design 405
Chapter 16 Cost Accounting and Capital Cost Estimation 426
Chapter 17 Annual Costs, Earnings, and Profitability Analysis 498
PART THREE DESIGN ANALYSIS—PRODUCT AND PROCESS 551
Chapter 18 Six-Sigma Design Strategies 553
Chapter 19 Business Decision Making in Product Development 566
Chapter 20 Plantwide Controllability Assessment 576
Chapter 21 Design Optimization 597
Chapter 22 Optimal Design and Scheduling of Batch Processes 616
PART FOUR DESIGN REPORTS—PRODUCT AND PROCESS 629
Chapter 23 Written Reports and Oral Presentations 631
PART FIVE CASE STUDIES—PRODUCT AND PROCESS DESIGNS 643
Chapter 24 Case Study 1—Home Hemodialysis Devices 645
Chapter 25 Case Study 2—High Throughput Screening Devices for Kinase Inhibitors 657
Chapter 26 Case Study 3—Die Attach Adhesive: A Case Study of Product Development 674
Chapter 27 Case Study 4—Ammonia Process 683
Appendix I Residue Curves for Heterogeneous Systems 704
Appendix II Design Problem Statements by Area 705
Appendix III Materials of Construction 709
Table of Acronyms 711
Author Index 719
Subject Index 725
See More
Warren D. Seider is Professor of Chemical Engineering at the University of Pennsylvania. He received a B.S. degree from the Polytechnic Institute of Brooklyn and M.S. and Ph.D. degrees from the University of Michigan. Seider has contributed to the fields of process analysis, simulation, design, and control. He has authored or coauthored over 110 journal articles and authored or edited seven books. He helped to organize the CACHE (Computer Aids for Chemical Engineering Education) Committee in 1969 and served as its chairman. Seider is a member of the Editorial Advisory Board of Computers and Chemical Engineering.


Daniel R. Lewin is Professor of Chemical Engineering, the Churchill Family Chair, and the Director of the Process Systems Engineering (PSE) research group at the Technion, the Israel Institute of Technology. He received his B.Sc. from the University of Edin­burgh and his D.Sc. from the Tech­nion. He has authored or co-authored over 100 technical publications in the area of process systems engineering, as well as the first three editions of this textbook, and the multimedia CD that accompanies it.


J. D. Seader is Professor Emeritus of Chemical Engineering at the University of Utah. He received B.S. and M.S. degrees from the University of California at Berkeley and a Ph.D. from the University of Wisconsin. In 2004, he received, with Professor Warren D. Seider, the Warren K. Lewis Award for Chemical Engineering Education from the AIChE. In 2008, his textbook, "Separation Process Principles" with co-author Ernest J. Henley, was cited as one of 30 ground-breaking books in the last 100 years of chemical engineering.


Soemantri Widagdo is a retired R&D executive after a 15-year career at 3M. His last position was the R&D Head of 3M Southeast Asia. He received his B.S. degree in chemical engineering from Bandung Institute of Technology, Indonesia, and his M.Ch.E. and Ph.D. degrees from Stevens Institute of Technology. He has been involved in a variety of technology and product-development programs involving renewable energy, industrial and transportation applications, consumer office products, electrical and electronics applications, health care and dentistry, and display and graphics applications. He has authored and co-authored over 20 technical publications and two patents.


Rafiqul Gani is Professor of System Design at the Department of Chemical & Biochemical Engineering, The Technical University of Denmark and the head and co-founder of the Computer Aided Product-Process Engineering Center (CAPEC). He received a B.S degree from the Bangladesh University of Engineering and Technology, and M.S., DIC and Ph.D. degrees from Imperial College, London. He has published more than 200 peer-reviewed journal articles and delivered over 300 lectures, seminars and plenary/keynote lectures at international conferences, institutions and companies all over the world. Professor Gani is currently (2014-2016) the president of the EFCE (European Federation of Chemical Engineering); a member of the Board of Trustees of the AIChE; a Fellow of the AIChE and also a Fellow of IChemE.


Ka Ming Ng is Chair Professor of Chemical and Biomolecular Engineering at the Hong Kong University of Science and Technology. He obtained his B.S. degree from the University of Minnesota and his Ph.D. from the University of Houston. His research interests center on product conceptualization, process design and business development involving water, natural herbs, nanomaterials, and advanced materials. He is a fellow of the American Institute of Chemical Engineers where he received the Excellence in Process Development Research Award in 2002.
See More
New organization of pedagogy follows a 5 part distribution for a more smooth transition between process and product design.
Presentation of product and process design has been re-organized into two separate, although related, activities so that the two topics can be taught separately or together.
Each case study involves some engineering design calculations and/or lab data regression to be performed by students.
New chapters provide additional content at no added length.
Updated and revised examples are supplemented with videos and illustrations.
Resources
Instructor
Instructor's Solution Manual
Preface to Instructor Resources
PowerPoint Presentations: Our PowerPoint™ presentations contain a combination of key concepts allowing you to illustrate important topics with images, figures, and problems from the textbook.
Image Gallery: Use this digital repository of images displayed throughout the textbook to enliven your PowerPoint slides and interact with the reading assignments in the classroom.
Computer Solution Files
Module Instruction Sequence
Using Process Simulators in Chemical Engineering Software
Program and Simulation Files
Student
Preface to Students Resources
Using Process Simulators in Chemical Engineering Software
Supplemental chapters, in PDF files, from earlier editions;
Program and simulation files that solve 60 example problems;
93 design problem statements;
Multimedia courseware that uses voice, video, and animation to introduce new users of the steady-state simulators to the specifics of two of the most widely used process simulation programs, ASPEN PLUS and HYSYS (UniSim Design).
See More
Instructors Resources
Digital evaluation copy available for this title
Request Copy

Contact your Wiley Representative
Find Your Rep

See More
See Less
Purchase Options
Wiley E-Text

Product and Process Design Principles: Synthesis, Analysis and Evaluation, 4th Edition
ISBN : 978-1-119-25733-2
740 pages
May 2016, ©2017
Paperback
Product and Process Design Principles: Synthesis, Analysis and Evaluation, 4th Edition
ISBN : 978-1-119-28263-1
772 pages
May 2016, ©2017

Information about Wiley E-Texts:
Wiley E-Texts are powered by VitalSource and accessed via the VitalSource Bookshelf reader, available online and via a downloadable app.
Wiley E-Texts are accessible online and offline, and can be read on a variety of devices, including smartphones and tablets.
Wiley E-Texts are non-returnable and non-refundable.
Wiley E-Texts are protected by DRM. For specific DRM policies, please refer to our FAQ.
WileyPLUS registration codes are NOT included with any Wiley E-Text. For informationon WileyPLUS, click here .
To learn more about Wiley E-Texts, please refer to our FAQ.

Information about e-books:
E-books are offered as e-Pubs or PDFs. To download and read them, users must install Adobe Digital Editions (ADE) on their PC.
E-books have DRM protection on them, which means only the person who purchases and downloads the e-book can access it.
E-books are non-returnable and non-refundable.
To learn more about our e-books, please refer to our FAQ.