Textbook
Entrepreneurship, 4th Edition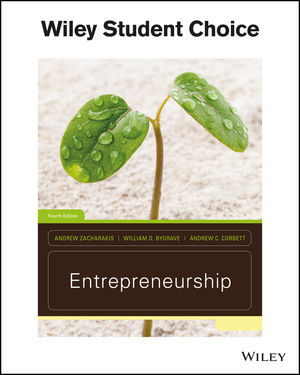 TRY (FREE for 14 days), OR RENT this title
: www.wileystudentchoice.com

Entrepreneurship, 4th Edition
delves into the trials and tribulations of entrepreneurship so students will have the necessary tools to start their own businesses. It provides coverage on social enterprises and ethics due to the rise in green trends and corporate scandals. Up-to-date examples and references provide entrepreneurs with the most essential information.
See More
Preface vii
1 The Power of Entrepreneurship 1
Entrepreneurship and Small Business in the United States 2
Entrepreneurial Revolution 4
Web: Three Revolutions Converge 8
Entrepreneurship Revolution Strikes Gold 9
Creative Destruction 11
Causes of the Entrepreneurial Revolution 12
Changes in the Entrepreneurial Framework Conditions 14
Churning and Economic Growth 17
Global Entrepreneurship Monitor 19
Principal Findings from GEM 19
Activity 20
Necessity- and Opportunity-Driven Entrepreneurs 20
Age Distribution of Early-Stage Entrepreneurial Activity 23
Gender Distribution of Early-Stage Entrepreneurial Activity 23
Growth Expectations and Job Creation 24
Entrepreneurship Ecosystems and the Importance of Support 26
Conclusion 28
Your Opportunity Journal 29
Web Exercise 29
Notes 29
CASE: ALISON BARNARD 35
2 The Entrepreneurial Process 47
Critical Factors for Starting a New Enterprise 48
Personal Attributes 50
Environmental Factors 50
Other Sociological Factors 52
Evaluating Opportunities for New Businesses 54
The Opportunity 55
The Customer 56
The Timing 56
The Entrepreneur and the Management Team 58
Resources 58
Determining Resource Needs and Acquiring Resources 59
Startup Capital 61
Profit Potential 63
Ingredients for a Successful New Business 65
Conclusion 67
Your Opportunity Journal 67
Web Exercise 67
Notes 67
CASE: VERA BRADLEY 69
3 Opportunity Recognition, Shaping, and Reshaping 79
From Glimmer to Action: How Do I Come Up with a Good Idea? 80
Finding Your Passion 80
Idea Multiplication 82
Is Your Idea an Opportunity? 86
The Customer 86
The Competition 97
Suppliers and Vendors 100
The Government 101
The Global Environment 101
The Opportunity Checklist 101
"I Don't Have an Opportunity" 101
Conclusion 103
Your Opportunity Journal 104
Web Exercise 104
Notes 104
CASE: JIM POSS 107
4 Understanding Your Business Model and Developing Your Strategy 121
What is Prototyping
Low-Fidelity Versus High-Fidelity Prototypes
Looks-Like and Works-Like Prototypes
Types of Prototyping
Paper Prototyping
3D Printing
Looks-Like Prototyping in Crowdfunding
Co-Creation
Prototyping Services
Minimum Viable Product
Conclusion 143
Your Opportunity Journal 143
Web Exercise 143
Notes 144
CASE: Balanced Snacking 146
5 Entrepreneurial Marketing 157
The Business Model 121
The Revenue Model 122
The Cost Model 125
The First-Mover Myth 127
Formulating a Winning Strategy 129
The People Are What Matters 130
Entry Strategy 132
Growth Strategy 135
Conclusion 143
Your Opportunity Journal 143
Web Exercise 143
Notes 144
CASE: ZUMBA FITNESS 146
Why Marketing Is Critical for Entrepreneurs 158
Entrepreneurs Face Unique Marketing Challenges 158
Acquiring Market Information 159
Marketing Strategy for Entrepreneurs 161
Segmentation, Targeting, and Positioning 161
The Marketing Mix 162
Value Proposition: Articulating the Entrepreneurial Strategy
Guerrilla Marketing 175
Marketing Skills for Managing Growth 176
Understanding and Listening to the Customer 176
Building the Brand 177
Conclusion 178
Your Opportunity Journal 178
Web Exercise 179
Appendix: Customer Interview 179
General Outline: It Needs to Be Tailored to Meet Your Research Needs 179
Notes 180
CASE: THEO CHOCOLATE182
6 Building the Founding Team 197
Power of the Team 198
Where Do You Fit? 199
How to Build a Powerful Team 203
Bootstrapping: Building the Team Based on Stage-of-Venture Life 205
Compensation 206
Equity 206
Salary 211
Other Compensation Considerations 211
External Team Members 212
Outside Investors 212
Lawyers 212
Accountants 213
Board of Advisors 214
Board of Directors 214
Keeping the Team Together 215
Burnout 216
Family Pressure 217
Interpersonal Conflicts 217
Conclusion 217
Your Opportunity Journal 218
Web Exercise 218
Notes 218
CASE: BOX, INC. 221
7 The Business Planning Process 235
The Planning Process 237
The Story Model 239
The Business Plan 240
The Cover 240
Executive Summary 241
Table of Contents 241
Industry, Customer, and Competitor Analysis 242
Company and Product Description 246
Marketing Plan 247
Operations Plan 251
Development Plan 252
Team 253
Critical Risks 255
Offering 257
Financial Plan 257
Appendices 257
Types of Plans 257
Style Pointers for the Written Plan and Oral Presentation 258
Conclusion 259
Your Opportunity Journal 260
Web Exercise 260
Notes 260
CASE: P'KOLINO 261
8 Building Your Pro-Forma Financial Statements 305
Common Mistakes 306
Financial Statement Overview 307
Building Your Pro-Forma Financial Statements 308
Build-Up Method 308
Revenue Projections 309
Cost of Goods Sold 311
Operating Expenses 312
Preliminary Income Statement 314
Comparable Method 315
Building Integrated Financial Statements 317
Income Statement 318
Balance Sheet 320
Cash-Flow Statement 321
Putting It All Together 321
Conclusion 323
Your Opportunity Journal 323
Web Exercise 324
Notes 324
CASE: P'KOLINO FINANCIALS 325
9 Financing Entrepreneurial Ventures Worldwide 337
Entrepreneurial Financing for the World's Poorest 338
Microfinancing 338
Microcredit for the Poorest of the Poor 339
Entrepreneurs and Informal Investors 339
Amount of Capital Needed to Start a Business 341
Characteristics of Informal Investors 344
Financial Returns on Informal Investment 344
Supply and Demand for Startup Financing 345
Crowdfunding
Venture Capital 346
Classic Venture Capital 347
Importance of Venture Capital in the U.S. Economy 349
Mechanism of Venture Capital Investing 351
Financial Returns on Venture Capital 353
Venture Capital in Europe 355
Conclusion 357
Your Opportunity Journal 357
Web Exercise 358
Notes 358
CASE: CROWDFUNDING: A TALE OF TWO CAMPAIGNS 360
10 Raising Money for Starting and Growing Businesses 379
Jim Poss, BigBelly Solar 379
Bootstrapping New Ventures 380
Valuation 381
Earnings Capitalization Valuation 381
Present Value of Future Cash Flows 382
Market-Comparable Valuation (Multiple of Earnings) 382
Asset-Based Valuation 383
Example of Market-Comparable Valuation 383
Asset-Based Valuation Example 385
Financing a New Venture 386
Informal Investors 387
Business Angels 389
Searching for Business Angels 391
Types of Business Angels 391
Putting Together a Round of Angel Investment 392
Venture Capital 394
Candidates for Venture Capital 394
Ideal Candidates for Venture Capital 395
Actual Venture-Capital-Backed Companies 395
Dealing with Venture Capitalists 397
Negotiating the Deal 398
Follow-On Rounds of Venture Capital 399
Harvesting Investments 400
Initial Public Offering 400
Pros and Cons of an IPO 401
The Process of Going Public 403
BFWS Goes Public 405
Selling the Company 405
A Strategic Acquisition: Food Should Taste Good 405
Why Be Acquired? 407
Conclusion 408
Your Opportunity Journal 409
Web Exercise 409
Notes 410
CASE: METACARTA: GROWING A COMPANY, DO WE TAKE THE VC MONEY? 413
11 Debt and Other Forms of Financing 423
Getting Access to Funds —Start with Internal Sources 423
Start with Credit Cards and Home Equity Lines 424
Cash Conversion Cycle 425
Working Capital: Getting Cash from Receivables and Inventories 426
Using Accounts Receivable as Working Capital 427
The Sales Pattern 428
Cash versus Credit Sales 428
Credit Policies 428
Setting Credit Terms 429
Collection Policies 430
Setting Credit Limits for Individual Accounts 431
Inventory 432
Sources of Short-Term Cash: More Payables, Less Receivables 433
Cash from Short-Term Bank Loans 433
Cash from Trade Credit 434
Cash Obtained by Negotiating with Suppliers 434
Cash Available Because of Seasonal Business Credit Terms 434
Advantages of Trade Credit 435
Cash Obtained by Tightening Up Accounts Receivable Collections 435
Obtaining Bank Loans Through Accounts Receivable Financing 436
Pledging 436
Pledging with Notification 436
Factoring 436
Recourse 437
Obtaining Loans against Inventory 437
Obtaining ''Financing'' from Customer Prepayments 438 Choosing the Right Mix of Short-Term Financing 438 Traditional Bank Lending: Short-Term Bank Loans 438
Maturity of Loans 439
Interest Rates 439
Collateral 440
Applying for a Bank Loan 441
Restrictive Covenants 441
General Provisions 442
Routine Provisions 442
Specific Provisions 443
Equipment Financing 443
Obtaining Early Financing from External Sources 443
SBA-Guaranteed Loans 444
Applying for an SBA Loan 444
Conclusion 446
Your Opportunity Journal 447
Web Exercise 447
Notes 447
CASE: FEED RESOURCE RECOVERY 449
12 Legal and Tax Issues, Including Intellectual Property 463
Why, When, and How to Choose an Attorney 463
Leaving Your Present Position 464
Corporate Opportunity 464
Recruitment of Fellow Employees 464
Noncompetition 465
Intellectual Property 466
The Basics: What Is Protectable and How Should It Be Protected? 467
Patents 467
Trade Secrets 472
Trademarks 474
Copyright 476
International Protection for Intellectual Property 477
Choice of Legal Form 479
Control 480
Personal Liability 481
Taxation 482
Initial Investment of the Founders 483
Administrative Obligations 484
Choosing a Name 484
Stockholders' and Operating Agreements 485
Negotiating Employment Terms 485
Disposition of Equity Interests 485
Legal and Tax Issues in Hiring Employees 488
Employees as Agents of the Company 488
Employment Discrimination 489
Employment Agreements 489
Raising Money 489
Conclusion 491
Your Opportunity Journal 491
Web Exercise 492
Notes 492
CASE: TESSERA 493
13 Entrepreneurial Growth 501
Making the Transition from Startup to Growth 502
Looking Forward: The Choice to Grow, or Not,…or Sell 502
A Model of Driving Forces of Growth 504
The Growth Process 505
Execution 505
Instituting Controls 507
Tracking Performance 508
Managing the Cash Cycle 510
Leveraging the Value Chain 512
Maintaining the Entrepreneurial Organization 513
Opportunity Domain 513
Organizational Resources and Capabilities 516
Obtaining Financial Resources for the Growing Company 517
Intangible Resources and Capabilities 517
Leadership 519
Starting the Delegation Process 519
First-Level Management 520
From Delegation to Decentralization 521
Professional Management and Boards 521
Coordinating the Driving Forces 522
Leading People; Developing Entrepreneurs 522
Conclusion 523
Your Opportunity Journal 524
Web Exercise 524
Notes 525
CASE: LAZYBONES 526
14 Social Entrepreneurship 535
Introduction 535
The Rise in Social Entrepreneurship 536
Social Entrepreneurship Defined 538
A Social Entrepreneurship Typology 538
1Traditional Venture 540
Social Consequence 540
Social Purpose Venture 540
Enterprising Nonprofit 541
Hybrid Ventures 542
Choosing Your Venture Type 545
Measuring Impact 547
Conclusion 548
Your Opportunity Journal 549
Web Exercise 549
Notes 550
CASE: YEAR UP: WORKFORCE TRAINING FOR URBAN YOUTH 552
Glossary 569
Index 579
See More
NEW – New Chapter Added– Chapter 4 on Prototyping written by Erik Noyes
NEW - New cases throughout the book on: Balanced Snacking—looks at the growing popularity of the Direct-to-Consumer business model, Theo Chocolate—which highlights effective entrepreneurial marketing, and Box—which examines effective teams.
EXPANDED - Expanded Chapters 3,6, & 10: Expanded discussion on strategy and business model (Ch 3), customer value proposition and social media marketing (Ch 6), and expanded discussion of crowdfunding (Ch 10).
UPDATED - Updated examples throughout book, focusing on new internet (Web 2.0, 3.0, mobile aps, etc.) examples.
UPDATED - Updated statistics such as GEM data on entrepreneurial activity.
Opportunity Journal: Students can reflect on the lessons learned and think about how to apply the lessons to their future careers.
LivePlan and Business Plan Pro, the best-selling business plan development programs are available with Entrepreneurship in value-priced packages to give students access to the leading resources to develop their business plans.
See More
Social Entrepreneurship Coverage: Chapter 15 on Social Entrepreneurship presents the latest examples and most relevant businesses to explore this growingfield.
Balance of Concepts and Cases: The text presents concepts underlying how businesses are born, grow and succeed or fail, along with a variety of real-life cases to illustrate these concepts.
End of Chapter Cases: Each chapter is accompanied by a case study of entrepreneurs in action.
See More
Instructors Resources
Digital evaluation copy available for this title
Request Copy

Contact your Wiley Representative
Find Your Rep

See More
See Less
Purchase Options

Information about Wiley E-Texts:
Wiley E-Texts are powered by VitalSource and accessed via the VitalSource Bookshelf reader, available online and via a downloadable app.
Wiley E-Texts are accessible online and offline, and can be read on a variety of devices, including smartphones and tablets.
Wiley E-Texts are non-returnable and non-refundable.
Wiley E-Texts are protected by DRM. For specific DRM policies, please refer to our FAQ.
WileyPLUS registration codes are NOT included with any Wiley E-Text. For informationon WileyPLUS, click here .
To learn more about Wiley E-Texts, please refer to our FAQ.

Information about e-books:
E-books are offered as e-Pubs or PDFs. To download and read them, users must install Adobe Digital Editions (ADE) on their PC.
E-books have DRM protection on them, which means only the person who purchases and downloads the e-book can access it.
E-books are non-returnable and non-refundable.
To learn more about our e-books, please refer to our FAQ.