Textbook
Degarmo's Materials and Processes in Manufacturing, 12th Edition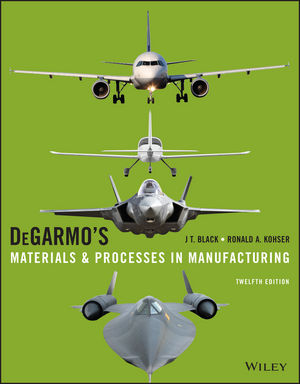 Newly revised for its twelfth edition, DeGarmo's Materials and Processes in Manufacturing, 12th Edition continues to be a market-leading text on manufacturing and manufacturing processes courses for over fifty years. Authors J T. Black and Ron Kohser have continued this book's long and distinguished tradition of exceedingly clear presentation and highly practical approach to materials and processes, presenting mathematical models and analytical equations only when they enhance the basic understanding of the material. Updated to reflect all current practices, standards, and materials, the twelfth edition has new coverage of additive manufacturing, lean engineering, and processes related to ceramics, polymers, and plastics.
See More
Contents
PREFACE v
1 Introduction to DeGarmo's Materials and Processes in Manufacturing 1
2 Properties of Materials 26
3 Nature of Materials 51
4 Equilibrium Phase Diagrams and the Iron–Carbon System 65
5 Heat Treatment 77
6 Ferrous Metals and Alloys 101
7 Nonferrous Metals and Alloys 124
8 Nonmetallic Materials: Plastics, Elastomers, Ceramics, and Composites 146
9 Material Selection 178 and the Iron–Carbon System 65
10 Measurement and Inspection 192
11 Nondestructive Examination (NDE) / Nondestructive Testing (NDT) 218
12 Process Capability and Quality Control 232
13 Fundamentals of Casting 259
14 Expendable-Mold Casting Processes 277
15 Multiple-Use-Mold Casting Processes 303
16 Powder Metallurgy (Particulate Processing) 320
17 Fundamentals of Metal Forming 341
18 Bulk Forming Processes 355
19 Sheet Forming Processes 387
20 Fabrication of Plastics, Ceramics, and Composites 419
21 Fundamentals of Machining/Orthogonal Machining 446
22 Cutting Tool Materials 472
23 Turning and Boring Processes 499
24 Milling 520
25 Drilling and Related Hole-Making Processes 536
26 CNC Processes and Adaptive Control: A(4) and A(5) Levels of Automation 558
27 Sawing, Broaching, Shaping, and Filing Machining Processes 581
28 Abrasive Machining Processes 604
29 Nano and Micro-Manufacturing Processes 632
30 Nontraditional Manufacturing Processes 657
31 Thread and Gear Manufacturing 678
32 Surface Integrity and Finishing Processes 705
33 Additive Processes — Including 3-D Printing 730
34 Manufacturing Automation and Industrial Robots 751
35 Fundamentals of Joining 779
36 Gas Flame and Arc Processes 792
37 Resistance and Solid-State Welding Processes 817
38 Other Welding Processes, Brazing and Soldering 833
39 Adhesive Bonding, Mechanical Fastening, and Joining of Non-Metals 856
40 JIG and Fixture Design 872
41 The Enterprise (Production System) 893
42 Lean Engineering 910
43 Mixed-Model Final Assembly 943
Summary 953
Review Questions 953

Problems 953
INDEX 954
SELECTED REFERENCES FOR ADDITIONAL STUDY 000
See More
NEW chapter on Additive Manufacturing incorporates the aspects of rapid prototyping, rapid tooling, and direct digital manufacturing, and provide updated information on many recent advances in this area
NEW emerging technology is incorporated, and existing technologies are updated to accurately reflect current capabilities
Four additonal chapters are provided online at the book website: these chapters cover electronic manufacturing, thread and gear manufacture, nondestructive testing and inspection, and the enterprise (production system).
See More
Materials section focuses on properties and behaviors, while coverage of processes offers a descriptive introduction to the wide variety of options
Emphasizes application and design
Presents mathematical models and analytical equations sparingly
Case studies provide real-world examples
See More
Instructors Resources
Digital evaluation copy available for this title
Request Copy

Contact your Wiley Representative
Find Your Rep

See More
See Less
Purchase Options

Information about Wiley E-Texts:
Wiley E-Texts are powered by VitalSource and accessed via the VitalSource Bookshelf reader, available online and via a downloadable app.
Wiley E-Texts are accessible online and offline, and can be read on a variety of devices, including smartphones and tablets.
Wiley E-Texts are non-returnable and non-refundable.
Wiley E-Texts are protected by DRM. For specific DRM policies, please refer to our FAQ.
WileyPLUS registration codes are NOT included with any Wiley E-Text. For informationon WileyPLUS, click here .
To learn more about Wiley E-Texts, please refer to our FAQ.

Information about e-books:
E-books are offered as e-Pubs or PDFs. To download and read them, users must install Adobe Digital Editions (ADE) on their PC.
E-books have DRM protection on them, which means only the person who purchases and downloads the e-book can access it.
E-books are non-returnable and non-refundable.
To learn more about our e-books, please refer to our FAQ.