Textbook
Geographic Information Systems in Action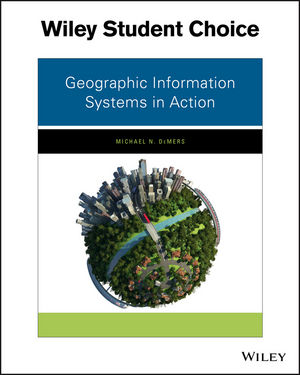 TRY (FREE for 14 days), OR RENT this title
: www.wileystudentchoice.com

Geographic Information Systems in Action, 1st Edition
offers content that not only teaches GIS techniques, the ideas behind them, and how they work, but also—through a series of graded, hands-on content oriented activities--challenges students to think through what they are doing and why before going on to practical ArcGIS exercises. This deeper understanding, and the superior problem-solving skills students gain from using the text, will also make them highly valuable employees, in addition to well-informed students.
See More
Preface v
1 Introduction to Geographic Information Systems (GIS) 1
Learning Objectives 1
Behavioral Indicators 1
Chapter Overview 2
What Is GIS? 2
Database Definition 2
Software Definition 3
System Definition 5
What GIS Does 7
Questions Regarding Individual Geographic Objects 7
Questions Concerning Multiple Geographic Entities 7
The GIS User Community 9
Disciplines Employing GIS 9
Examples of Users 10
The GIS Skill Set 12
Incorporating GIS Knowledge and Skills into Your Work and the Workplace 14
Additional Reading and Resources 14
Industry Profile 15
Key Terms 15
2 GIS Representation 16
Learning Objectives 16
Behavioral Indicators 16
Chapter Overview 17
Nature of Geographic Data 17
Types of Distributions 18
Uniform Distribution 18
Clustered Distribution 19
Random Distributions 19
Geographic Dimensionality 22
Points 22
Lines 23
Areas 23
Surfaces 24
Data Measurement Levels 26
Map Symbolism 29
Geographic Scale 30
Projections, Datums, and Reference Systems 31
The Earth Graticule 31
Map Projections 32
Datums 35
Reference Systems 35
Raster versus Vector (Basic GIS Data Models) 38
Vector Data Model 38
Raster Data Model 39
Additional Reading and Resources 41
Pertinent Websites 41
Key Terms 41
3 Creating and Editing GIS Data 43
Learning Objectives 43
Behavioral Indicators 43
Chapter Overview 44
Geographic Data Formats 44
Creating New Features with Template Layouts 48
Creating Point, Line, and Polygon Features 51
Setting Feature Template Properties 64
Creating and Editing Annotations 65
Digitizing Features 76
Editing Topology 78
Principles and Practice of Spatial Adjustment 88
Additional Reading and Resources 107
Key Terms 107
4 Basic Map Queries 109
Learning Objectives 109
Behavioral Indicators 109
Chapter Overview 110
Essentials of Map Layers 110
Selecting Map Layers 117
Using the Add Layers Button 117
Additional Methods for Adding Layers 117
Identifying Features 121
Interactively Identifying Map Features 124
Preparing to Select a Set of Features in ArcGIS 124
Selecting a Set of Features in ArcGIS 127
Selecting by Location 129
Selected Spatial Queries 129
Selecting by Attributes 133
Using Addresses or Place Names to Search for Features (Find) 137
Additional Reading and Resources 142
Resources 142
Key Terms 142
5 Common ArcGIS Tools 143
Learning Objectives 143
Behavioral Indicators 143
Chapter Overview 144
Overlay Analysis 145
Proximity Analysis 148
Summary Statistics 151
Table Management 153
Additional Reading and Resources 156
Key Terms 157
6 Raster Operations 158
Learning Objectives 158
Behavioral Indicators 158
Chapter Overview 159
Raster Data and Map Algebra 159
Spatial Analyst Module, Terminology, and Classes 161
Image Analysis Toolsets and Terms 166
Additional Reading and Resources 179
Key Terms 179
7 Network Analysis 180
Learning Objectives 180
Behavioral Indicators 180
Chapter Overview 181
Geometric Networks 181
Transportation Networks 197
Location Allocation 214
Additional Reading and Resources 222
Key Terms 223
xii Contents
8 Surface Analysis 224
Learning Objectives 224
Behavioral Indicators 224
Chapter Overview 225
Geostatistics (Interpolation) 225
Raster Surface Toolset 241
Aspect 241
Contour 241
Contour List and Contour with Barriers 242
Curvature 242
Cut Fill 242
Hillshade 242
Slope 242
Viewshed Analysis 243
Additional Reading and Resources 244
Key Terms 244
9 Constructing Models 245
Learning Objectives 245
Behavioral Indicators 245
Chapter Overview 246
GIS Models and ModelBuilder 246
Executing Tools in ModelBuilder 248
Additional Reading and Resources 258
Key Terms 258
10 Reporting Results 259
Learning Objectives 259
Behavioral Indicators 259
Chapter Overview 260
Charts and Diagrams 260
Route Logs 264
Web Maps and Story Maps 264
Additional Reading and Resources 271
Key Terms 271
Endnote 273
See More
Instructors Resources
Digital evaluation copy available for this title
Request Copy

Contact your Wiley Representative
Find Your Rep

See More
See Less
Purchase Options

Information about Wiley E-Texts:
Wiley E-Texts are powered by VitalSource and accessed via the VitalSource Bookshelf reader, available online and via a downloadable app.
Wiley E-Texts are accessible online and offline, and can be read on a variety of devices, including smartphones and tablets.
Wiley E-Texts are non-returnable and non-refundable.
Wiley E-Texts are protected by DRM. For specific DRM policies, please refer to our FAQ.
WileyPLUS registration codes are NOT included with any Wiley E-Text. For informationon WileyPLUS, click here .
To learn more about Wiley E-Texts, please refer to our FAQ.

Information about e-books:
E-books are offered as e-Pubs or PDFs. To download and read them, users must install Adobe Digital Editions (ADE) on their PC.
E-books have DRM protection on them, which means only the person who purchases and downloads the e-book can access it.
E-books are non-returnable and non-refundable.
To learn more about our e-books, please refer to our FAQ.