Textbook
Principles of Highway Engineering and Traffic Analysis, 6th Edition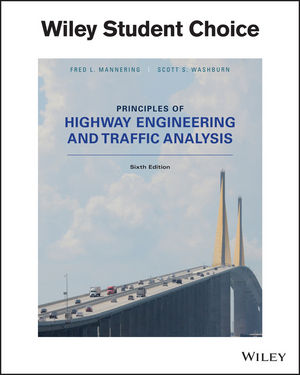 TRY (FREE for 14 days), OR RENT this title:
www.wileystudentchoice.com
The best-selling, newly updated
Principles of Highway Engineering and Traffic Analysis, 6th Edition
provides the depth of coverage necessary to solve the highway-related problems that are most likely to be encountered in engineering practice. The focus on highway transportation is appropriate in light of the dominance of the highway mode in the U.S. and available employment opportunities. Instructors can be confident their students are learning the fundamentals needed to undertake upper-level transportation courses, enter transportation employment with a basic knowledge of highway and traffic engineering, and answer transportation-related questions on the Fundamentals of Civil Engineering and Professional Engineering exams.
See More
Preface v
Chapter 1 Introduction to Highway Engineering and Traffic Analysis 1
1.1 Introduction 1
1.2 Highways and the Economy 2
1.2.1 The Highway Economy 2
1.2.2 Supply Chains 2
1.2.3 Economic Development 3
1.3 Highways, Energy, and the Environment 3
1.4 Highways as Part of the Transportation System 3
1.5 Highway Transportation and the Human Element 4
1.5.1 Passenger Transportation Modes and Traffic Congestion 4
1.5.2 Highway Safety 5
1.5.3 Demographic Trends 5
1.6 Highways and Evolving Technologies 6
1.6.1 Infrastructure Technologies 6
1.6.2 Traffic Control Technologies 7
1.6.3 Vehicle and Autonomous Vehicle Technologies 7
1.7 Scope of Study 9
Chapter 2 Road Vehicle Performance 11
2.1 Introduction 11
2.2 Tractive Effort and Resistance 11
2.3 Aerodynamic Resistance 12
2.4 Rolling Resistance 15
2.5 Grade Resistance 17
2.6 Available Tractive Effort 18
2.6.1 Maximum Tractive Effort 18
2.6.2 Engine-Generated Tractive Effort 21
2.7 Vehicle Acceleration 25
2.8 Fuel Efficiency 30
2.9 Principles of Braking 30
2.9.1 Braking Forces 30
2.9.2 Braking Force Ratio and Efficiency 32
2.9.3 Antilock Braking Systems 35
2.9.4 Theoretical Stopping Distance 35
2.9.5 Practical Stopping Distance 39
2.9.6 Distance Traveled During Driver Perception/Reaction 42
2.10 Practice Problems 45
Chapter 3 Geometric Design of Highways 57
3.1 Introduction 57
3.2 Principles of Highway Alignment 58
3.3 Vertical Alignment 59
3.3.1 Vertical Curve Fundamentals 60
3.3.2 Stopping Sight Distance 68
3.3.3 Stopping Sight Distance and Crest Vertical Curve Design 69
3.3.4 Stopping Sight Distance and Sag Vertical Curve Design 73
3.3.5 Passing Sight Distance and Crest Vertical Curve Design 81
3.3.6 Underpass Sight Distance and Sag Vertical Curve Design 84
3.4 Horizontal Alignment 87
3.4.1 Vehicle Cornering 87
3.4.2 Horizontal Curve Fundamentals 89
3.4.3 Stopping Sight Distance and Horizontal Curve Design 93
3.5 Combined Vertical and Horizontal Alignment 95
3.6 Practice Problems 101
Chapter 4 Pavement Design 115
4.1 Introduction 115
4.2 Pavement Types 115
4.2.1 Flexible Pavements 116
4.2.2 Rigid Pavements 117
4.3 Pavement System Design: Principles for Flexible Pavements 117
4.4 Traditional AASHTO Flexible-Pavement Design Procedure 118
4.4.1 Serviceability Concept 118
4.4.2 Flexible-Pavement Design Equation 119
4.4.3 Structural Number 126
4.5 Pavement System Design: Principles for Rigid Pavements 130
4.6 Traditional AASHTO Rigid-Pavement Design Procedure 131
4.7 Design-Lane Loads 140
4.8 Measuring Pavement Quality and Performance 145
4.8.1 International Roughness Index 145
4.8.2 Friction Measurements 145
4.8.3 Rut Depth 147
4.8.4 Cracking 147
4.8.5 Faulting 147
4.8.6 Punchouts 148
4.9 Mechanistic-Empirical Pavement Design 148
4.10 Practice Problems 149
Chapter 5 Fundamentals of Traffic Flow and Queuing Theory 161
5.1 Introduction 161
5.2 Traffic Stream Parameters 161
5.2.1 Traffic Flow, Speed, and Density 162
5.3 Basic Traffic Stream Models 167
5.3.1 Speed-Density Model 167
5.3.2 Flow-Density Model 169
5.3.3 Speed-Flow Model 170
5.4 Models of Traffic Flow 172
5.4.1 Poisson Model 172
5.4.2 Limitations of the Poisson Model 176
5.5 Queuing Theory and Traffic Flow Analysis 177
5.5.1 Dimensions of Queuing Models 177
5.5.2 D/D/1 Queuing 178
5.5.3 M/D/1 Queuing 185
5.5.4 M/M/1 Queuing 187
5.5.5 M/M/N Queuing 188
5.6 Traffic Analysis at Highway Bottlenecks 191
5.7 Impact of Autonomous Vehicles 194
5.8 Practice Problems 196
Chapter 6 Highway Capacity and Level-of-Service Analysis 207
6.1 Introduction 207
6.2 Level-of-Service Concept 208
6.3 Level-of-Service Determination 211
6.3.1 Base Conditions and Capacity 211
6.3.2 Determine Free-Flow Speed 211
6.3.3 Determine Analysis Flow Rate 212
6.3.4 Calculate Service Measure(s) and Determine LOS 212
6.4 Basic Freeway Segments 212
6.4.1 Speed versus Flow Rate Relationship 212
6.4.2 Base Conditions and Capacity 214
6.4.3 Service Measure 214
6.4.4 Determine Free-Flow Speed 217
6.4.5 Determine Analysis Flow Rate 218
6.4.6 Calculate Density and Determine LOS 224
6.5 Multilane Highways 227
6.5.1 Speed versus Flow Rate Relationship 228
6.5.2 Base Conditions and Capacity 231
6.5.3 Service Measure 231
6.5.4 Determining Free-Flow Speed 231
6.5.5 Determining Analysis Flow Rate 233
6.5.6 Calculate Density and Determine LOS 233
6.6 Two-Lane Highways 237
6.6.1 Base Conditions and Capacity 237
6.6.2 Service Measures 238
6.6.3 Determine Free-Flow Speed 239
6.6.4 Determine Analysis Flow Rate 240
6.6.5 Calculate Service Measures 242
6.6.6 Determine LOS 246
6.7 Design Traffic Volumes 249
6.8 Practice Problems 254
Chapter 7 Traffic Control and Analysis at Signalized Intersections 265
7.1 Introduction 265
7.2 Intersection and Signal Control Characteristics 266
7.2.1 Actuated Control 269
7.2.2 Signal Controller Operation 272
7.3 Traffic Flow Fundamentals for Signalized Intersections 274
7.4 Development of a Traffic Signal Phasing and Timing Plan 277
7.4.1 Select Signal Phasing 278
7.4.2 Establish Analysis Lane Groups 281
7.4.3 Calculate Analysis Flow Rates and Adjusted Saturation Flow Rates 283
7.4.4 Determine Critical Lane Groups and Total Cycle Lost Time 284
7.4.5 Calculate Cycle Length 286
7.4.6 Allocate Green Time 288
7.4.7 Calculate Change and Clearance Intervals 290
7.4.8 Check Pedestrian Crossing Time 292
7.5 Analysis of Traffic at Signalized Intersections 293
7.5.1 Signalized Intersection Analysis with D/D/1 Queuing 294
7.5.2 Signal Coordination 301
7.5.3 Control Delay Calculation for Level of Service Analysis 309
7.5.4 Level-of-Service Determination 314
7.6 Practice Problems 319
Chapter 8 Travel Demand and Traffic Forecasting 335
8.1 Introduction 335
8.2 Traveler Decisions 336
8.3 Scope of the Travel Demand and Traffic Forecasting Problem 337
8.4 Trip Generation 339
8.4.1 Typical Trip Generation Models 341
8.4.2 Trip Generation with Count Data Models 344
8.5 Mode and Destination Choice 346
8.5.1 Methodological Approach 346
8.5.2 Logit Model Applications 347
8.6 Highway Route Choice 353
8.6.1 Highway Performance Functions 353
8.6.2 User Equilibrium 354
8.6.3 Mathematical Programming Approach to User Equilibrium 360
8.6.4 System Optimization 361
8.7 Autonomous Vehicles, Highway Performance Functions, and System Optimization 365
8.8 Traffic Forecasting in Practice 366
8.9 The Traditional Four-Step Process 369
8.10 The Current State of Travel Demand and Traffic Forecasting 371
8.11 Practice Problems 371
Appendix 8A Least Squares Estimation 375
Appendix 8B Maximum-Likelihood Estimation 378
Appendix: Answers to Odd-Numbered End-of-Chapter Problems 387
Index 391
See More
New standards updates. All chapters are updated to the latest design/evaluation standards including the 2016 Highway Capacity Manual.
New pedagogical approach: practice problems. This new pedagogical feature significantly improves the effectiveness of the text. The new practice problems are challenging, and are designed to improve student comprehension and confidence.
New example and end-of-chapter problems. Many new example and end-of chapter problems have been added to further improve the pedagogical effectiveness of the book.
New autonomous vehicle problems. To introduce students to the topic of autonomous vehicles and the potential benefits of this emerging technology, several examples on this topic have been added.
Resources and Support
Instructor Resources
Solutions Manual. Solutions to selected problems for each chapter are available via password to the Wiley instructors' site, along with instructions for obtaining solutions to all the problems in the book.
Lecture Slides. The authors provide a complete set of lecture slides as well as slides of all the figures and tables in the text.
In-Class Design Problems. The authors have developed design problems for in-class use by students in a cooperative learning context. These problems support the material presented in the chapters and the end-of-chapter problems.
Sample Exams. The authors have prepared sample midterm and final exams to give instructors class-proven ideas relating to successful exam format and problems.

Update:

The solutions manual to the 6th edition of Principles of Highway Engineering and Traffic Analysis textbook is a stand-alone Windows program. The solutions manual program is now exclusively distributed through the Microsoft Store. The program is available to anyone for a price of $24.99. The Microsoft Store link for the solutions manual is:


https://www.microsoft.com/en-us/store/p/solutions-manual-viewer/9nblggh43z4t


Note that the solutions manual program only runs on Windows 10, version 1607 or higher. Version 1607 is also known as the Windows 10 Anniversary Update. To check which version of Windows your computer is running, run the 'winver' command by typing it into the search bar. To get the latest version of Windows, either run updates from the control panel settings or go to https://www.microsoft.com/en-us/software-download/windows10
Note that the Microsoft Store will not allow you to download the program if you do not have a compatible version of Windows installed on your computer. Also note that the size of the download file is approximately 90 MB. It may take a couple of minutes to download, depending on the speed of your internet connection.
Instructors who adopt the textbook for their class are eligible to obtain the solutions manual program for free. To obtain a code that will allow you to download the solutions manual for free, Email your request to Dr. Scott Washburn at swash@ce.ufl.edu, along with proof of your textbook adoption (e.g., a link to your bookstore adoption web page or Email confirmation from your local Wiley representative).
See More
Complete instructor support includes lecture slides, sample exams, in-class design problems, and solutions manual.
A concise approach focused on highway transportation helps instructors cover in one semester the concepts that are most likely to be encountered in engineering practice.
Example-oriented presentation is accessible to both junior and senior engineering students, with appropriate mathematical rigor and a large number of end-of-chapter problems.
Sample FE exam questions in the text give students practice with questions for this discipline in a multiple-choice format similar to what they'll see on the FE exam.
Illustrated variable and nomenclature keys at the end of chapters help students more quickly become familiar with the terminology and notation for the course.
See More
Instructors Resources
Digital evaluation copy available for this title
Request Copy

Contact your Wiley Representative
Find Your Rep

See More
See Less
Purchase Options

Information about Wiley E-Texts:
Wiley E-Texts are powered by VitalSource and accessed via the VitalSource Bookshelf reader, available online and via a downloadable app.
Wiley E-Texts are accessible online and offline, and can be read on a variety of devices, including smartphones and tablets.
Wiley E-Texts are non-returnable and non-refundable.
Wiley E-Texts are protected by DRM. For specific DRM policies, please refer to our FAQ.
WileyPLUS registration codes are NOT included with any Wiley E-Text. For informationon WileyPLUS, click here .
To learn more about Wiley E-Texts, please refer to our FAQ.

Information about e-books:
E-books are offered as e-Pubs or PDFs. To download and read them, users must install Adobe Digital Editions (ADE) on their PC.
E-books have DRM protection on them, which means only the person who purchases and downloads the e-book can access it.
E-books are non-returnable and non-refundable.
To learn more about our e-books, please refer to our FAQ.