Textbook
Chemistry: A Guided Inquiry, 7th Edition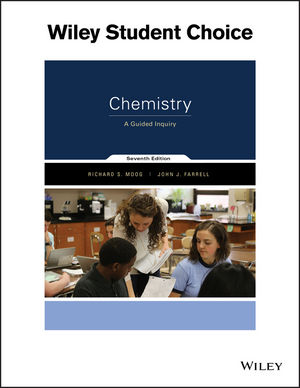 TRY (FREE for 14 days), OR RENT this title:
www.wileystudentchoice.com
In the newly updated 7th Edition,
Chemistry: A Guided Inquiry
continues to follow the underlying principles developed by years of extensive research on how students learn, and draws on testing by those using the POGIL methodology. This text follows the principles of inquiry-based learning and correspondingly emphasizes underlying chemistry concepts and the reasoning behind them. This text provides an approach that follows modern cognitive learning principles by having students learn how to create knowledge based on experimental data and how to test that knowledge.
See More
To the Student 1
Atomic Structure
1 The Nuclear Atom 2
2 Atomic Number and Atomic Mass 8
3 Coulombic Potential Energy 16
4 The Shell Model (I) 22
5 The Shell Model (II) 28
6 Atomic Size 40
7 Electromagnetic Radiation 44
8 Photoelectron Spectroscopy 48
9 The Shell Model (III) 56
10 Electron Configurations and the Periodic Table 62
11 Electron Spin 70
Molecular Structure
12 Lewis Structures (I) 75
13 Bond Characteristics 82
14 Lewis Structures (II) 90
15 Lewis Structures (III) 96
16 Lewis Structures (IV) 102
17 Molecular Shapes 107
18 Hybrid Orbitals 117
19 Electronegativity 120
20 Partial Charge 126
21 Covalent Bonds and Dipole Moments 132
Solids and Liquids
22 The Ionic Bond 140
23 Metals 148
24 The Bond-Type Triangle 152
25 Intermolecular Forces 157
Stoichiometry
26 The Mole Concept 164
27 Chemical Equations 170
28 Limiting Reagent 176
29 Empirical Formula 182
30 Molarity 188
Gases
31 The Ideal Gas Law 196
Thermochemistry
32 Enthalpy of Atom Combination 200
33 Enthalpy Changes in Chemical Reactions 207
Equilibrium
34 Rates of Chemical Reactions (I) 213
35 Equilibrium (I) 217
36 Equilibrium (II) 223
37 The Equilibrium Constant(I) 228
38 The Reaction Quotient 236
39 The Solubility Product 246
Acids and Bases
40 Acids and Bases 256
41 Acid Strength 261
42 Weak Acid/Base Dissociation 270
43 pH 278
44 Relative Acid Strength 283
45 Acid/Base Strength of Conjugate Pairs 290
Oxidation-Reduction
46 Redox Reactions 297
47 Oxidation Numbers 302
48 The Electrochemical Cell 306
49 The Cell Voltage 312
Thermodynamics
50 Entropy (I) 316
51 Entropy (II) 322
52 Entropy Changes in Chemical Reactions 326
53 The Equilibrium Constant (II) 332
54 The Equilibrium Constant (III) 337
Kinetics
55 Rates of Chemical Reactions (II) 342
56 Integrated Rate Laws 352
57 Reaction Mechanisms (I) 360
58 Reaction Mechanisms (II) 365
59 Reaction Mechanisms (III) 375
60 Temperature Dependence of Rate Constants 380
Appendix
TABLE A.1 Values of Selected Fundamental Constants 383
TABLE A.2 Selected Conversion Factors 383
TABLE A.3 Standard-State Enthalpies, Free Energies, and Entropies of Atom Combination 384
See More
Many activities now begin with a "WARM-UP" section that students may complete prior to class.
Reorganized average valence electron energies (AVEE), electronegativity (EN), covalent bonding, and dipole moments activities.
Prompts to specifically encourage group interaction and other process skills have been inserted into many activities.
See More
Moog and Farrell's Chemistry: A Guided Inquiry, 7th Edition contains many extensive changes inspired and informed by research performed in POGIL classrooms over the past several years and by recent insights gained from cognitive science.
"Explain your reasoning" Critical Thinking Questions
Restructured prose that increases readability and comprehension of the text.
Exercises and Problems have been moved to the end of each activity, eliminating the distraction of Exercises in the middle of the activity.
Updated Critical Thinking Questions that prompt students to recall important concepts that were developed in earlier activities.
Increased attention has been paid to incorporating a learning cycle of Exploration, Concept Invention and Term Introduction, and Application within each activity.
Continued emphasis on interpreting data and generating and testing hypotheses.
See More
Instructors Resources
Digital evaluation copy available for this title
Request Copy

Contact your Wiley Representative
Find Your Rep

See More
See Less
Purchase Options

Information about Wiley E-Texts:
Wiley E-Texts are powered by VitalSource and accessed via the VitalSource Bookshelf reader, available online and via a downloadable app.
Wiley E-Texts are accessible online and offline, and can be read on a variety of devices, including smartphones and tablets.
Wiley E-Texts are non-returnable and non-refundable.
Wiley E-Texts are protected by DRM. For specific DRM policies, please refer to our FAQ.
WileyPLUS registration codes are NOT included with any Wiley E-Text. For informationon WileyPLUS, click here .
To learn more about Wiley E-Texts, please refer to our FAQ.

Information about e-books:
E-books are offered as e-Pubs or PDFs. To download and read them, users must install Adobe Digital Editions (ADE) on their PC.
E-books have DRM protection on them, which means only the person who purchases and downloads the e-book can access it.
E-books are non-returnable and non-refundable.
To learn more about our e-books, please refer to our FAQ.