Textbook
Health Psychology: Biopsychosocial Interactions, Ninth Edition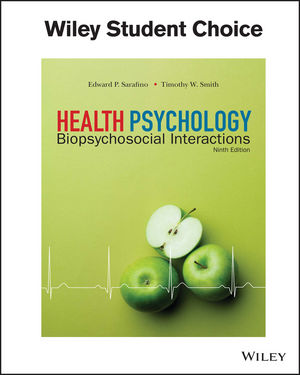 TRY (FREE for 14 days), OR RENT this title
: www.wileystudentchoice.com


Ed Sarafino and Timothy Smith draw from the research and theory of multiple disciplines in order to effectively demonstrate how psychology and health impact each other. The newly updated 9th Edition of
Health Psychology: Biopsychsocial Interactions
includes a broader picture of health psychology by presenting cross-cultural data. Furthermore, international examples are also included to further explore the psychologist's perspective of health issues around the world and highlight what works in the field. The psychological research cited in the text supports a variety of behavioral, physiological, cognitive, and social/personality viewpoints. An emphasis on lifespan development in health and illness is integrated throughout the text.
See More
PART I An Introduction: Basic Issues and Processes 1
Chapter 1 An Overview of Psychology and Health 1
Chapter 2 The Body's Physical Systems 30
PART II Stress, Illness, and Coping 57
Chapter 3 Stress—Its Meaning, Impact, and Sources 57
Chapter 4 Stress, Biopsychosocial Factors, and Illness 82
Chapter 5 Coping With and Reducing Stress 112
PART III Lifestyles to Enhance Health and Prevent Illness 135
Chapter 6 Health-Related Behavior and Health Promotion 135
Chapter 7 Substance Use and Abuse 167
Chapter 8 Nutrition, Weight Control and Diet, Exercise, and Safety 200
PART IV Becoming Ill and Getting Medical Treatment 232
Chapter 9 Using Health Services 232
Chapter 10 In the Hospital: The Setting, Procedures, and Effects on Patients 260
PART V Physical Symptoms: Pain and Discomfort 288
Chapter 11 The Nature and Symptoms of Pain 288
Chapter 12 Managing and Controlling Clinical Pain 314
PART VI Chronic and Life-Threatening Health Problems 336
Chapter 13 Serious and Disabling Chronic Illnesses: Causes, Management, and Coping 336
Chapter 14 Heart Disease, Stroke, Cancer, and AIDS: Causes, Management, and Coping 365
PART VII Looking to the Future 394
Chapter 15 What's Ahead for Health Psychology? 394
Glossary 407
References 413
Author Index 517
Subject Index 535
See More
Enhanced content, including revised cross-cultural data and updated illustrations
Expanded coverage of the following topics: how stress affects health, health risks from adverse childhood experiences, religiosity, positive emotions, stages of change and motivational interviewing in health promotion, processes in and prevention and treatment of tobacco and alcohol use, weight control and exercise, health care systems in the U.S. and around the world, pain conditions and treatment, chronic illnesses, treatments, psychosocial interventions, and technological approaches for health problems
See More
Chapter Contents and Prologue. Each chapter begins with a contents list that outlines the major topics in the order in which they are covered. The prologue then introduces the chapter with a vignette that is relevent to the material ahead and gives an overview of the basic ideas you will read about.
Illustrations. The many figures, tables, and photographs in each chapter are designed to clarify concepts and research findings and help them stick in your mind.
Boxed material. Three types of boxed materials are included in the chapters. Each type of box has a special icon that is used in "Go to...." instructions, prompting you to read the appropriate box at the right point in the text.
Summary and Key Terms. Each chapter closes with two features: (1) the summary, which presents the most important ideas convered, and (2) the key terms - a list of the most important terms in the chapter, arranged in order of their appearance.
Glossary. The glossary at the back of the book gives definitions of important terms and concepts, along with pronunciation keys for the most difficult words. It will be useful when you are studying or reading and are not sure of the exact meaning or pronunciation of a term.
See More
Instructors Resources
Digital evaluation copy available for this title
Request Copy

Contact your Wiley Representative
Find Your Rep

See More
See Less
Purchase Options

Information about Wiley E-Texts:
Wiley E-Texts are powered by VitalSource and accessed via the VitalSource Bookshelf reader, available online and via a downloadable app.
Wiley E-Texts are accessible online and offline, and can be read on a variety of devices, including smartphones and tablets.
Wiley E-Texts are non-returnable and non-refundable.
Wiley E-Texts are protected by DRM. For specific DRM policies, please refer to our FAQ.
WileyPLUS registration codes are NOT included with any Wiley E-Text. For informationon WileyPLUS, click here .
To learn more about Wiley E-Texts, please refer to our FAQ.

Information about e-books:
E-books are offered as e-Pubs or PDFs. To download and read them, users must install Adobe Digital Editions (ADE) on their PC.
E-books have DRM protection on them, which means only the person who purchases and downloads the e-book can access it.
E-books are non-returnable and non-refundable.
To learn more about our e-books, please refer to our FAQ.