Textbook
Adult Development and Aging: Biopsychosocial Perspectives, Sixth Edition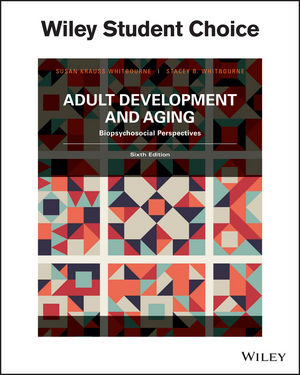 TRY (FREE for 14 days), OR RENT this title: www.wileystudentchoice.com

Newly updated, Adult Development and Aging: Biopsychosocial Perspectives, 6th Edition incorporates material that the authors, Susan Krauss Whitbourne and Stacey B. Whitbourne, believe is essential to students understanding this rapidly-developing and fascinating field of study. This text focuses on three key themes: a multidisciplinary approach, positive images of aging, and the newest and most relevant research. Much of what students will read comes directly from Susan's classroom teaching of the Psychology of Aging course; she continues to incorporate her day-to-day teaching of the course into the text, which keeps the material current, fresh, and engaging.
See More
Preface v
CHAPTER 1 Themes and Issues in Adult Development and Aging 1
The Biopsychosocial Perspective 2
Four Principles of Adult Development and Aging 3
1. Changes Are Continuous Over the Life Span 3
2. Only the Survivors Grow Old 4
3. Individuality Matters 5
4. "Normal" Aging Is Different From Disease 6
The Meaning of Age 7
Using Age to Define "Adult" 8
Divisions by Age of the Over-65 Population 9
Functional Age 9
Personal Versus Social Aging 10
Key Social Factors in Adult Development and Aging 12
Sex and Gender 12
Race 13
Ethnicity 13
Socioeconomic Status 14
Religion 14
The Baby Boomers Grow Up: Changes in the Middle-Aged and Older Populations in the United States and the World 14
United States 15
Aging Around the World 17
Summary 19
CHAPTER 2 Models of Development: Nature and Nurture in Adulthood 21
Key Concepts in the Study of the Life Span 22
Models of Individual–Environment Interactions 23
Reciprocity in Development 25
Sociocultural Models of Development 25
Ecological Perspective 26
The Life Course Perspective 27
Ageism as a Social Factor in the Aging Process 28
Psychological Models of Development in Adulthood 31
Erikson's Psychosocial Theory 31
Piaget's Cognitive-Developmental Theory 33
Identity Process Theory 34
The Selective Compensation with Optimization Model 37
Biological Approaches to Aging in Adulthood 38
Genes and DNA 38
Programmed Aging Theories 40
Random Error Theories 42
Summary 44
CHAPTER 3 The Study of Adult Development and Aging: Research Methods 47
Variables in Developmental Research 48
Descriptive Research Designs 49
Age, Cohort, and Time of Measurement 49
Longitudinal Designs 50
Cross-Sectional Designs 53
Sequential Research Designs 55
The Most Efficient Design 55
Correlational Designs 56
Simple Correlational Designs 56
Multivariate Correlational Designs 57
Types of Research Methods 59
Laboratory Studies 59
Qualitative Studies 59
Archival Research 59
Surveys 60
Epidemiological Studies 60
Case Reports 60
Focus Groups 61
Daily Diaries 61
Observational Methods 61
Meta-Analysis 62
Measurement Issues in Adult Development and Aging 62
Ethical Issues in Research 63
Summary 65
CHAPTER 4 Physical Changes 67
Appearance 68
Skin 68
Hair 70
Body Build 71
Mobility 73
Muscles 73
Bones 75
Joints 75
Vital Bodily Functions 77
Cardiovascular System 77
Respiratory System 79
Urinary System 79
Digestive System 81
Bodily Control Systems 81
Endocrine System 81
Immune System 85
Nervous System 85
Central Nerous System 85
Sleep 88
Temperature Control 89
Sensation and Perception 89
Vision 89
Hearing 91
Balance 92
Smell and Taste 94
Somatosensory System 94
Summary 95
CHAPTER 5 Health and Prevention 97
Key Concepts in Health and Prevention 98
Diseases of the Cardiovascular System 98
Cardiac and Cerebrovascular Conditions 99
Incidence 100
Behavioral Risk Factors 100
Prevention of Heart Disease and Stroke 102
Cancer 103
Risk Factors and Prevention 103
Treatments 105
Disorders of the Musculoskeletal System 105
Osteoarthritis 105
Osteoporosis 106
Diabetes 107
Characteristics of Diabetes 107
Incidence and Risk Factors 107
Prevention and Treatment 108
Respiratory Diseases 108
Neurocognitive Disorders 109
Alzheimer's Disease 110
Other Forms of Neurocognitive Disorder 116
Summary 118
CHAPTER 6 Basic Cognitive Functions: Information Processing, Attention, and Memory 119
Processing Speed and Attention 120
Reaction Time 120
Attention 120
Video Games and Attention 124
Driving and Aging 124
Memory 127
Working Memory 128
Effects of Aging on Long-Term Memory in Adulthood 129
Psychosocial Influences on Memory 131
Memory and Health-Related Behaviors 132
Memory Training Studies 134
Summary 136
CHAPTER 7 Higher-Order Cognitive Functions 139
Executive Functioning and its Measurement 140
Intelligence Tests 140
Neuropsychological Assessment 141
Aging and Executive Functioning 142
Language 143
Cognitive Aspects of Language 143
Social Aspects of Language 145
Bilingualism and Aging 146
Everyday Problem Solving 146
Characteristics of Problem Solving 146
Problem Solving in Adulthood 147
Adult Learners 150
Intelligence 151
Theoretical Perspectives on Adult Intelligence 152
Research on Adult Intelligence 153
Training Studies 157
The Psychology of Wisdom 157
Summary 159
CHAPTER 8 Personality 161
Psychodynamic Perspective 162
Ego Psychology 162
Vaillant's Theory of Defense Mechanisms 166
Adult Attachment Theory 167
Trait Approaches 168
Research on Aging and the Five-Factor Model 169
Health and Personality Traits 169
Social Cognitive Approaches 172
Cognitive Perspective 174
Possible Selves Theory 175
Coping and Control 175
Identity Process Theory 177
Midlife Crisis Theories and Findings 178
Theory of the Midlife Crisis 178
Critiques and Research on the Midlife Crisis 180
Summary 182
CHAPTER 9 Relationships 183
Marriage and Intimate Relationships 184
Marriage 184
Cohabitation 185
Same-Sex Couples 187
Divorce and Remarriage 187
Widowhood 189
Psychological Perspectives on Long-Term Relationships 190
Families 193
Parenthood 193
The Empty Nest 195
Parent–Adult Child Relationships 197
Siblings 200
Grandparents 200
Friendships 202
Theoretical Perspectives 202
Patterns of Friendships 202
Summary 203
CHAPTER 10 Work, Retirement, and Leisure Patterns 205
Work Patterns in Adulthood 206
Vocational Development 209
Holland's Vocational Development Theory 209
Super's Life-Span Life-Stage Theory 211
Occupation as Calling 212
Variations in Vocational Development 213
Vocational Satisfaction 213
Intrinsic and Extrinsic Factors 213
Positive and Negative Moods 215
Person–Environment Correspondence 215
Work Stress 216
Relationships Between Work and Family Roles 217
Age and Vocational Satisfaction 218
Age and Vocational Performance 219
Retirement 221
Definitions of Retirement 221
Facts About Retirement 221
The Effects of Retirement on the Individual 223
Leisure Pursuits in Later Adulthood 225
Summary 227
CHAPTER 11 Mental Health Issues and Treatment 229
Psychological Disorders in Adulthood 230
Major Depressive Disorder 231
Bipolar Disorder 233
Anxiety Disorders 233
Obsessive-Compulsive and Related Disorders 234
Trauma and Stress-Related Disorders 235
Schizophrenia and Other Psychotic Disorders 235
Substance-Related Disorders 236
Personality Disorders 237
Elder Abuse 238
Suicide 240
Treatment Issues in Mental Health Care 240
Assessment 241
Treatment 243
Serious Mental Illness 247
Summary 248
CHAPTER 12 Long-Term Care 251
Institutional Facilities for Long-Term Care 252
Nursing Homes 252
Residential Care Facilities 253
Community-Based Facilities and Services 255
Home Health Services 255
Day Treatment Services 255
Community Housing Alternatives 256
The Financing of Long-Term Care 256
Medicare 257
Medicaid 259
Legislative Landmarks in the Long-Term Care of Older Adults 260
1987 Omnibus Budget Reconciliation Act of 1987
(OBRA 1987) 260
1999–2000 Congressional Hearings on Nursing Home Abuse 262
2002 Nursing Home Quality Initiative 263
The Quality of Long-Term Care 263
Psychological Issues in Long-Term Care 265
Models of Adaptation 265
Suggestions for Improving Long-Term Care 267
Summary 268
CHAPTER 13 Death and Dying 271
What Do We Know About Death? 272
Medical Aspects of Death 272
Death by the Numbers 273
Sociocultural Perspectives on Death and Dying 277
Psychological Perspectives on Death and Dying 278
Issues in End-of-Life Care 279
Advance Directives 279
Physician-Assisted Suicide and Euthanasia 281
Hospice Care 282
Improving Health Care and Mental Health Services to Dying Patients 282
Bereavement 283
Summary 286
CHAPTER 14 Successful Aging 287
What Is Successful Aging? 288
An Overview of Successful Aging 288
Successful Cognitive Aging 290
Factors That Promote Successful Aging 291
Creativity and Aging 295
What Is Creativity? 295
Creative Older Adults 296
Characteristics of Last Works 297
Sociocultural Perspectives on Creativity and Aging 300
Successful Aging: Final Perspectives 300
Summary 301
Glossary 303
References 321
Author Index 383
Subject Index 401
See More
Featuring nearly 300 references, updated through early 2016
Expanded coverage to global population and health data in keeping with our stated goal of providing an international perspective
Updated chapters, figures, and tables
See More
Offers an innovative approach to the field of adult development with an engaging writing style to appeal to today's student.
Each chapter opens with quotations from well-known authors, poets, and celebrities to provide thought-provoking observations on aging.
"What Do You Think?" critical thinking questions keyed into the text content encourage students to think in-depth about the material.
The "Aging in the News" feature that offers the story of a remarkable achievement by a middle-aged or older adult.
See More
Instructors Resources
Digital evaluation copy available for this title
Request Copy

Contact your Wiley Representative
Find Your Rep

See More
See Less
Purchase Options
Wiley E-Text

Adult Development and Aging: Biopsychosocial Perspectives, 6th Edition
ISBN : 978-1-119-29898-4
424 pages
November 2016, ©2017
Paperback
Adult Development and Aging: Biopsychosocial Perspectives, 6th Edition
ISBN : 978-1-119-25726-4
424 pages
November 2016, ©2017

Information about Wiley E-Texts:
Wiley E-Texts are powered by VitalSource and accessed via the VitalSource Bookshelf reader, available online and via a downloadable app.
Wiley E-Texts are accessible online and offline, and can be read on a variety of devices, including smartphones and tablets.
Wiley E-Texts are non-returnable and non-refundable.
Wiley E-Texts are protected by DRM. For specific DRM policies, please refer to our FAQ.
WileyPLUS registration codes are NOT included with any Wiley E-Text. For informationon WileyPLUS, click here .
To learn more about Wiley E-Texts, please refer to our FAQ.

Information about e-books:
E-books are offered as e-Pubs or PDFs. To download and read them, users must install Adobe Digital Editions (ADE) on their PC.
E-books have DRM protection on them, which means only the person who purchases and downloads the e-book can access it.
E-books are non-returnable and non-refundable.
To learn more about our e-books, please refer to our FAQ.