Textbook
Project Management, 10th Edition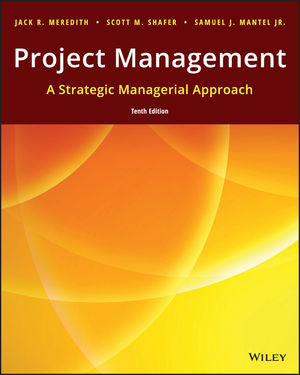 TRY (FREE for 14 days), OR RENT this title: www.wileystudentchoice.com
Projects continue to grow larger, increasingly strategic, and more complex, with greater collaboration, instant feedback, specialization, and an ever-expanding list of stakeholders. Now more than ever, effective project management is critical for the success of any deliverable, and the demand for qualified Project Managers has leapt into nearly all sectors. Project Management provides a robust grounding in essentials of the field using a managerial approach to both fundamental concepts and real-world practice.
Designed for business students, this text follows the project life cycle from beginning to end to demonstrate what successful project management looks like on the ground. Expert discussion details specific techniques and applications, while guiding students through the diverse skill set required to select, initiate, execute, and evaluate today's projects. Insightful coverage of change management provides clear guidance on handling the organizational, interpersonal, economic, and technical glitches that can derail any project, while in-depth cases and real-world examples illustrate essential concepts in action.
See More
PREFACE v
1 Projects in Contemporary Organizations 1
PART I: PROJECT INITIATION
2 Strategic Management and Project Selection 28
3 The Project Manager 77
4 Managing Conflict and the Art of Negotiation 118
5 The Project in the Organizational Structure 145
PART II: PROJECT PLANNING
6 Activity Planning: Traditional and Agile 187
7 Budgeting and Risk Management 233
8 Scheduling 291
9 Resource Allocation 348
PART III: PROJECT EXECUTION
10 Monitoring and Information Systems 389
11 Project Control 421
12 Project Auditing 459
13 Project Closure and Benefits
Realization 488
AUTHOR INDEX 511
SUBJECT INDEX 513
APPENDIX A Probability and Statistics (online)
APPENDIX B Answers to Even-Numbered Problems (online)
APPENDIX C Technological Forecasting (online)
APPENDIX D Creativity and Idea Generation (online)
See More
New to this Edition:
A substantially revised chapter on Strategic Project Management covers governance, stakeholders, project phases, and other concepts applied to megaprojects
Expanded coverage of Agile project management practices, including illustrative examples
Expanded coverage of project closing includes discussion of Benefit Realization
Updated Excel spreadsheet examples with Excel functions in place of algebraic calculations
See More
Wiley Advantage:
Adopts a strategic managerial approach to project management, with insightful guidance throughout the project's life cycle
Organized to align with the stages of the project life cycle for logical progression and easy reference
Details PMBOK concepts throughout to provide clear linkage between standards and everyday
applications
Includes access to Oracle's Crystal Ball® trial edition
Companion website features quizzes, PowerPoint slides, and other helpful student resources
See More
Instructors Resources
Request a print evaluation copy
Contact us

Contact your Wiley Representative
Find Your Rep

See More
See Less
Purchase Options
Wiley E-Text

Project Management: A Strategic Managerial Approach, Enhanced eText, 10th Edition
ISBN : 978-1-119-36911-0
534 pages
December 2017, ©2017
Paperback
Project Management: A Strategic Managerial Approach, 10th Edition
ISBN : 978-1-119-36909-7
534 pages
October 2017, ©2018

Information about Wiley E-Texts:
Wiley E-Texts are powered by VitalSource and accessed via the VitalSource Bookshelf reader, available online and via a downloadable app.
Wiley E-Texts are accessible online and offline, and can be read on a variety of devices, including smartphones and tablets.
Wiley E-Texts are non-returnable and non-refundable.
Wiley E-Texts are protected by DRM. For specific DRM policies, please refer to our FAQ.
WileyPLUS registration codes are NOT included with any Wiley E-Text. For informationon WileyPLUS, click here .
To learn more about Wiley E-Texts, please refer to our FAQ.

Information about e-books:
E-books are offered as e-Pubs or PDFs. To download and read them, users must install Adobe Digital Editions (ADE) on their PC.
E-books have DRM protection on them, which means only the person who purchases and downloads the e-book can access it.
E-books are non-returnable and non-refundable.
To learn more about our e-books, please refer to our FAQ.