Textbook
The Evolution of Management Thought, 7th Edition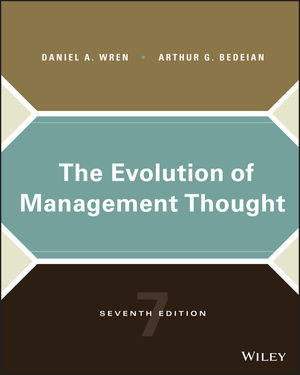 TRY (FREE for 14 days), OR RENT this title: www.wileystudentchoice.com

The seventh edition of author Daniel Wren's and Arthur Bedeian's classic text provides a comprehensive understanding of the origin and development of ideas in management. This text traces the evolution of management thought from its earliest days to the present, by examining the backgrounds, ideas and influences of its major contributors.
Every chapter in the seventh edition of The Evolution of Management Thought has been thoroughly reviewed and updated to convey an appreciation of the people and ideas underlying the development of management theory and practice. The new edition includes an Instructor's Manual and a PowerPoint package featuring 650 photographs, charts, and other visual materials. The authors' intent is to place various theories of management in their historical context, showing how they've changed over time. The text does this in a chronological framework, yet each part is designed as a separate and self-contained unit of study; substantial cross-referencing provides the opportunity for connecting earlier to later developments as a central unifying theme.
See More
About the Authors
Preface
Part I Early Management Thought
Chapter 1 A Prologue to the Past
Chapter 2 Management before Industrialization
Chapter 3 The Industrial Revolution: Challenges and Perspective
Chapter 4 Management Pioneers in the Early Factory
Chapter 5 The Industrial Revolution in the United States
Chapter 6 Industrial Growth and Systematic Management
Part II The Scientific Management Era
Chapter 7 The Advent of Scientific Management
Chapter 8 Spreading the Gospel of Efficiency
Chapter 9 The Human Factor: Preparing the Way
Chapter 10 The Emergence of Management and Organization Theory
Chapter 11 Scientific Management in Theory and Practice
Chapter 12 Scientific Management in Retrospect
Part III The Social Person Era
Chapter 13 The Hawthorne Studies
Chapter 14 The Search for Organizational Integration
Chapter 15 People and Organizations
Chapter 16 Organizations and People
Chapter 17 Human Relations in Theory and Practice
Chapter 18 The Social-Person Era in Retrospect
Part IV Moving Onward: The Near Present
Chapter 19 Management Theory and Practice
Chapter 20 Organizational Behavior and Organization Theory
Chapter 21 Science and Systems in an Information Age
Chapter 22 Obligations and Opportunities
Chapter 23 Epilogue
Name Index
Subject Index
See More
Updates to Chapters 19, 20, 21, 22
Chapter 19 features updates on evidence-based management, the management theory-practice divide, global studies of managerial work, multinational enterprise and global business strategy, and management's role in developing dynamic capabilities
Chapter 20 features updates on managing across borders – Project GLOBE, strategic human-resource management, and organization theory across cultures
Chapter 21 features updates on lean manufacturing, international organization for standards (ISO), and the digital hand and globalization
Chapter 22 features updates multinational enterprise and business ethics, social responsibility, and environmental management, and social entrepreneurship
See More
Features an Instructor's Manual and PowerPoint package prepared by Regina Scannell Greenwood and Julia Kurtz Teahan
Includes 650+ photographs, charts, and other visual materials
See More
Instructors Resources
Request a print evaluation copy
Contact us

Contact your Wiley Representative
Find Your Rep

See More
See Less
Purchase Options

Information about Wiley E-Texts:
Wiley E-Texts are powered by VitalSource and accessed via the VitalSource Bookshelf reader, available online and via a downloadable app.
Wiley E-Texts are accessible online and offline, and can be read on a variety of devices, including smartphones and tablets.
Wiley E-Texts are non-returnable and non-refundable.
Wiley E-Texts are protected by DRM. For specific DRM policies, please refer to our FAQ.
WileyPLUS registration codes are NOT included with any Wiley E-Text. For informationon WileyPLUS, click here .
To learn more about Wiley E-Texts, please refer to our FAQ.

Information about e-books:
E-books are offered as e-Pubs or PDFs. To download and read them, users must install Adobe Digital Editions (ADE) on their PC.
E-books have DRM protection on them, which means only the person who purchases and downloads the e-book can access it.
E-books are non-returnable and non-refundable.
To learn more about our e-books, please refer to our FAQ.