Textbook
Supply Chain Management, 2nd Edition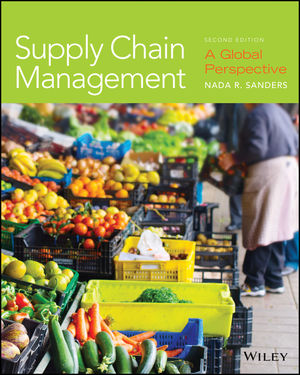 TRY (FREE for 14 days), OR RENT this title: www.wileystudentchoice.com
Supply chain management, rapidly-advancing and growing ever more important in the global business climate, requires an intense understanding of both underlying principles and practical techniques. Including both a broad overview of supply chain management and real-world examples of SCM in companies ranging from small to large, this book provides students with both the foundational material required to understand the subject matter and practical tips that demonstrate how the latest techniques are being applied. Spanning functional boundaries, this well-regarded book is now in its second edition and has quickly become a standard course text at many universities.
This newest edition continues to provide a balanced, integrative, and business-oriented viewpoint of the material, and deeply explores how SCM is intertwined with other organizational functions. New material has been added to address the importance of big data analytics in SCM, as well as other technological advances such as 3-D printing, cloud computing, machine learning, driverless vehicles, the Internet of Things, RFID, and others.
See More
PREFACE IX
1 INTRODUCTION TO SUPPLY CHAIN MANAGEMENT 1
What Is Supply Chain Management (SCM)?, 3
Supply Chain Leader's Box: Amazon.com, 9
The Boundary-Spanning Nature of SCM, 9
The Rise of SCM, 12
Supply Chain Leader's Box: Dell Computer Corporation, 13
Characteristics of a Competitive Supply Chain, 14
Global Insights Box: Zara, 15
Trends in SCM, 16
Supply Chain Leader's Box: Wal-Mart, 16
Big Data Analytics Box: Tesco, 18
Managerial Insights Box—Outsourcing Innovation: Goldcorp Inc., 22
Careers in SCM and Professional Organizations, 23
Chapter Highlights, 23
Key Terms, 24
Discussion Questions, 24
Case Study: McNulty's Muscular Materials (MMM), 24
Case Questions, 24
References, 25
2 SUPPLY CHAIN STRATEGY 26
What Is Supply Chain Strategy?, 28
Achieving a Competitive Advantage, 29
Supply Chain Leader's Box: Wal-Mart, 30
Global Insights Box: Toyota Motor Corporation, 32
Building Blocks of Supply Chain Strategy, 32
Managerial Insights Box—Outsourcing Alliances: Li & Fung Ltd., 38
Supply Chain Strategic Design, 39
Supply Chain Leader's Box: Barlean's Organic Oils, 42
Strategic Considerations, 43
Big Data Analytics Box: Amazon, 44
Productivity as a Measure of Competitiveness, 44
Chapter Highlights, 46
Key Terms, 47
Discussion Questions, 47
Problems, 47
Case Study: Surplus Styles, 47
Case Questions, 48
References, 48
3 NETWORK AND SYSTEM DESIGN 49
The Supply Chain System, 51
Supply Chain Leader's Box—Moving to Process Thinking: LG Electronics, 54
Understanding Processes: Theory of Constraints (TOC), 54
Integration of Supply Chain Processes, 58
Designing Supply Chain Networks, 60
Managerial Insights Box: Coca-Cola, 61
Big Data Analytics Box: Segmentation in Retail, 64
Enterprise Resource Planning (ERP), 64
Chapter Highlights, 67
Key Terms, 67
Discussion Questions, 67
Problems, 67
Case Study: Boca Electronics, LLC, 68
Case Questions, 68
References, 69
4 MARKETING 70
What Is Marketing?, 72
Supply Chain Leader's Box: Gap Inc., 73
Supply Chain Leader's Box—Accommodating Changing Customer
Preferences: PepsiCo, 75
Customer-Driven Supply Chains, 76
Managerial Insight's Box—Understanding the Customer: Target, 78
Delivering Value to Customers, 80
Global Insights Box—Global Customer Service: Coca-Cola Japan, 84
Channels of Distribution, 85
Managerial Insights Box—Changing the Distribution Channel: Steinway
Pianos, 87
Big Data Analytics Box: Oasis, 90
Chapter Highlights, 90
Key Terms, 91
Discussion Questions, 91
Case Study: Gizmo, 91
Case Questions, 91
References, 92
5 OPERATIONS MANAGEMENT 93
What Is Operations Management (OM)?, 95
Supply Chain Leader's Box: Wal-Mart, 98
Contents v
Product Design, 99
Big Data Analytics Box: Honda, 100
Global Insights Box: Ryanair, 102
Process Design, 105
Managerial Insights Box—A New Manufacturing Process: Rapid
Manufacturing, 108
Facility Layout, 108
Managerial Insights Box: Mazzi's versus Totino's Pizza, 110
Line Balancing in Product Layouts, 111
Process Automation, 114
Global Insights Box: KUKA Robotics Corp., 115
Chapter Highlights, 116
Key Terms, 116
Discussion Questions, 116
Problems, 116
References, 117
6 SOURCING 118
What Is Sourcing?, 120
Supply Chain Leader's Box—Co-Creation: The Auto Industry, 123
The Sourcing Function, 123
Sourcing and SCM, 125
Global Insights Box - Outsourcing Analytics: Accenture, 126
Supply Chain Leader's Box—Risk Management: IBM, 127
Managerial Insights Box—Outsourcing Alliances: Roots, 130
Big Data Analytics Box: FedEx, 132
Measuring Sourcing Performance, 132
Chapter Highlights, 133
Key Terms, 134
Discussion Questions, 134
Problems, 134
Class Exercise: Toyota, 135
Case Study: Snedeker Global Cruises, 135
Case Questions, 136
References, 136
7 LOGISTICS 137
What Is Logistics?, 139
Supply Chain Leader's Box: United Parcel Service (UPS), 140
Logistics Tasks, 145
Big Data Analytics Box—Driverless Cars: Uber, 145
Transportation, 147
Supply Chain Leader's Box: Sysco, 148
Global Insights Box—Rail Service Between China and Europe: "Northeast
Passage", 150
Warehousing, 150
Third-Party Logistics (3PL) Providers, 153
Chapter Highlights, 153
Key Terms, 154
Discussion Questions, 154
Problems, 154
Case Study: Strategic Solutions Inc., 154
Case Questions, 156
References, 156
8 FORECASTING AND DEMAND PLANNING 157
What Is Forecasting?, 159
Managerial Insights Box: Forecasting beyond Widgets, 160
Global Insights Box—Matching Supply and Demand: World Health
Organization (WHO), 162
The Forecasting Process, 163
Managerial Insights Box: Predictive Analytics, 165
Types of Forecasting Methods, 166
Big Data Analytics Box—Improving Weather Forecasting: NOAA, 168
Time Series Forecasting Models, 169
Causal Models, 175
Measuring Forecast Accuracy, 178
Collaborative Forecasting and Demand Planning, 180
Supply Chain Leader's Box—Using Collaborative Technology: Li &
Fung, 181
Chapter Highlights, 183
Key Terms, 183
Discussion Questions, 183
Problems, 184
Case Study: Speedy Automotive, 185
Case Questions, 187
References, 187
9 INVENTORY MANAGEMENT 188
Basics of Inventory Management, 190
Managerial Insights Box—Service Inventory: Zoots, 191
Supply Chain Leader's Box: John Deere & Company, 195
Inventory Systems, 195
Fixed-Order Quantity Systems, 198
Big Data Analytics Box—Analytics Driven Inventory: Dell, 205
Fixed-Time Period Systems, 205
Independent versus Dependent Demand, 207
Global Insights Box: Intel Corporation, 208
Managing Supply Chain Inventory, 208
Contents vii
Chapter Highlights, 212
Key Terms, 212
Discussion Questions, 212
Problems, 213
References, 213
10 LEAN SYSTEMS AND SIX-SIGMA QUALITY 214
What Is Lean?, 216
Big Data Analytics Box: General Electric, 218
Supply Chain Leader's Box: U.S. Army, 219
Lean Production, 220
Global Insights Box: UPS, 221
Respect for People, 223
Total Quality Management (TQM), 224
Managerial Insights Box: Lean Tools in the Popular Press, 227
Statistical Quality Control (SQC), 228
Supply Chain Leader's Box: Intel Corporation, 229
Six Sigma Quality, 236
The Lean Six Sigma Supply Chain, 237
Chapter Highlights, 240
Key Terms, 240
Discussion Questions, 240
Problems, 241
Case Study: Buckeye Technologies, 242
Case Questions, 242
References, 243
11 SUPPLY CHAIN RELATIONSHIP MANAGEMENT 244
Supply Chain Relationships, 246
Big Data Analytics Box—The Network Effect: Amazon, 249
Supply Chain Leaders' Box—Open Innovation: Proctor & Gamble, 251
The Role of Trust, 252
Global Insights Box—Growth Through Partnership: Coca-Cola
in Africa, 256
Managing Conflict and Dispute Resolution, 256
Managerial Insights Box: Commodity Swapping, 260
Negotiation Concepts, Styles, and Tactics, 260
Relationship Management in Practice, 265
Chapter Highlights, 267
Key Terms, 267
Discussion Questions, 267
Case Study: Lucid v. Black Box, 268
Case Questions, 268
References, 268
12 GLOBAL SUPPLY CHAIN MANAGEMENT 270
Global Supply Chain Management, 272
Supply Chain Leader's Box—Challenges of Global
Culture: Wal-Mart, 273
Global Market Challenges, 276
Managerial Insights Box: Coca-Cola's China Branding Challenge, 278
Global Infrastructure Design, 280
Big Data Analytics Box—Supplier Risk: Cisco, 281
Cost Considerations, 282
Managerial Insights Box—Beyond Cost: BMW, 283
Political and Economic Factors, 284
Chapter Highlights, 286
Key Terms, 286
Discussion Questions, 287
Case Study: Wú's Brew Works, 287
Case Questions, 291
References, 292
13 SUSTAINABLE SUPPLY CHAIN MANAGEMENT 293
What Is Sustainability?, 295
Global Insights Box: The Great Pacific Garbage Patch, 296
Supply Chain Leaders Box: Fibria Celulose, 298
Evaluating Sustainability in SCM, 302
Big Data Analytics Box: Coca-Cola, 310
Sustainability in Practice, 312
Managerial Insights Box: Carbon Fiber Auto Parts, 313
Chapter Highlights, 316
Key Terms, 316
Discussion Questions, 317
Case Study: Haitian Oil, 317
Case Questions, 318
References, 318
APPENDIX 319
GLOSSARY 321
INDEX 329
See More
New to this Edition:
Material new to this edition includes the addition of the effects of big data analytics on supply chains
With a new focus on technology, the book addresses advancements that are changing supply chains, from 3-D printing to cloud computing and driverless vehicles
Updated examples include key concepts applied to supply chains of various size companies, from small to large firms
See More
Wiley Advantage:
Provides a comprehensive foundation of supply chain management, from a broad overview of SCM to strategic implementations and operational techniques
Offers readers cross-functional, integrated coverage of supply chain management applicable to the various areas of SCM
Features a global focus that takes into account global supply networks, international tariffs, foreign regulations, and many more
Includes content in each chapter to illustrates the latest business practices revolving around the topic addressed
See More
Instructors Resources
Wiley Instructor Companion Site
Request a print evaluation copy
Contact us

Contact your Wiley Representative
Find Your Rep

See More
See Less
Purchase Options

Information about Wiley E-Texts:
Wiley E-Texts are powered by VitalSource and accessed via the VitalSource Bookshelf reader, available online and via a downloadable app.
Wiley E-Texts are accessible online and offline, and can be read on a variety of devices, including smartphones and tablets.
Wiley E-Texts are non-returnable and non-refundable.
Wiley E-Texts are protected by DRM. For specific DRM policies, please refer to our FAQ.
WileyPLUS registration codes are NOT included with any Wiley E-Text. For informationon WileyPLUS, click here .
To learn more about Wiley E-Texts, please refer to our FAQ.

Information about e-books:
E-books are offered as e-Pubs or PDFs. To download and read them, users must install Adobe Digital Editions (ADE) on their PC.
E-books have DRM protection on them, which means only the person who purchases and downloads the e-book can access it.
E-books are non-returnable and non-refundable.
To learn more about our e-books, please refer to our FAQ.