Textbook
Information Technology for Management: Advancing Sustainable, Profitable Business Growth, 11th Edition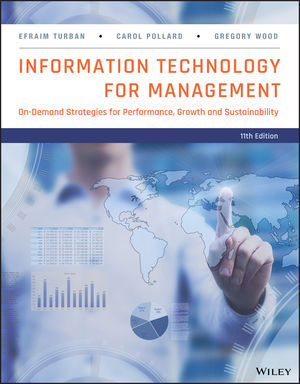 Information technology is ever-changing, and that means that those who are working, or planning to work, in the field of IT management must always be learning. In the new edition of the acclaimed Information Technology for Management, the latest developments in the real world of IT management are covered in detail thanks to the input of IT managers and practitioners from top companies and organizations from around the world. Focusing on both the underlying technological developments in the field and the important business drivers—sustainability, performance and profitability, and growth—the text will help students explore and understand the vital importance of IT's role in within the three components of business performance improvement: people, processes, and technology.
The book also features a blended learning approach that employs content that is presented visually, textually, and interactively to enable students with different learning styles to easily understand and retain information. Coverage of next technologies is up to date, including cutting-edged technologies, and case studies help to reinforce material in a way that few texts can.
See More
New to this Edition:
Material new to this edition includes feedback from IT professionals and managers that is included in the form of chapter opening and closing cases
Animated Executive Summary Videos: A series of innovative white-board animations engages students and brings concepts to life. Conceived and narrated by the text authors, these videos are especially useful for 'flipped classrooms' allow students to engage with the material through multiple mediums
Expanded topic areas are covered, including IT framework, business process reengineering, geocoding, systems developments and methodologies, search technology advances, and more
A new, blended learning approach includes different types of delivery and learning methods–this is enabled and supported by technology
See More
Wiley Advantage:
Features real-world examples from some of the most innovative companies in the world, from AirBnb to Verizon
Includes end-of-chapter activities designed to promote critical thinking, along with online and interactive exercises that encourage exploration of additional topics
Special career insight boxes describe and highlight the various jobs in the IT management field
Includes monetary concepts such as calculating the cost of money (i.e., issues regarding interest and investment), the impact of taxes, funding of projects, and how contractors manage cash flow during the construction process
Updates also include chapters discussing safety
An Instructor Resource provides solutions to the end-of-chapter review exercises
See More
Purchase Options
Paperback
Information Technology for Management: On-Demand Strategies for Performance, Growth and Sustainability, 11th Edition
ISBN : 978-1-118-89079-0
486 pages
January 2018, ©2018

Information about Wiley E-Texts:
Wiley E-Texts are powered by VitalSource and accessed via the VitalSource Bookshelf reader, available online and via a downloadable app.
Wiley E-Texts are accessible online and offline, and can be read on a variety of devices, including smartphones and tablets.
Wiley E-Texts are non-returnable and non-refundable.
Wiley E-Texts are protected by DRM. For specific DRM policies, please refer to our FAQ.
WileyPLUS registration codes are NOT included with any Wiley E-Text. For informationon WileyPLUS, click here .
To learn more about Wiley E-Texts, please refer to our FAQ.

Information about e-books:
E-books are offered as e-Pubs or PDFs. To download and read them, users must install Adobe Digital Editions (ADE) on their PC.
E-books have DRM protection on them, which means only the person who purchases and downloads the e-book can access it.
E-books are non-returnable and non-refundable.
To learn more about our e-books, please refer to our FAQ.