Journal
German Life and Letters
Vol 68
(4 Issues in 2015)
Edited by: Professor Stephen Brockmann (Carnegie Mellon University), Professor Margaret Littler (University of Manchester), Professor John Sandford (University of Reading), Professor R.C. Speirs (University of Birmingham) and Professor Helen Watanabe-O'Kelly (University of Oxford). Editorial Assistant: Dr Anna Carrdus.
Print ISSN: 0016-8777
Online ISSN: 1468-0483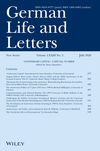 Long established as the leading journal in British German Studies, German Life and Letters offers a wide range of articles dealing with literary and non-literary concerns in the German-speaking world.
Contributions cover German thought and culture from the Middle Ages to the present, including literature, language and the visual arts, as well as social history and politics.
See More