Journal
The Howard Journal of Criminal Justice
Vol 54
(5 Issues in 2015)
Edited by: David Wilson and Penny Green
Print ISSN: 0265-5527
Online ISSN: 1468-2311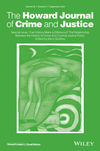 The Howard Journal of Criminal Justice is a peer review journal which is concerned with all major aspects of the criminal justice process, penal policy and crime prevention, in Britain and overseas. The Journal is available through online subscription to over 3,400 institutions across the world and is the premier forum where academic theory, and the policy and practice of criminal justice meet. The Journal is proud to be associated with, but is editorially independent of The Howard League for Penal Reform – the oldest penal reform organisation in the World, and one which has UN and EU Consultative status. In fulfilling our editorial policy the Journal welcomes contributions not only from academics and researchers, but from practitioners, policy makers and those with relevant voluntary experience. It is especially pleased to publish work from serving, or former prisoners.
The Journal aims to publish material of a high academic standard but written so far as possible in a non-technical style, not over-burdened with statistical tables or specialist terminology. Each issue of the Journal has a book review section and a Penal Policy File, which details the latest developments in criminal justice policy in the United Kingdom. A Counterblast allows the author to engage more popularly with an issue about the criminal justice process, penal policy and crime prevention which is being reported on in the print or broadcast news, and the "lead article" in each issue is the subject of a press release.
Authors should note that the members of the Editorial Advisory Group (EAG) are committed to a policy of anti-racism and anti-sexism in respect of the terminology used in articles in the Journal. The aim of the EAG is to have submissions peer reviewed in a timely manner, and typically the time taken from submission to publication is less than 12 months. In particular the Journal also utilises an "online early" publication system, with three months being the average time taken from receipt for production to publication on Early View. Authors can also follow electronically how often their article has been cited. Further details about our Editorial Policy may be found in the Notes for Authors.
See More