Collection
The Great Workplace
Product Collection
"If you're looking for a no-nonsense, step-by-step guide to creating a Great Place to Work, this is all you need. Burchell and Robin understand exactly what it takes and serve it up in an accessible, ready-to-go way."
-- Hal Adler, CEO, Leadership LandingTM and former president, Great Place to Work Institute
What separates a Great Company from a merely good one? More than offering great pay and quirky perks, a great workplace is one where employees trust the people they work for, take pride in what they do, and are inspired to achieve superior performance.
Based on a many years of research and training conducted at the Great Place to Work Institute--producers of the FORTUNE 100 Best Companies to Work For Annual List--The Great Workplace: Building Trust and Inspiring Performance Workshop provides managers with a set of powerful, effective exercises that will help them understand the conceptual and practical considerations of creating a high-trust work environment. In the workshop, participants will:
Examine the essential elements of a Great Place to Work, especially the crucial role of trust.
Build an understanding of the key role managers play in building a great workplace.
Identify opportunities and generate ideas for making change within the scope of their responsibility.
Gain practical tools for improving the quality of their work environment.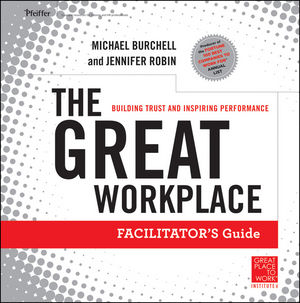 Available Components of This Product Collection
Price
Enter
Quantity