App
How Your House Works: A Homeowner's Visual Guide to Repair and Maintenance app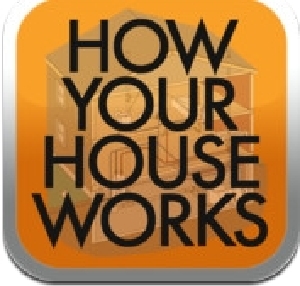 There's no question that it pays to be an informed consumer. Knowing your home's systems helps you control repair and construction costs. This app provides easy to understand explanations of how many things in a house are put together, and how each item functions – from plumbing to electrical, heating and air conditioning, appliances, and doors and windows.
The key to the app is the easy-to-understand, see-through drawings. Each one is backed up by clear, brief explanations from a nationally known home improvement expert. It's a formula for a quick understanding of what you're dealing with when troubleshooting a problem, talking to your repairman, or planning your new home, addition, or remodeling project, and selecting new fixtures, appliances, or materials.
The app breaks down the workings of the plumbing, electrical, and heating/air conditioning systems, and other house parts, and shows not only what the parts look like and how they interact, but the sequence in which things work.
Additional features include:
• Bookmark feature allows you to save frequently used topics for quick access
• Keyword search or browse by topic area
• Content related to sustainability in and outside the house
• "Before Calling for Help" recommendations found throughout the app provide guidance on simple things to check, in many cases solving the problem quickly and inexpensively without having to hire a repairman
• Maintenance tips and other helpful guidance to keep your home running smoothly
See More