Website
Architectural Graphic Standards 11th Edition Online Version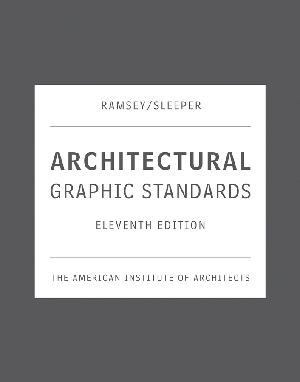 Now access to Architectural Graphic Standards just got easier! Your trusted, must-have architectural reference is now available online.
Architectural Graphic Standards accessed via an annual subscription on MADCAD.com allows you to quickly access and use all the content from the book and CD-ROM, download digital files for 3,000 architectural details, or browse through the page-view of the content as you would your book, directly from your desktop or your mobile device.
Content includes:
- information on sustainable building design and construction, new structural technologies, building systems and materials, building product selection and specification
- an emphasis on sustainable construction, including green materials, LEED standards, and recyclability
- case studies that illustrate and inspire applications of standards in real-world practice
- graphic standards details in a CAD-compatible format so users can view, print, or download and modify for use in their own drawings
MADCAD.com is a cloud-based reference library that makes it easy and cost effective to access Architectural Graphic Standards content anytime, anywhere.
No Downloads- no PDFs, no installations...never download a thing
Mobile Access- access content from any browser on your computer, tablet, or smart phone
Share Enterprise-Wide- bring Architectural Graphic Standards information to all employees in your company or organization
Flexible Subscriptions- add more content or users to your account instantly
See More