App
Android Phone Tips For Dummies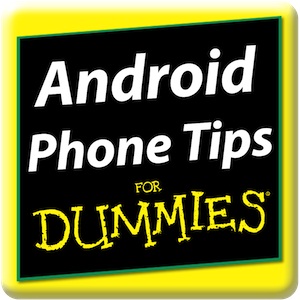 Eager to learn the ins and outs of your amazing Android phone? Android Phone Tips For Dummies will have you exploring all the fun features of your Android device in no time at all. This handy app is your on-the-go guide to using your Android smartphone to browse the web, check e-mail, connect with social media, shoot photos and video, and more. Whether you're new to smartphones or just adopting an Android for the first time, you'll find what you need to get going with the help of this friendly app.
App Features:
Phone-Damentals section walks you through the basic features of all Android phones so you can quickly find your way around the home screen and start making calls
E-Mail & Surfing section focuses on setting up your e-mail accounts, connecting with Wi-Fi, staying in touch with social media, and browsing the web with ease
Pictures & Video section teaches you how to use your Android phone to watch your favorite flicks, share photos, upload your own video, use Skype, and video chat with friends and family
Hints & Shortcuts section provides quick tips on everything from setting up voice mail and adding contacts to creating dialing shortcuts, locating a lost phone, and more
Troubleshooting section highlights common questions about getting the most from your battery life, finding files on your phone, dealing with stubborn apps, updating the OS, and getting additional support for your Android device
Part of Tens section will give you the scoop on ten awesome Android apps that can enhance your smartphone experience, help you be more productive, and have a little fun
Search feature lets you search the entire app by keyword or phrase to help you find the information you need anytime and anywhere you want it
These fun and easy For Dummies tips will make you the master of your Android phone and all it can do!
See More