Website
Planning and Urban Design Standards Online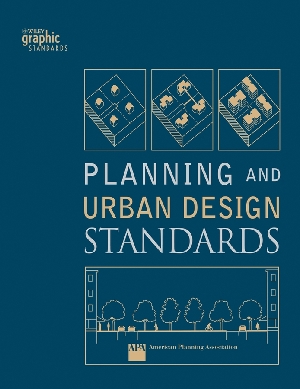 Planning and Urban Design Standards, created under the auspices of The American Planning Association, is the most comprehensive reference book on urban planning, design, and development available today. Now users can access via an annual subscription all the content online at MADCAD.com.
Contributions from more than two hundred renowned professionals provide rules of thumb and best practices for mitigating such environmental impacts as noise, traffic, aesthetics, preservation of green space and wildlife, water quality, and more. You get in-depth information on the tools and techniques used to achieve planning and design outcomes, including economic analysis, mapping, visualization, legal foundations, and real estate developments.
Planning and Urban Design Standards provides needed information for designing and evaluating any land-use scheme—from street plantings to new subdivisions.
Offers basic requirements for hundreds of building types and uses—from neighborhood stores and single-family houses to multi-use complexes and regional transportation facilities.
Thousands of simple illustrations that can be used to explain principles of land use and planning; these can be incorporated into reports and presentations for clarification of ideas
MADCAD.com is a cloud-based reference library that makes it easy and cost effective to access Planning and Urban Design Standards content anytime, anywhere.
• Access content from anywhere. No PDF files to download
• Mobile Access: access content from any browser on a computer, tablet, or smart phone
• One Enterprise-Wide subscription allows users across your organization, school or library network to access Graphic Standards content
• Flexible Subscriptions- add more content or users to your account instantly
See More