App
NOOK HD Tips For Dummies
Platforms: Android, Nook, Kindle Fire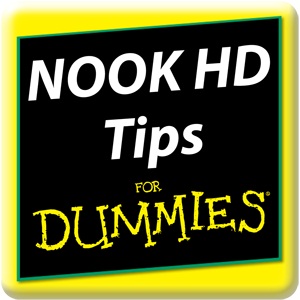 It's an e-reader! It's a tablet! It's the need-to-have NOOK HD!
And, NOOK HD Tips For Dummies is here to help you get to know your nifty NOOK tablet in no time. This handy app is your on-the-go guide to using the NOOK HD to browse the web, check e-mail, play games, watch movies, read your favorite books, and more. You'll learn to set up your NOOK HD exactly how you like it and start filling your tablet with tons of cool content with the help of this fun and friendly app.
App Features:
Fundamentals section walks you through NOOK HD basics like getting to know the interface, using the virtual keyboard, and connecting to a wireless network
E-mail & Surfing section focuses on setting up your e-mail account, browsing the Internet, staying in touch with social media, and more
eReader Hints section helps you learn the ins and outs of the NOOK HD's e-reading capabilities and shows you how to buy, borrow, and make your way through your favorite magazines, newspapers, and books, plus you'll learn how to take notes, add bookmarks, and move files from your computer to your NOOK
NOOK Shopping section gets you started exploring the NOOK Shop, downloading the latest apps, creating a WishList, and sharing your e-books with friends and family
Troubleshooting section highlights common questions users have about charging the battery, protecting their NOOK, and updating the operating system and warranty
Part of Tens section will give you the scoop on ten gestures to help you navigate your NOOK HD like a pro
Search feature lets you search the entire app by keyword or phrase to help you find the information you need anytime and anywhere you want it
Fun is just a tap away with your NOOK HD and these friendly For Dummies tips!
See More