About Wiley Visualizing
The Wiley Visualizing series engages and immerses students in your passion for your field! Incorporating many different types of visual pedagogy, these textbooks wrap clear, concise text around National Geographic photography and hundreds of well-designed illustrations, diagrams, and charts to:
Help students learn more effectively
Link text and visuals to what is familiar
Display complex information in a more efficient manner
Improve scientific vocabulary and recall
Why should a textbook based on visuals be effective? Research shows that we learn better from integrated text and visuals than from either medium separately. Beginners in a subject benefit most from reading about the topic, attending class, and studying well-designed and integrated visuals. A visual, with good accompanying discussion, really can be worth a thousand words!
Visualizing Series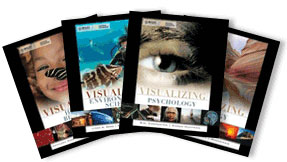 The Wiley Visualizing titles introduce non-majors students to Environmental Science, Psychology, Physical Geology, and Human Biology, specifically:
Berg/Hager, Visualizing Environmental Science
Carpenter/Huffman, Visualizing Psychology
Murck/Skinner/MacKenzie, Visualizing Geology
Ireland/Tanenbaum, Visualizing Human Biology