Restoring Financial Stability: How to Repair a Failed System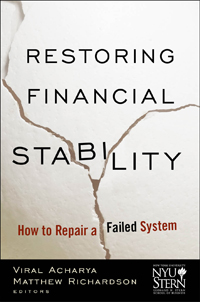 March 2009, ©2009
,
Hardcover
The obvious causes of the current market meltdown and credit crisis have been much discussed and analyzed from the perspective of a real estate bubble and lending deterioration. However, underlying the mania and its subsequent panic lay fundamental and structural market problems that will persist (and potentially worsen) if not addressed. Objective, independent, and data and analysis driven, the Restoring Financial Stability presents a blueprint to repairing the financial markets architecture and addresses regulation, government sponsored enterprises, enhanced regulation of complex financial institutions, hedge funds, corporate governance, compensation, fair value accounting, derivatives, centralized clearing, short selling, systemic risk, public banking, the bail out and where it should begin and stop, and international alignment of finance sector regulation.
DOWNLOAD THE BOOKLET OF EXECUTIVE SUMMARIES
About NYU Stern
New York University's Leonard N. Stern School of Business is one of the nation's premier management education schools and research centers. NYU Stern today has taken its place among the nation's most distinguished business schools.
Author information
Viral V. Acharya, Professor of Finance, NYU Stern and London Business School
Matthew Richardson, Charles Simon Professor of Applied Financial Economics and Director, Salomon Center for the Study of Financial Institutions
Special Offer: As Advertised in the Financial Times!
Download a booklet of executive summaries with the latest analysis.