Travels with the Chairman: The Middle East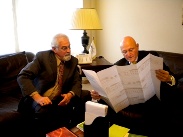 Tammam Salam, Lebanese Minister of Culture, shows Peter Wiley plans for a new national library. After years of invasion and civil war, Lebanon is rebuilding.
In the Middle East, oil is the lifeblood of commerce. But nothing lasts forever, and the region's oil-rich nations have begun to prepare for a future in which their prosperity will spring from a different source, through competition in services, technology, manufacturing, and tourism, with a corresponding push under way in education and training. In countries without oil or with only limited reserves, such as Lebanon, Jordan, and Egypt, the challenges are more complex, and the need for education and training is, if anything, more compelling.

It all spells opportunity for Wiley. "The Middle East is arguably our fastest growing market in the world," says Peter Booth Wiley, Chairman of Wiley's Board of Directors. "We've seen double-digit growth there across all our businesses for several years, fueled by the emergence of an educated middle class." Peter spent three weeks in May touring Jordan, Egypt, Lebanon, and the United Arab Emirates, traveling with a small group of U.K.-based Wiley colleagues who are active in our Middle East business.

With the goal of elevating Wiley's regional profile, they visited academic institutions, bookstores, and government ministries, finding a high level of receptivity for Western methods and materials. "Higher education is booming in Egypt and the Middle East," says Peter. "American educators, dating back to missionary efforts in the nineteenth century, have played a significant role in the development of institutions of higher education in the Arab speaking world. For example, there are the American University of Cairo and the American University of Beirut, both of which offer quality education. We visited the American University of Sharjah, a spectacular new campus in the United Arab Emirates, which was built over the last five years, and in Jordan we visited the construction site for the University of Madaba, a new school funded by the Catholic Church. I particularly enjoyed meeting the President Designate, Victor Billeh, because we were graduate students at the same time at the University of Wisconsin." The university will open with 5,000 students next year.

British, Canadian, and European educators have also played an important role, working closely with Egyptian, Emirati, Saudi, and other local educational leaders, many of them educated in the West, to fuel the remarkable growth of higher education throughout the region.
Opportunity for WileyPLUS
Local educators want the very best for their students, and there is strong interest in WileyPLUS, our online suite which integrates digital textbooks with a range of teaching and learning resources, both for its ability to enhance the educational experience and for its power to reach large numbers of new students. "We see two possible scenarios," says Peter. "In oil-rich countries like the Emirates, Saudi Arabia, and most of the Gulf States, educational leaders want the newest and best for their students, and they see WileyPLUS as a powerful way to improve learning outcomes. In countries like Egypt, where there is significant poverty in cities and rural areas alike, academics understand that there needs to be a distance learning component to the solution for which WileyPLUS is particularly well-suited. For now, these countries are more wedded to print. So there is a strong market for our economically priced International Student Editions in the less affluent areas."

At present, there are no Wiley representatives stationed in the Middle East. But Wiley colleagues travel there frequently, and we work through distribution partners like Levant Distributors in Beirut, Lebanon, and Gabi Sharbain, whose business is based in Amman, Jordan. The relationship with Gabi Sharbain is a well-established one, growing out of his father's relationship with Brad Wiley, Sr., Peter's father. "Jordan was our first stop on the trip," Peter says. "Gabi arranged a dinner for us with 12 university presidents. In addition to his business in Jordan, Gabi owns a bookstore in Baghdad; he believes that Iraq, once the most important center of book culture in the Arabic world, is an important future market for Wiley."

Peter also met with Professor Wajih Owais, president of the Jordan University of Science and Technology. "He was in a somber mood; the Minister of Education had just cut his budget by $1.8 million. When we started talking about WileyPLUS, he was intensely interested and called in a group of department heads, who were there in five minutes. We improvised a presentation that was very well-received and led to a formal trial." Making personal contact is extremely important in the Middle East, and familial connections play a powerful role as well. In Dubai, one of the seven United Arab Emirates (UAE), Peter met with Sheikh Nahayan Mabarak Al Nahayan, who oversees education for the UAE and is a member of the ruling family of Abu Dhabi and related to the ruling family of Dubai. Sheikh Nahayan stressed the importance of advancing Wiley's relationship with the UAE's Higher College of Technology, which has expanded to 16 campuses throughout the UAE.

With strong government involvement and centralized decision making for the purchase of educational materials, Middle Eastern universities present a significant opportunity for institutional licensing of our content. There is already a major WileyPLUS licensing agreement in place at King Abdulaziz University in Saudi Arabia, and many "test drives" have been set up throughout the region. A class trial for the Halliday/Extended Physics WileyPLUS course during the summer session at the American University of Beirut (AUB), one of the most prestigious universities in the region, resulted in an adoption for 250 students.
Browsing in Beirut (and Elsewhere)
With the growing demand for professional content, bookstores carrying English language titles are proliferating across the region, including outlets for Borders, Virgin Media, and the Japanese Kinokuniya chain, which recently opened its new Book World megastore, with a 250,000-book capacity, in Dubai city next to the Burj Dubai, the world's tallest building. "It took 45 minutes to walk through the store," says Peter. "The architecture and cooking sections alone are as big as a small bookstore." Amidst the new is a reminder of the old. "On the way to the back office, we passed a side room where a man sat at a table working his way through a stack of books. It was the censor, on the lookout for content that is deemed politically inappropriate or offensive to religious and moral sensitivities. These books do not make it to the shelves."
The Takeaway

The legendary Arab hospitality was much in evidence. "I have never witnessed such displays of generosity and warmth," says Peter. "I stopped picking up books in the bookstores I visited because my host would insist on buying them for me."

With the strong family-oriented culture of the Middle East, Peter's visit was particularly well received. "People we met were pleased to learn that there really is a Wiley family involved in our business, and appreciative that I would visit their universities and bookstores and express interest in their history and culture," he says.

Philip Kisray, Vice President, Sales, and Publishing Director for Wiley's Professional/Trade and Educational businesses in the EMEA region and one of the colleagues who accompanied Peter on his visit, comments on its impact. "The trip gave a fantastic boost to our profile, with initiatives in Dubai, Beirut, Amman, and Cairo now under way as a result. The timing could not have been better. As the Middle East prepares for a 'post-oil' reality, its prosperity is linked to the education of future generations, a reality that is driving high investment in education and training at the same time that positive demographic trends are expanding higher education enrollment. The next few years will be exciting ones for Wiley in the Middle East."