Wiley, CIP Launch Co-Branded Imprint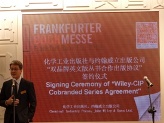 Steven Miron, Vice President and COO, Wiley-Blackwell, formalized the Wiley-CIP relationship on behalf of Wiley at the Frankfurt Book Fair
Wiley has signed an agreement with the Chemical Industry Press (CIP), one of the top STM publishers in China, to publish a co-branded Wiley-CIP series imprint. The collaboration is aimed at developing a series of English-language advanced textbooks and reference books for a global readership of postgraduates, researchers, and practitioners. The partnership will publish titles in engineering, materials science, and chemistry during the initial phase, with the potential to expand into other areas of science and medicine, where CIP nurtures a rich community of distinguished authors.

As part of the agreement, Wiley will supply CIP with print copies of an English-language version for distribution within China at local market prices. Two electrical engineering titles have already been approved in principle for inclusion in the series and are scheduled for publication in early 2010. Wiley intends to publish 5-8 titles over the next two years, with an eye to establishing the quality of the series, and to grow the published collection to 10-15 in its third year.

The agreement was signed at the Frankfurt Book Fair, where China was Guest of Honor.