Resources » Online Assessments » Global Executive Leadership Inventory » Overview
Overview
360-degree Feedback for Leaders in Today's Fast-Paced, Globally-Minded Business Environment
To stay competitive organizations need leaders who have an accurate picture of their leadership abilities. Global Executive Leadership Inventory (GELI) is a 360-degree online assessment tool that is designed to help executives evaluate their leadership performance by considering the twelve key tasks implicit in the executive role.
What does the Assessment measure?
Developed by internationally renowned business scholar, Manfred F.R. Ket de Vries, the Global Executive Leadership Inventory measures twelve competencies in the following dimensions:
Visioning
Empowering
Energizing
Designing and Aligning
Rewarding and Feedback
Team Building
Outside Orientation
Global Mindset
Tenacity
Emotional Intelligence
Life Balance
Resilience to Stress
Number of Items: 100
Time to complete: 30min
Who is it for?
GELI is an ideal training and coaching tool for multi-national organizations that are looking to attract, train, and retain the best and brightest next-generation leaders.

The Inventory also provides executive coaches with a tool for helping individuals recognize their strengths and understand where they need to focus their development efforts. the Inventory is appropriate for a wide range of leaders, including mid-level managers, junior and senior executives, and organizational directors working in profit and non-profit organizations.
"Manfred Kets de Vries is a world class authority on global leadership. The Global Executive Leadership Inventory provides a tool and a process that can help coaches—both internal and external—help their clients become more effective global leaders."
—Marshall Goldsmith is the author of the Business Week best-seller, The Leader of the Future
About GELI
How was GELI verified?
How was GELI developed and tested?
What you'll learn from the GELI assessment
Complete Product Collection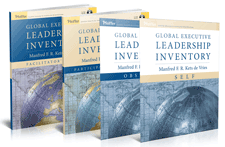 Global Executive Leadership Inventory (GELI), Facilitator's Guide Set


Learn More
Related Products