Resources » Online Assessments » Global Executive Leadership Inventory » Details
Details
360-Degree Assessment
GELI's 360-degree feedback system has several important benefits, including the following:
Serves as an early warning system, highlighting areas in which leaders need to develop and cautioning them about their "blind spots"
Provides an opening for constructive dialogue, both horizontally and vertically, redefining superior-subordinate relationships and contributing to a more open, network- oriented corporate culture
Offers a rough assessment tool to identify people who have high leadership potential
Helps managers make administrative decisions during the performance appraisal process
Contributes to a general organizational change assessment leading to organizational transformation initiatives.
Preview the assessment
How Was the Assessment Verified?
The psychometric reliability and validity of the GELI was studied in three stages: (1) by checking the internal consistency within each dimension using a classic psychometric approach; (2) by evaluating the structure of the questionnaire through confirmatory factor analysis at both the item level and the dimension level; and (3) by conducting a study of the effects of the characteristics of subject groups (gender, nationality, age, and experience, among others).

Once the GELI passed these stringent tests, norms and standard deviations were calculated. Feedback pages were designed using graphs that show percentile rankings, allowing the test-taker to compare his or her scores with those of the large group of high-achievers from all over the world in our database. Finally, the questionnaire was approved for use in executive seminars and courses and by leadership coaches and consultants in companies.
How Was the GELI Developed and Tested?
The Global Executive Leadership Inventory is part of an extensive research project investigating the daily actions and behaviors of effective global executives. The Inventory was developed by Dr. Manfred F.R. Kets de Vries. When he developed the pilot questionnaire he turned the statements about leadership into a pilot questionnaire with a minimal amount of ambiguity about each of the items, the questionnaire was pre-tested. This pretest was particularly important, because for many of the respondents English was not the first language (and thus clarity was essential). Each item presented readily observable or inferable behavior and was presented positively. The initial pilot questionnaire was distributed to twenty CEOs, who were asked to comment on the clarity and the face validity of the questions. After two pre-tests (the second with another sample of CEOs) the number of questionnaire items was narrowed down to 109 items.
What You Will Learn from GELI
The GELI will help participants spot their positive leadership behaviors as well as identifying behavior roadblocks to excellence. The Global Executive Leadership Inventory is a hands-on tool that can go a long way to measure individual, team, and organizational performance.

Global Executive Leadership Inventory gives participants insight as to what it means to be a world-class leader. Although many 360-degree leadership survey instruments exist, GELI is unique because it gives a global and clinical orientation. Also, GELI helps executives explore the critical themes of emotional intelligence, resilience to stress, and life balance.
View a Sample Report.
About The Author
Manfred F.R. Kets de Vries is the Raoul de Vitry d'Avaucourt Clinical Professor of Leadership Development at INSEAD in France and Singapore. He is also the director of INSEAD's Global Leadership Center. He is also a practicing psychoanalyst/psychotherapist and a member of the Canadian Psychoanalytic Society and the International Psychoanalytic Association. He has held professorships at McGill University, the École des Hautes Études Commerciales, Montréal, and the Harvard Business School. He has lectured at management institutions around the world. He is the program director of INSEAD's Top Management Program, "The Challenge of Leadership: Creating Reflective Leaders," and scientific director of the Diploma Program, "Coaching and Consulting for Change," and has five times received INSEAD's distinguished teacher award. His research interests include leadership, career dynamics, executive stress, entrepreneurship, family business, succession planning, cross-cultural management, and the psychodynamics of personal and corporate transformation. The Financial Times, Le Capital, Wirtschaftswoche, and The Economist have judged Manfred Kets de Vries one of world's leading thinkers on leadership.

Kets de Vries is the author, coauthor, or editor of more than twenty books and has published over two hundred scientific papers as chapters in books and as articles. Furthermore, he has written over one hundred case studies, including six that received the best case of the year award from the European Case Clearing House (ECCH). His books and articles have been translated into eighteen languages. He also developed The Personality Audit, a multi-rater personality test. He is a member of seventeen editorial boards. He has been elected a Fellow of the Academy of Management.
Complete Product Collection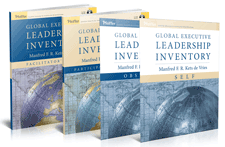 Global Executive Leadership Inventory (GELI), Facilitator's Guide Set


Learn More
Related Products