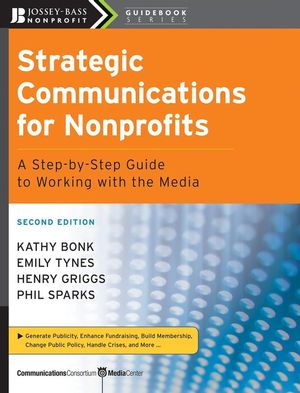 Strategic Communications for Nonprofits: A Step-by-Step Guide to Working with the Media, 2nd Edition
Buy this book from:
ISBN: 978-0-470-18154-6
204 pages
September 2008, Jossey-Bass
Strategic Communications for Nonprofits was first published in 1999. In this newly updated 2nd edition, the authors provide a nuts-and-bolts guide to help nonprofits design and implement successful communications strategies. The book offers a unique combination of step-by-step guidance on effective media relations and assistance in constructing and developing an overall communications strategy aimed at creating social or policy change. It explains the basic principles of a strategic communications strategy that will define the target audiences you need to reach and tells how to develop the messages and messengers you use to reach them. The book addresses specific issues like earning good media coverage, building partnerships to increase available resources, handling a crisis, and more. New and updated features include: new case studies; new trends in media and branding; ethnic media issues; and trends in technology.
More Information About this Book

Strategic Communications for Nonprofits: A Step-by-Step Guide to Working with the Media, 2nd Edition
Buy this book from: