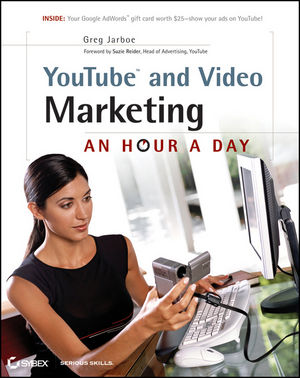 YouTube and Video Marketing: An Hour a Day
Buy this book from:
ISBN: 978-0-470-45969-0
504 pages
August 2009
Create Video Marketing Strategies that Deliver
The runaway success of YouTube has made online video sharing a powerful new marketing channel, and this detailed guide helps you create, implement, and measure winning video strategies that provide actionable insights and increase your ROI. Written by a video marketing expert, this comprehensive book also debunks common myths, helps you avoid errors, and energizes you with step-by-step instruction on key tasks and proven techniques.
You'll learn the ins and outs of YouTube and how to develop, deploy, and measure a video marketing strategy-including crucial tips for choosing keywords and optimizing your video for search-with this essential guide.
Get to know YouTube as well as MySpace and Yahoo!® Video
Use the five Ws (and one H) to ask all the right questions
Identify who discovers new videos and why so few go viral
Learn how to produce videos and get video production tips
Create compelling content worth sharing with the community
Set up a YouTube brand channel account and customize it
Optimize your video for YouTube and major search engines
Build some buzz for your video on other sites and blogs
Track, measure, and analyze your video marketing results
Discover how Barack Obama and Monty Python use YouTube
You'll also find:
Studio tips for creating better video, as well as a glossary and additional resources

Real-world "from the trenches" case studies that illustrate successes to learn from and mistakes to avoid
Author Interview Recorded at SES, March 2009
Praise for YouTube and Video Marketing: An Hour a Day
Whether your budget is zero or tens of thousands of dollars, Greg Jarboe shows you how to get the best bang for your online marketing buck. He takes you beyond basic techniques to professional promotion and advertising strategies-everything you need to market your business on YouTube.
-Michael Miller, author, YouTube for Business
---
I have no doubt you'll rethink Video Marketing twenty pages into this wonderful book!
-Avinash Kaushik, author, Web Analytics: An Hour A Day
---
Greg Jarboe has reported on online video for Search Engine Watch, spoken about how to optimize for search and engage the community at Search Engine Strategies conferences, taught our YouTube and video marketing workshop, and produced more than three hundred videos for SESConferenceExpo's Channel on YouTube. He's compressed four years of experience into his book, debunked a lot of conventional wisdom, lead marketers on a path to gaining actionable insights, and added new case studies I hadn't read before.
-Matt McGowan, VP, Publisher, Incisive Media
More Information About this Book

YouTube and Video Marketing: An Hour a Day
Buy this book from: