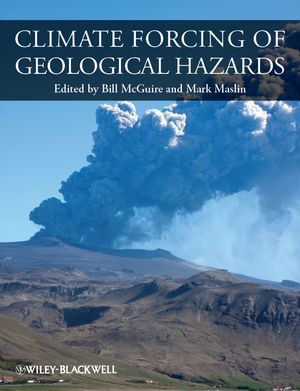 Climate Forcing of Geological Hazards
Buy this book from:
ISBN: 978-0-470-65865-9
326 pages
February 2013, Wiley-Blackwell
Climate Forcing of Geological Hazards provides a valuable new insight into how climate change is able to influence, modulate and trigger geological and geomorphological phenomena, such as earthquakes, tsunamis, volcanic eruptions and landslides; ultimately increasing the risk of natural hazards in a warmer world. Taken together, the chapters build a panorama of a field of research that is only now becoming recognized as important in the context of the likely impacts and implications of anthropogenic climate change. The observations, analyses and interpretations presented in the volume reinforce the idea that a changing climate does not simply involve the atmosphere and hydrosphere, but also elicits potentially hazardous responses from the solid Earth, or geosphere.
Climate Forcing of Geological Hazards is targeted particularly at academics, graduate students and professionals with an interest in environmental change and natural hazards. As such, we are hopeful that it will encourage further investigation of those mechanisms by which contemporary climate change may drive potentially hazardous geological and geomorphological activity, and of the future ramifications for society and economy.
More Information About this Book

Climate Forcing of Geological Hazards
Buy this book from: