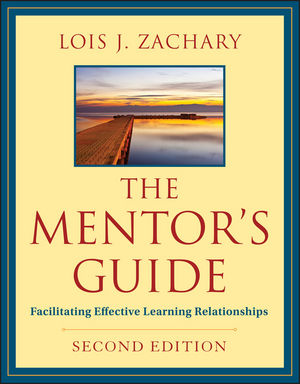 The Mentor's Guide: Facilitating Effective Learning Relationships, 2nd Edition
Buy this book from:
ISBN: 978-0-470-90772-6
288 pages
October 2011, Jossey-Bass
Save 20% and get free shipping with code ZAC20 at checkout on Wiley.com!*
---
Thoughtful and rich with advice, The Mentor's Guide explores the critical process of mentoring and presents practical tools for facilitating the experience from beginning to end. Now managers, teachers, and leaders from any career, professional, or educational setting can successfully navigate the learning journey by using the hands-on worksheets and exercises in this unique resource.
Readers will learn how to:
Assess their readiness to become a mentor
Establish the relationship
Set appropriate goals
Monitor progress and achievement
Avoid common pitfalls
Bring the relationship to a natural conclusion
The new edition of this best-selling volume includes expanded coverage of:
Coaching as distinct from and similar to mentoring
Diversity and cultural differences between mentors and mentees
Mentoring at a distance, especially online
Connections to author's companion volumes, Creating a Mentoring Culture and The Mentee's Guide
More Information About this Book

The Mentor's Guide: Facilitating Effective Learning Relationships, 2nd Edition
Buy this book from: