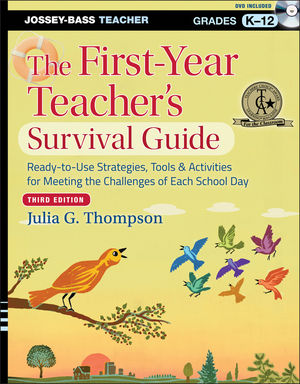 The First-Year Teacher's Survival Guide: Ready-to-Use Strategies, Tools and Activities for Meeting the Challenges of Each School Day, 3rd Edition
Buy this book from:
ISBN: 978-1-118-45028-4
560 pages
July 2013, Jossey-Bass
Thoroughly revised edition of the bestselling resource for new teachers--complete with discussion questions, downloadable handouts, and a staff development guide

This award-winning book gives beginning educators everything they need to survive and thrive in the classroom. The third edition covers new material including working as a part of a professional learning community (PLC), teaching media literacy and social responsibility, incorporating Common Core State Standards, handling "homework push-back" from parents, changes in classroom technology, techniques for motivating students, seeking feedback, and much more.
A fully revised edition of a trusted resource, offering solutions to challenges and typical scenarios encountered by new teachers
Bonus CD features downloadable versions of the book's checklists, forms, worksheets, and self-assessments
Includes Discussion Questions and a handy training guide for Professional Development providers
This popular resource offers teachers an essential guide for knowing what to expect when they begin their career and ideas for solving classroom problems.
More Information About this Book

The First-Year Teacher's Survival Guide: Ready-to-Use Strategies, Tools and Activities for Meeting the Challenges of Each School Day, 3rd Edition
Buy this book from: