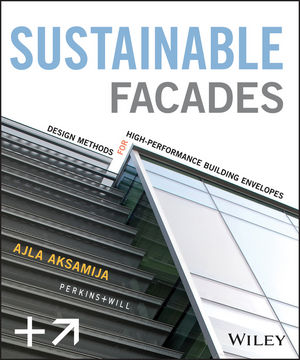 Sustainable Facades: Design Methods for High-Performance Building Envelopes
Buy this book from:
ISBN: 978-1-118-45860-0
256 pages
April 2013
Practical information on designing sustainable, energy-efficient building facades
As energy and other natural resources are being depleted, it has become clear that technologies and strategies that allow us to maintain our satisfaction with interior environments while consuming less of these resources are major objectives of contemporary facade design. Sustainable Facades focuses on the strategies and approaches for designing sustainable, high-performance building facades, and provides technical guidance for architects and designers.
This timely and useful guide presents strategies and technical guidelines for designing environmentally sensitive, energy-efficient facades based on scientific principles. It provides climate-specific approaches for minimizing energy consumption, analyzes the thermal behavior of different facade systems and materials, and illustrates with case studies how these approaches have been implemented on architectural projects. It also discusses emerging facade technologies, materials, and systems.
Topics covered in this unique and indispensable guide include:
Climate-based design approaches for high-performance facades
Characteristics of sustainable facades: energy efficiency, thermal behavior, and moisture resistance
Designing for thermal comfort, lighting and glare control, and acoustic quality
Emerging technologies in facade design, including smart materials, double-skin facades, and facades as energy generators
Case studies on building orientation and facade design, tectonic sun exposure control, external shading elements, and more
More Information About this Book

Sustainable Facades: Design Methods for High-Performance Building Envelopes
Buy this book from: