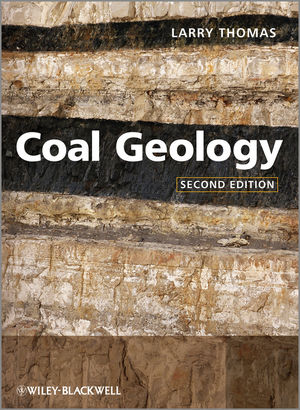 Coal Geology, 2nd Edition
Buy this book from:
ISBN: 978-1-119-99044-4
454 pages
November 2012, Wiley-Blackwell
Coal Geology, second edition, offers a thoroughly revised and updated edition of this popular book which provides a comprehensive overview of the field of coal geology.
Coal Geology covers all aspects of coal geology in one volume, bridging the gap between the academic aspects and the practical role of geology in the coal industry.  The object of the book is to provide the reader with a with a description of the origins of coal together with the physical and chemical properties of coal and coal petrology  before proceeding to cover all areas of coal exploration, production and use.  
Bridges the gap between academic aspects of coal geology and the practical role of geology in the coal industry
Examines historical and stratigraphical geology, together with mining, environmental issues, geophysics and hydrogeology and the marketing of coal
Defines worldwide coal resource classifications and methods of calculation
Addresses the alternative uses of coal as a source of energy, together with the  environmental implications of coal usage
Includes improved illustrations including a colour section
Offers a  global approach covering expanding fields in America, China and India
The truly global approach, drawn from the international experiences of the author, recognizes the growing role of coal use in emerging markets. With fully revised coverage of the latest modelling techniques, environmental legislation, equipment and recording methods, the second edition offers a truly invaluable resource for anyone studying, researching or working in the field of coal geology, geotechnical and mining engineering and environmental science.
More Information About this Book

Coal Geology, 2nd Edition
Buy this book from: