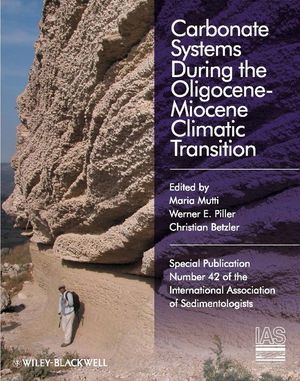 Carbonate Systems During the Olicocene-Miocene Climatic Transition
Buy this book from:
ISBN: 978-1-4443-3791-4
312 pages
October 2010, Wiley-Blackwell
The Oligocene and Miocene Epochs comprise the most important phases in the Cenozoic global cooling that led from a greenhouse to an icehouse Earth.
Recent major advances in the understanding and time-resolution of climate events taking place at this time, as well as the proliferation of studies on Oligocene and Miocene shallow-water/neritic carbonate systems, invite us to re-evaluate the significance of these carbonate systems in the context of changes in climate and Earth surface processes. Carbonate systems, because of a wide dependence on the ecological requirements of organisms producing the sediment, are sensitive recorders of changes in environmental conditions on the Earth surface.
The papers included in this Special Publication address the dynamic evolution of carbonate systems deposited during the Oligocene and Miocene in the context on climatic and Earth surfaces processes focusing on  climatic trends and controls over deposition; temporal changes in carbonate producers and palaeoecology; carbonate terminology; facies; processes and environmental parameters (including water temperature and production depth profiles); carbonate producers and their spatial and temporal variability; and tectonic controls over architecture.


This book is part of the International Association of Sedimentologists (IAS) Special Publications.
The Special Publications from the IAS are a set of thematic volumes edited by specialists on subjects of central interest to sedimentologists. Papers are reviewed and printed to the same high standards as those published in the journal Sedimentology and several of these volumes have become standard works of reference.
More Information About this Book

Carbonate Systems During the Olicocene-Miocene Climatic Transition
Buy this book from: