Autism and Blindness: Research and Reflections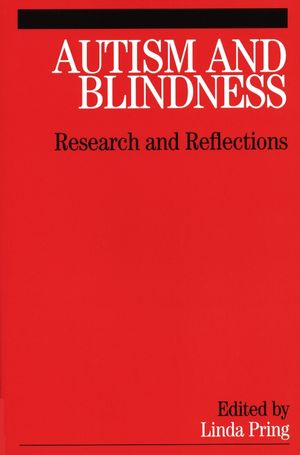 Autism and Blindness: Research and Reflections
ISBN: 978-1-861-56444-3 September 2004 212 Pages
Description
This book has brought together leading international experts to explore the similarities and the differences between autism and blindness. Current research with children as well as adults is described comparing early psychological development from a range of perspectives such as language, memory, thought and feelings as well as providing critical reviews of educational and intervention programmes.
New developments in the field have sparked debate that is well represented here and touches on a variety of issues ranging from musical talent to the basis of 'connectedness' to others. The readership will be drawn from many fields reflecting the interdisciplinary nature of the topic and will include researchers and practitioners in psychology and psychiatry as well as educationalists, therapists, classroom teachers and parents.
Table of contents
Preface.
Contributors.
Acknowledgements.
Chapter 1 Autism and blindness: building on the sum of their parts, Linda Pring.
Chapter 2 Why connect? On the relation between austim and blindness, R Peter Hobson.
Chapter 3 Beyond 'modalarity' and innateness: sensory experience, social interaction and symbolic development in children with autism and blindness, Susan Leekam and Shirley Wyver.
Chapter 4 More than meets the eye: blindness, talent and autism, Linda Pring and Valerie Tadic.
Chapter 5 Early signs of developmental setback and autism in infants with severe visual impairment, Naomi Dale.
Chapter 6 Do blind children show autistic features:. Miguel Perez-Pereira and Gina Conti-Ramsden.
Chapter 7 Blind children and children with autism: research methods fit for purpose, Vicky Lewis and Glyn Collis.
Chapter 8 Educational implications of autism and visual impairment, Rita Jordan.
Chapter 9 Guidelines for teaching students with visual impairment and autistic spectrum disorders, Ros Gibbons.
Commentary Reflections on the connections between autism and blindness, Helen Tager-Flushberg.
Index.