Fundamentals of Classical and Statistical Thermodynamics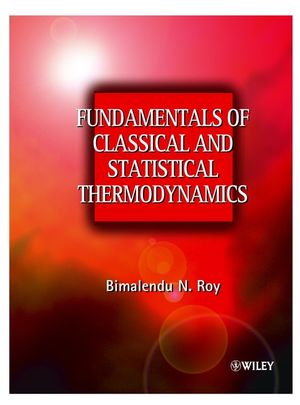 Fundamentals of Classical and Statistical Thermodynamics
ISBN: 978-0-470-84316-1 March 2002 768 Pages
Description
A comprehensive introduction to this important subject, presenting the fundamentals of classical and statistical thermodynamics through carefully developed concepts which are supported by many examples and applications.
* Each chapter includes numerous carefully worked out examples and problems
* Takes a more applied approach rather than theoretical
* Necessary mathematics is left simple
* Accessible to those fairly new to the subject
Table of contents
List of Symbols.

Preface.

Acknowledgements.

Thermodynamic Laws, Symbols and Units

Some Further Preliminary Aspects of Thermodynamics

Zeroth Law, Thermal Equilibrium and Thermometry

The First Law of Thermodynamics

Some Consequences of the First Law

Some Applications of the First Law

The Second Law of Thermodynamics and the Concept of Entropy

Some Further Applications of the Combined First and Second Laws

The Third Law of Thermodynamics

Free Energy and Applications of Thermodynamic Principles

Free Energy and Chemical Equilibrium

Fundamental Concepts of Statistical Mechanics

Statistical Mechanics Applied to Classical Thermodynamics

Phase Equilibria and Phase Transition

Distribution Functions and Thermodynamics of Fermi-Dirac and Bose-Einstein Gases

Heat Capacities of Solids and Gases

Solutions to Exercises

Appendices

Index
Reviews
"...Recommended as a text for a range of thermodynamics courses..." (Physical Sciences Educational Reviews, November 2002)
Features
Comprehensive introduction to the field, covering both classical and statistical thermodynamics
Each chapter includes numerous carefully worked out examples and end of chapter problems, with answers provided at the back of the book.
Chapters are self-contained, allowing for flexibility in the order that they may be used.
Assumes little in the way of prior knowledge.