Statistical Experiment Design and Interpretation: An Introduction with Agricultural Examples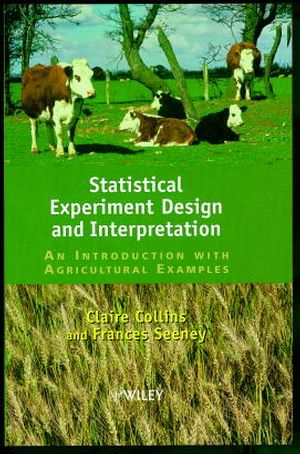 Statistical Experiment Design and Interpretation: An Introduction with Agricultural Examples
ISBN: 978-0-471-96006-5 August 1999 288 Pages
Description
Clearly written and free of statistical jargon, this invaluableguide concentrates on the practicalities of statistical analysisfor anyone involved with agricultural research.
Each section starts with the key points, giving a quick referenceto the contents and plenty of examples using 'real' data.

Successful experiment design starts with a statement of aims. Theauthors guide the reader through planning an experiment, includingdefining objectives, considering treatments, measurements ofinterest and the time and timing of assessments. Advantages anddisadvantages of different experiment designs and the importance ofdata exploration and graphical presentation are covered, as aredata collection, storage, validation and verification. Statisticaltechniques include the t-test, anlaysis of variance, basicregression analysis and non-parametric techniques. Assumptionsinherent to these techniques are clearly identified (bearing inmind the principles and aims) without losing the reader instatistical theory. All of the techniques are illustrated withworked examples and give full interpretation of the results.Formulae are kept to a minimum in the main text, but are given infull in the appendix.
Table of contents
Acknowledgements
INTRODUCTION
Notation
A little history
Population versus samples
PLANNING
Formulating the idea
Defining objectives
Defining the population
Formulating hypotheses
Hypothesis testing
Anticipating treatment differences
DESIGN
Variables
Choosing the treatments
Constraints
Replication
Blocking
Randomization
Covariants
Confounding
TRIAL STRUCTURE
Considerations
Single-treatment factor designs
Multi-treatment factor designs
Some other designs
DATA ENTRY AND EXPLORATION
Data entry
Data
Data checking
Data exploration
ANALYTICAL TECHNIQUES
Parametric techniques
Non-parametric techniques
Comparison of parametric and non-parametric techniques
OTHER STATISTICAL TECHNIQUES
Multivariate analysis
Time series analysis
ASPECTS OF COMPUTING
APPENDICES
Glossary of Statistical Terms
Analysis of Variance Formulae
INDEX