Basic and Clinical Aspects of Neuroendocrine Immunology in Rheumatic Diseases, Volume 1069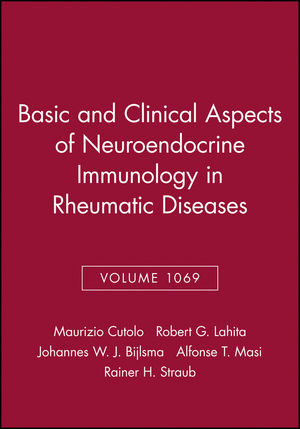 Basic and Clinical Aspects of Neuroendocrine Immunology in Rheumatic Diseases, Volume 1069
ISBN: 978-1-573-31593-7 July 2006 Wiley-Blackwell 328 Pages
Download Product Flyer
Download Product Flyer
Download Product Flyer is to download PDF in new tab. This is a dummy description. Download Product Flyer is to download PDF in new tab. This is a dummy description. Download Product Flyer is to download PDF in new tab. This is a dummy description. Download Product Flyer is to download PDF in new tab. This is a dummy description.
Description
Neuroimmunoendocrine aspects of the pathophysiology of rheumatic diseases are presented in this volume, and new approaches to diagnosis and therapeutic intervention are suggested.
Topics presented include gene polymorphisms and the neuroendocrine immune system in rheumatic diseases, anti-TNF strategies and effects on neuroendocrine immune mechanisms in rheumatic diseases, new perspectives on therapeutic use of glucocorticoids, nerve fibers and rheumatoid arthritis, stimulation tests of the stress axes, and sex hormones and lipid metabolism in rheumatic diseases.

NOTE: Annals volumes are available for sale as individual books or as a journal. For information on institutional journal subscriptions, please visit www.blackwellpublishing.com/nyas.
ACADEMY MEMBERS: Please contact the New York Academy of Sciences directly to place your order (www.nyas.org). Members of the New York Academy of Science receive full-text access to the Annals online and discounts on print volumes. Please visit http://www.nyas.org/MemberCenter/Join.aspx for more information about becoming a member.
Table of contents
Introduction:
The Neuro Endocrine Immune System Involvement in Rheumatology:.
Part I: The Role of Genetics: Gene Polymorphisms and the Neuroendocrine Immune System in Rheumatic Diseases.
1. Corticotropin - releasing Hormone promoter Polymorphism - What is the Reality: Christoph Baerwald.
2. The Glucocorticoid receptor: Beta Gene variant: John A. Cidlowski.
3. ACE Polymorphism and Scleroderma: Marco Matucci-Cerinic.
4. Genetic variations in the endothelin system: do polymorphisms affect therapeutic strategies?: Gian Paolo Rossi.
Part II: The Central Nervous System: Stimulation tests of the Stress Axes and its involvement in Rheumatic Diseases.
5. Stress tests in arthritic animals: Mick Harbuz.
6. Stress system activity, innate pro - and anti -inflammatory Cytokines and susceptibility to Immune-related Diseases: Ilia Elenkov.
7. Stress tests in adults with Rheumatic Diseases: Rinie Geenen.
8. Hypoglycemia and the sympathetic nervous response: Richard Imrich.
9. Increased neural sympathetic activation in fibromyalgia syndrome: Piercarlo Sarzi-Puttini.
10. Autoantibody profile in systemic lupus erythematosus with psychiatric manifestations: a role for anti-endothelial - cell antibodies: Guido Valesini.
11. NEI interactions: the role of cortistatin/ somatostatin: Diego Ferone.
12. Prolactin And Growth Hormone Responses To Hypoglycemia In Patients With Systemic Sclerosis And Psoriatic Arthritis: J. Rovensky, R. Imrich, Z. Radikova, A. Penesova, L. Macho, J. Lukac, H. Raffayova, M. Matucci-Cerinic, M. Vigas.
Part III: The Peripheral Nervous System: Nerve Fibres, Neuropeptides and Clinical Links in Arthritis.
13. Innervation of the joint and role of Neuropeptides: YT Konttinen.
14. Neurogenic Inflammation and Arthritis: Jon D. Levine.
15. Role of the Sympathetic Nervous System in Chronic Arthritis: Rainer H. Straub.
16. Vagus nerve signaling and fever / inflammation: Andrej A. Romanovsky.
17. Adrenergic Modulation of the innate Immunity: Georges Maestroni.
18. Sleep and fatigue in Rheumatic Diseases: George Chrousos.
19. Alexithymia And Neuroendocrine-Immune Response In Patients With Autoimmune Disease: Serino F.M., Galluzzo S., Coppolino G., Vadacca M., Nilo S., Pernino N., Ligato G., Bruni R., Afeltra A.
20. The Sympathetic Nervous System Influences Cd4+Cd25+ Splenocytes To Aggravate Collagen-Induced Arthritis In The Adoptive Cell Transfer Model In Dba/1 Mice: P. Harle, U. Strauch, M. Fleck, I. Tarner, J. Scholmerich, and R.H. Straub.
Part IV: The Role of Gonadal Hormones: Sex Hormones and Rheumatic Diseases.
21. Epidemiological aspects of Rheumatic Diseases: The Sex Ratio: Tore Kristian Kvien.
22. Developmental and environmental factors and Sex Hormones: Alfonse Masi.
23. Inflammation and Sex Hormone Metabolism: Martin Schmidt.
24. Estrogens in pregnancy and Systemic Lupus Erythematosus: Andrea Doria.
25. DHEA in Systemic Lupus Erythematosus and Sjogren Syndrome: Ron Derksen.
26. Androgen And Prolactin (Prl) Levels In Systemic Sclerosis (SSc): Relationship With Disease Severity: Angela Barini, Luisa Mirone, Antonella Barini.
27. Role Of Estrogens In Inflammatory Response: Expression Of Estrogen Receptors In Peritoneal Fluid Macrophages From Endometriosis: Capellino S, Montagna P, Villaggio B, Sulli A, Soldano S, Ferrero S, Remorgida V, Cutolo M.
28. Estrogen Metabolites And Rheumatoid Arthritis: Effects On Proliferation Of Activated Human Monocytes: Capellino S, Montagna P, Villaggio B, Sulli A, Straub RH, Cutolo M.
29. Hormonal Alterations In Type I And II Hereditary Angioedema And Role Of Danazol In Steroid Hormone Conversion: Rainer H. Straub, Peter Harle, Jorgen Scholmerich, Jindrich Lokaj, Vojtech Thon.
30. BMD, Testosterone Plasma Levels And Lifestyles Correlations In Argentine Men Population: Scali, J.J.; SalomÛn, J.; Visentini, S.; Castelli, G.; Morales,E.
Part V: Glucocorticoids as Endogenous Neuroendocrine Immune Modulators: New Perspectives in the Therapy of Rheumatic Diseases.
31. Mechanisms of Glucocorticoid action and New Glucocorticoids: Frank Buttgereit.
32. Are glucocorticoids Disease Modifying Antirheumatic Drugs (DMARDS)?: Johannes W.J.
33. Less side effects than expected from Glucocorticoids: How to manage?: Jose A. P. Da Silva.
34. Circadian rhythms: Glucocorticoids and Arthritis: Maurizio Cutolo.
35. Oral pulsed dexamethasone therapy in early rheumatoid arthritis: a pilot study: Eric-Jan A. Kroot.
36. Glucocorticoid treatment induces different hormonal and cytokine responsiveness in polymyalgia rheumatica and rheumatoid arthritis with polymyalgia-like onset compared with elderly-onset rheumatoid arthritis: Sulli A, Montecucco CM, Montagna P, Cavagna L, Caporali R, Capellino S, Seriolo B, Soldano S, Secchi ME and Cutolo M.
37. Is The Course Of Steroid-Treated Polymyalgia Rheumatica More Benign In Men Than In Women?: M. Parodi, R. Caporali, CM Montecucco and MA Cimmino.
Part VI: Clinical Aspects: The Neuroendocrine and the Immune Systems in Rheumatology.
38. Neuroendocrine predictors of autoimmunity: Yehuda Shoenfeld.
39. Auto antibodies and pregnancy in Rheumatic Diseases: Angela Tincani.
40. Cytokines and pregnancy in Rheumatic Diseases: Monika Oestensen.
41. Immune interactions in Systemic Lupus Erythematosus: Robert Lahita.
42. Defective placentation in antiphospholipid associated fetal loss: more.
hormone abnormalities then clotting?: Pierluigi Meroni.
43. Endocrine regulation of Suppressor Lymphocytes: role of the Glucocorticoid-Induced TNF- like receptor: Francesco Indiveri.
44. Multi-Endocrine Dysregulation In Fibromyalgic Patients: L. Bazzichi, A. Rossi, T. Giuliano, F. De Feo, C. Giacomelli, A. Chiapparelli, G. Consoli, S. Bombardieri.
45. Neuroendocrine Manifestations Of Phospholipid Antibody Disease: William Traverse, Beatriz Tendler, Charles Galea, Santhanam Lakshminarayanan, Ann Parke.
Part VII: Clinical Evidences: Anti-TNF strategies and effects on Neuroendocrine Immune Mechanisms in Rheumatic Diseases.
46. Anti-TNF and HPA axis: Rainer H. Straub.
47. Anti-TNF and Sex Hormones: Maurizio Cutolo.
48. The effects of TNF-blocking therapies on joint damage: Josef Smolen.
49. TNF-alpha stimulates DHEA metabolism in human fibroblast-like synoviocytes: a role for NFkB and AP-1 in the regulation of Cyp7p expression: John Dulos.
50. Atherosclerosis And Rheumatoid Arthritis: Effects Of Anti-Tnf Alpha Therapy On Lipid Profile: B Seriolo, S Paolino, A Sulli, ME Secchi, C Craviotto, M Cutolo.
51. Bone Metabolism Variations During Anti-Tnf Alpha Therapy In Active Rheumatoid Arthritis Patients: B Seriolo, S Paolino, A Sulli, ME Secchi, C Pizzorni, M Cutolo.
52. The Selective Blockade Of TNFa reveals a TNFa/Chromogranin: A Pathway In Patients With Rheumatoid Arthritis: Alessandro Marinosci, Paola Di Matteo, Angelo Manfredi, Gabriele Di Comite, Patrizia Rovere-Querini, Elena Baldissera, Patrizia Aiello, Maria Grazia Sabbadini, Angelo Corti.
53. Nerve Growth Factor And Brain Derived Growth Factor Levels In Patients With Rheumatoid Arthritis Treated With TNFa Blockers: Flavia Del Porto, Luigi Aloe, Bruno Lagan, Viviana Triaca, Italo Nofroni, Raffaele D'Amelio.
Part VIII: Clinical Perspectives: Lipid Metabolism in Rheumatic Diseases.
54. Control of inflammation by Adipocytes: Jean Michel Dayer.
55. Leptin is a link between adipose tissue and inflammation: Peter Harle.
56. Anti-TNF therapy and Arteriosclerosis - The need to test the inflammation hypothesis in clinical Trials: Frank Ruschitzka.
57. Adiponectin and Rheumatoid Arthritis: Ulf Muller-Ladner, Bad Nauheim.
Part IX: Miscellaneous.
58. Cell Stress-Response In Skeletal Muscle Myofibers: Elena Tarricone, Anna Ghirardello, Sandra Zampieri, Rampudda Maria Elisa, Andrea Doria, Luisa Gorza.
59. Stress-Protein Expression In Skeletal Muscle Cells Of Patients Affected With Autoimmune Myositis: Elena Tarricone, Anna Ghirardello, Sandra Zampieri, Rampudda Maria Elisa, Luisa Gorza and Andrea Doria.
60. Chromograin-A as a Novel Marker Of Systemic Involvement In Rheumatoid Arthritis: Angelo Manfredi, Alessandro Marinosci, Gabriele Di Comite, Elena Baldissera, Patrizia Aiello, Paola Di Matteo, Patrizia Rovere-Querini, Angelo Corti, Maria Grazia Sabbadini