The Sex Factor: How Women Made the West Rich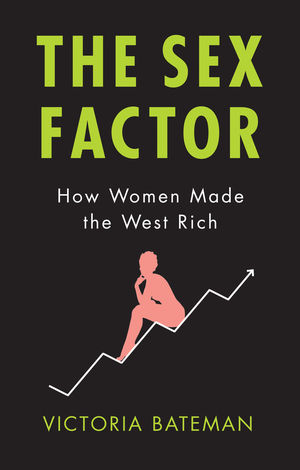 The Sex Factor: How Women Made the West Rich
ISBN: 978-1-509-52680-2 July 2019 Polity 248 Pages
Description
Why did the West become so rich? Why is inequality rising? How 'free' should markets be? And what does sex have to do with it?
In this passionate and skilfully argued book, leading feminist Victoria Bateman shows how we can only understand the burning economic issues of our time if we put sex and gender – 'the sex factor' – at the heart of the picture. Spanning the globe and drawing on thousands of years of history, Bateman tells a bold story about how the status and freedom of women are central to our prosperity. Genuine female empowerment requires us not only to recognize the liberating potential of markets and smart government policies but also to challenge the double-standard of many modern feminists when they celebrate the brain while denigrating the body.
This iconoclastic book is a devastating exposé of what we have lost from ignoring 'the sex factor' and of how reversing this neglect can drive the smart economic policies we need today.
Table of contents
Contents
Acknowledgments
Introduction
Part I: Prosperity
Chapter 1. Censored: How the West (supposedly) got ahead
Chapter 2. Uncensored: The Secret Recipe of Economic Success
Part II: Inequality
Chapter 3. When did sexism begin?
Chapter 4. Income inequality: what does sex have to do with it?
Chapter 5. Sex sells
Part III: State versus Markets
Chapter 6. Marx versus Markets
Chapter 7. Why women make better states
Part IV: Humanity
Chapter 8. Me, Myself and I: a history of the individual
Chapter 9. Humans versus Robots
Chapter 10. Economics meets Feminism
Conclusion
Endnotes
Bibliography
Reviews
'[Victoria Bateman is] a bold, intelligent and original thinker... the Lady Godiva de nos jours.'
The Amorist


"A spirited exposure of the way that economics neglects gender, enlivened by the author's own experiences and beliefs. The unpaid work of women brings forth the labour force but is not properly acknowledged. And the more women are free to earn, the more their societies flourish."
Professor Avner Offer, University of Oxford
'It always was insane to think of markets and the public sphere as independent of domestic life and the private sphere, as male economists did for centuries. In her crystal-clear book, Victoria Bateman provides a sane alternative. Read it and you'll know how we all became free and rich and, we hope, a little bit saner.'
Deirdre Nansen McCloskey, author of Bourgeois Equality
'Ever controversial, Victoria Bateman's new book will cause a stir. While fun and engaging, it also packs a serious punch and explodes the myth that economics is gender neutral. If you are passionate about economics and feminism, this is well worth a read.'
Ayesha Hazarika, stand-up comedian and former special adviser to Gordon Brown and Harriet Harman
'A fascinating argument…it certainly has originality on its side.'
Andrew Billen, The Times

"Strong and adventurous"
The Guardian

'Leading feminist Victoria Bateman shows how we can only understand the burning economic issues of our time if we put sex and gender – "the sex factor" – at the heart of the picture. Scouring the globe and drawing on thousands of years of history, Bateman tells a bold story about how the status and freedom of women are central to our prosperity.'
GQ
'Thought-provoking'
Martin Wolf, Financial Times